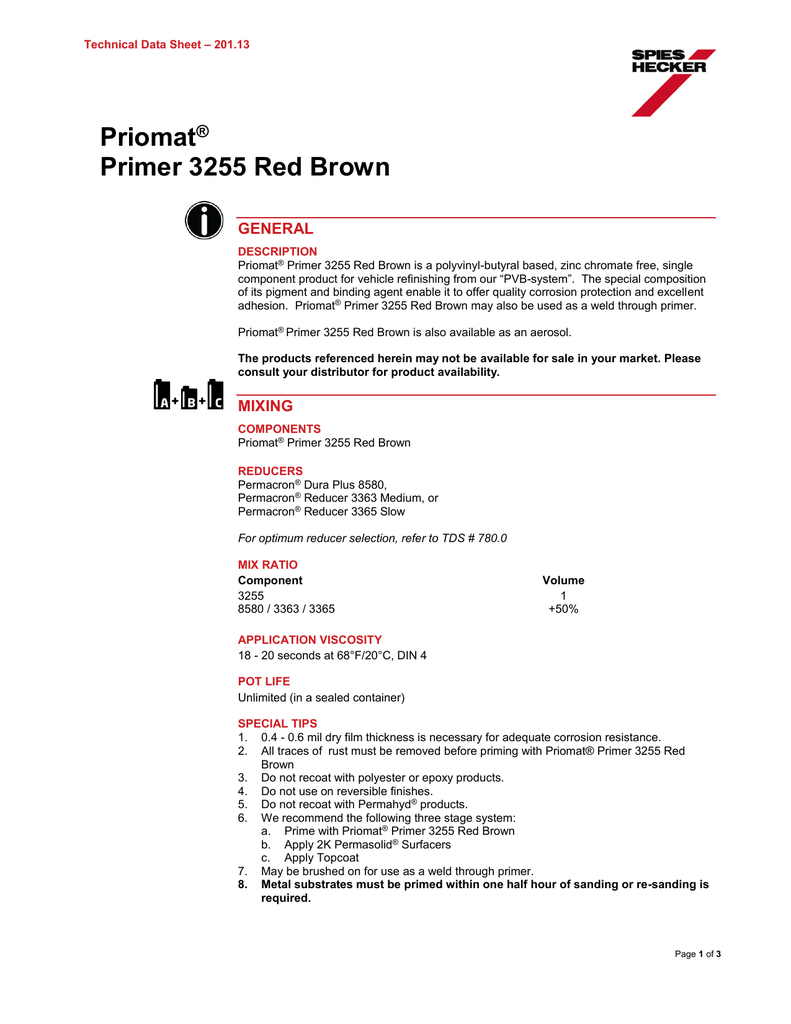 Technical Data Sheet – 201.13
Priomat®
Primer 3255 Red Brown
GENERAL
DESCRIPTION
Priomat® Primer 3255 Red Brown is a polyvinyl-butyral based, zinc chromate free, single
component product for vehicle refinishing from our "PVB-system". The special composition
of its pigment and binding agent enable it to offer quality corrosion protection and excellent
adhesion. Priomat® Primer 3255 Red Brown may also be used as a weld through primer.
Priomat® Primer 3255 Red Brown is also available as an aerosol.
The products referenced herein may not be available for sale in your market. Please
consult your distributor for product availability.
MIXING
COMPONENTS
Priomat® Primer 3255 Red Brown
REDUCERS
Permacron® Dura Plus 8580,
Permacron® Reducer 3363 Medium, or
Permacron® Reducer 3365 Slow
For optimum reducer selection, refer to TDS # 780.0
MIX RATIO
Component
3255
8580 / 3363 / 3365
Volume
1
+50%
APPLICATION VISCOSITY
18 - 20 seconds at 68°F/20°C, DIN 4
POT LIFE
Unlimited (in a sealed container)
SPECIAL TIPS
1. 0.4 - 0.6 mil dry film thickness is necessary for adequate corrosion resistance.
2. All traces of rust must be removed before priming with Priomat® Primer 3255 Red
Brown
3. Do not recoat with polyester or epoxy products.
4. Do not use on reversible finishes.
5. Do not recoat with Permahyd® products.
6. We recommend the following three stage system:
a. Prime with Priomat® Primer 3255 Red Brown
b. Apply 2K Permasolid® Surfacers
c. Apply Topcoat
7. May be brushed on for use as a weld through primer.
8. Metal substrates must be primed within one half hour of sanding or re-sanding is
required.
Page 1 of 3
Technical Data Sheet – 201.13
APPLICATION
SUBSTRATES
Sanded Bare Steel
Sanded Galvanized (cut-through)
Sanded Aluminum (cut-through)
Sanded E-Coat
Original or old paintwork (except reversible substrates, Example: lacquer)
SURFACE PREPARATION

Degrease and sand.

Before further treatment, clean all substrates thoroughly with Permaloid Silicone
Removers 7087 or 7010 Slow, Permahyd Silicone Remover 7085, or Permahyd
Silicone Remover 7096.
SPRAYGUN SETUP
HVLP
Approved Transfer Efficiency
1.3-1.4mm
1.2-1.3mm
Please refer to gun manufacturer and local legislation for proper spray pressure
recommendations.
APPLICATION
 Option 1: Apply 1 medium coat followed by 1 full coat without intermediate flash-off.
 Option 2: Apply 2 coats with approximately 5 minutes intermediate flash-off between
coats.
 Option 3: For weld through applications, brush on 1 coat.
RECOMMENDED FILM THICKNESS
0.4 - 0.6 mil dry film thickness
DRY TIMES
AIR DRYING
Drying time at 68°F/20°C:
15-20 minutes
(Depending on hardener selected)
RECOAT
With Permasolid® Surfacer or Sealer
PHYSICAL PROPERTIES
Coating Category: Pretreatment
Max. VOC (AP): 605 g/l; 5.1 lbs/gal
Max. VOC (LE): 748 g/l; 6.2 lbs/gal
Avg. Gallon Weight: 832.4 g/l; 6.95 lbs/gal
Avg. Weight % Volatiles: 90.8 %
Avg. Weight % Water: 0.2%
Avg. Weight % Exempt Solvent: 17.9%
Avg. Volume % Water: 0.2%
Avg. Volume % Exempt Solvent: 18.8%
Theoretical Coverage: 60.7 sq. ft. @ 1 mil
Theoretical Coverage @ Recommended Film Build: 101 - 152 sq. ft.
Page 2 of 3
Technical Data Sheet – 201.13
VOC REGULATED AREAS
These directions refer to the use of products which may be restricted or require special
mixing instructions in VOC regulated areas. Follow mixing usage and recommendations in
the VOC Compliant Products Chart for your area.
SAFETY AND HANDLING
For industrial use only by professional, trained painters. Not for sale to or use by the general
public. Before using, read and follow all label and MSDS precautions. If mixed with other
components, mixture will have hazards of all components.
Ready to use paint materials containing isocyanates can cause irritation of the respiratory
organs and hypersensitive reactions. Asthma sufferers, those with allergies and anyone with
a history of respiratory complaints must not be asked to work with products containing
isocyanates.
Do not sand, flame cut, braze or weld dry coating without a NIOSH approved air purifying
respirator with particulate filters or appropriate ventilation, and gloves.
Any analytical results set forth herein do not constitute a warranty of specific product
features or of the product's suitability for a specific purpose. All products are sold pursuant
to our general conditions of sale. We hereby disclaim all warranties and representations,
express or implied, with respect to this product, including any warranty of merchantability or
fitness for a particular purpose. This product is protected by patent law, trademark law,
copyright law, international treaties and/or other applicable law. All rights reserved.
Unauthorized sale, manufacturing or use may result in civil and criminal penalties.
Revised: April 2016
Page 3 of 3
©2014, 2016 Axalta Coating Systems, LLC and all affiliates. All rights reserved.

* Your assessment is very important for improving the work of artificial intelligence, which forms the content of this project