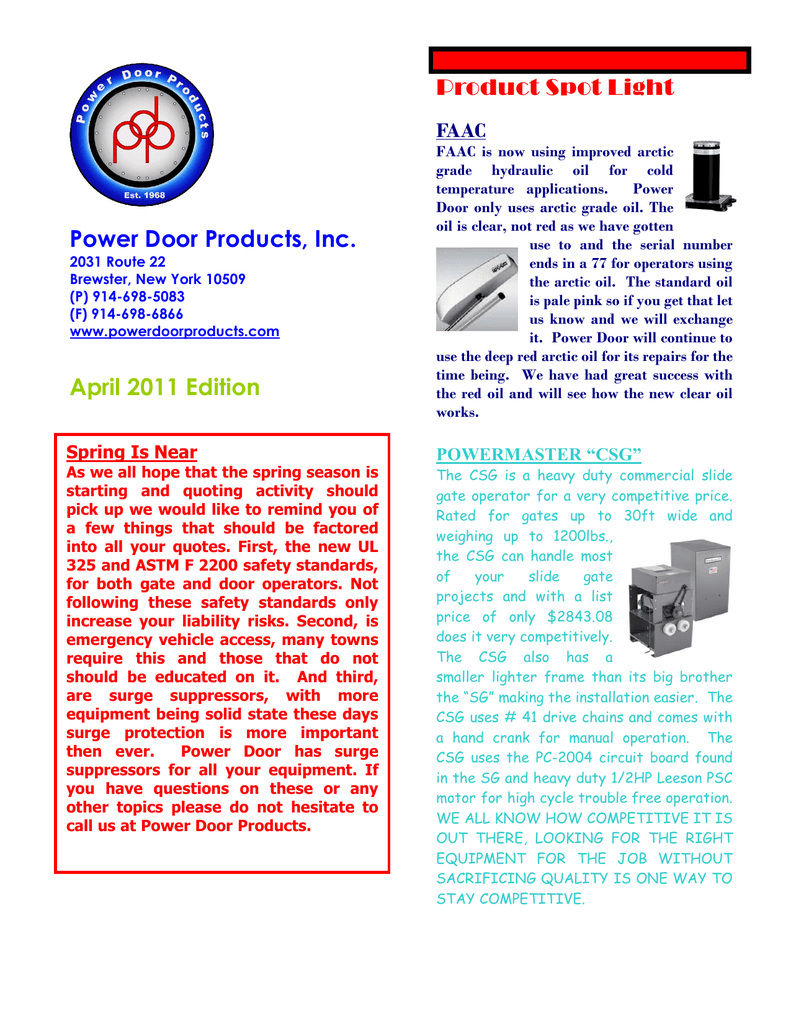 Product Spot Light
FAAC
Power Door Products, Inc.
2031 Route 22
Brewster, New York 10509
(P) 914-698-5083
(F) 914-698-6866
www.powerdoorproducts.com
April 2011 Edition
Spring Is Near
As we all hope that the spring season is
starting and quoting activity should
pick up we would like to remind you of
a few things that should be factored
into all your quotes. First, the new UL
325 and ASTM F 2200 safety standards,
for both gate and door operators. Not
following these safety standards only
increase your liability risks. Second, is
emergency vehicle access, many towns
require this and those that do not
should be educated on it. And third,
are surge suppressors, with more
equipment being solid state these days
surge protection is more important
then ever.
Power Door has surge
suppressors for all your equipment. If
you have questions on these or any
other topics please do not hesitate to
call us at Power Door Products.
FAAC is now using improved arctic
grade hydraulic oil for cold
temperature applications.
Power
Door only uses arctic grade oil. The
oil is clear, not red as we have gotten
use to and the serial number
ends in a 77 for operators using
the arctic oil. The standard oil
is pale pink so if you get that let
us know and we will exchange
it. Power Door will continue to
use the deep red arctic oil for its repairs for the
time being. We have had great success with
the red oil and will see how the new clear oil
works.
POWERMASTER "CSG"
The CSG is a heavy duty commercial slide
gate operator for a very competitive price.
Rated for gates up to 30ft wide and
weighing up to 1200lbs.,
the CSG can handle most
of
your
slide
gate
projects and with a list
price of only $2843.08
does it very competitively.
The CSG also has a
smaller lighter frame than its big brother
the "SG" making the installation easier. The
CSG uses # 41 drive chains and comes with
a hand crank for manual operation. The
CSG uses the PC-2004 circuit board found
in the SG and heavy duty 1/2HP Leeson PSC
motor for high cycle trouble free operation.
WE ALL KNOW HOW COMPETITIVE IT IS
OUT THERE, LOOKING FOR THE RIGHT
EQUIPMENT FOR THE JOB WITHOUT
SACRIFICING QUALITY IS ONE WAY TO
STAY COMPETITIVE.
REMINDERS!
PowerMaster
We are happy to say that
Power Door has a Full
line of PowerMaster Door
& Gate Operators as well as Parts
available for immediate shipment.
Rosslare
Power Door has a full inventory of
Rosslare access control products,
including card readers, keypads and
controllers that are priced very
favorably. If you have questions or
would like a quote please give us a
call.
PRICE CHANGES
Price Increases
FAAC repairs fee will increase to
$200.00 list and repair parts will
increase by 5% effective April 1st.
FAAC REPAIRS
Remember, Power Door is
an FAAC Authorized Repair
Center.
Please call our
offices to arrange for
quick and efficient repairs
of all your FAAC Arms.
EVENTS
PDP Training
2031 Route 22
Brewster, NY
June 10th
PDP Convention
Renaissance Hotel
White Plains, NY
October 20th & 21st
SOME OF OUR PARTNERS
Doorking has raised some of their
prices so please call us to confirm
prices.
Hysecurity will increase their prices on
the SlideDriver and Strong Arm by 2%
effective May 1, 2011. Prices for All
Options, Accessories & Parts will go up
or down based on material costs.
While we do our best to keep our books
and website current, increases from
manufacturers often come in without
notice. We encourage you to call for
current pricing. A call to us will help
ensure that nothing is left out and that
all components are compatible.
Beginning April 1, 2011, Power Door
Products will impose a $25.00 drop ship
fee for any orders that are required to
be drop shipped.
and more….

* Your assessment is very important for improving the work of artificial intelligence, which forms the content of this project