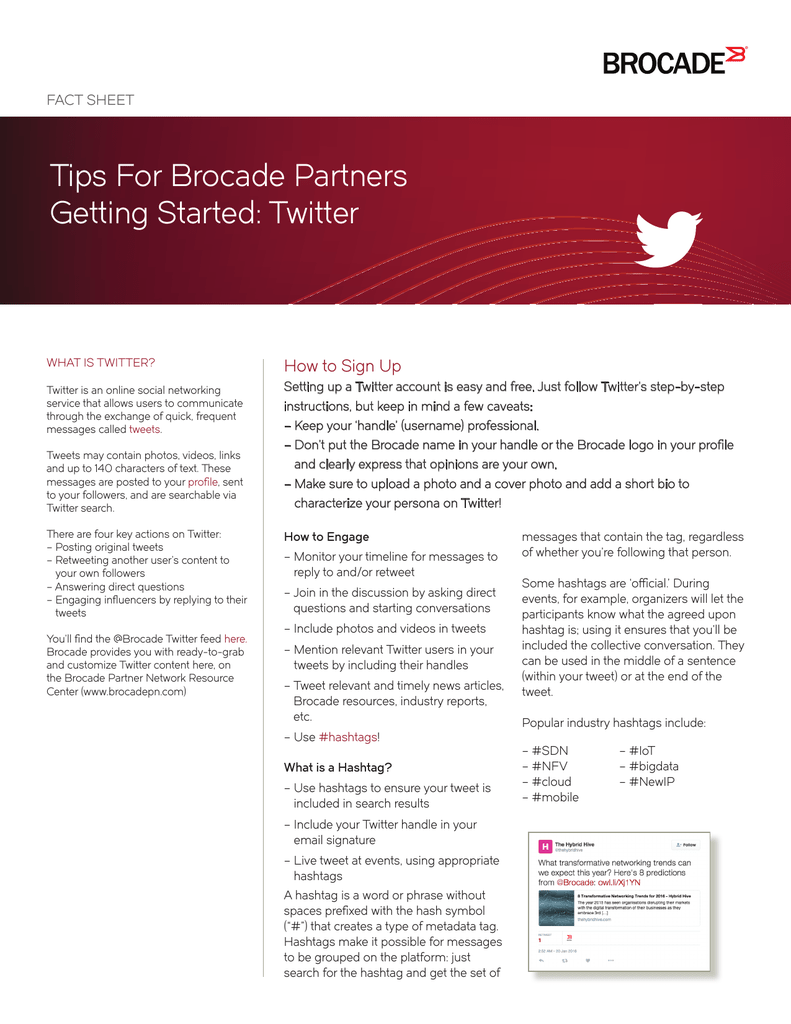 FACT SHEET
Tips For Brocade Partners
Getting Started: Twitter
WHAT IS TWITTER?
How to Sign Up
Twitter is an online social networking
service that allows users to communicate
through the exchange of quick, frequent
messages called tweets.
Setting up a Twitter account is easy and free. Just follow Twitter's step-by-step
instructions, but keep in mind a few caveats:
– Keep your 'handle' (username) professional.
– Don't put the Brocade name in your handle or the Brocade logo in your profile
and clearly express that opinions are your own.
– Make sure to upload a photo and a cover photo and add a short bio to
characterize your persona on Twitter!
Tweets may contain photos, videos, links
and up to 140 characters of text. These
messages are posted to your profile, sent
to your followers, and are searchable via
Twitter search.
There are four key actions on Twitter:
– Posting original tweets
– Retweeting another user's content to
your own followers
– Answering direct questions
– Engaging influencers by replying to their
tweets
You'll find the @Brocade Twitter feed here.
Brocade provides you with ready-to-grab
and customize Twitter content here, on
the Brocade Partner Network Resource
Center (www.brocadepn.com)
How to Engage
– M
onitor your timeline for messages to
reply to and/or retweet
– J oin in the discussion by asking direct
questions and starting conversations
– I nclude photos and videos in tweets
– M
ention relevant Twitter users in your
tweets by including their handles
– T
weet relevant and timely news articles,
Brocade resources, industry reports,
etc.
– U
se #hashtags!
What is a Hashtag?
– U
se hashtags to ensure your tweet is
included in search results
– I nclude your Twitter handle in your
email signature
– L
ive tweet at events, using appropriate
hashtags
A hashtag is a word or phrase without
spaces prefixed with the hash symbol
("#") that creates a type of metadata tag.
Hashtags make it possible for messages
to be grouped on the platform: just
search for the hashtag and get the set of
messages that contain the tag, regardless
of whether you're following that person.
Some hashtags are 'official.' During
events, for example, organizers will let the
participants know what the agreed upon
hashtag is; using it ensures that you'll be
included the collective conversation. They
can be used in the middle of a sentence
(within your tweet) or at the end of the
tweet.
Popular industry hashtags include:
– #
SDN
– #
NFV
– #
cloud
– #
mobile
– #
IoT
– #
bigdata
– #
NewIP
Following on Twitter
Sample Tweets
What is following?
Below are several tweets representing the type of content that
is appropriate to use on Twitter.
Following someone on Twitter means:
– You subscribe to their tweets
– Their updates appear in your Home feed
– That user can send you Direct Messages
1. With potential in every sector, #IoT growth is unstoppable.
Adopt the #NewIP to ensure your network is prepared http://
huff.to/1NLoRRP
What are followers?
Followers are users who receive your tweets. If someone
follows you:
– They appear on your followers list.
– They can see your tweets on their home timeline whenever
they log in to Twitter.
– You can start a private conversation with them (see Direct
Messages).
2. As a @Brocade partner, we can help you remain
competitive while protecting valuable capital. Learn more:
http://ow.ly/RWiK0 #NewIP
3. Proud to offer @Brocade's #NewIP visibility solutions,
giving you increased insight into your network http://bit.
ly/1PH9TOx
How to build your following?
4. How can you balance #security & performance needs in
your network? @Brocade explains: http://bit.ly/1jxpwLx
The best way to gain followers on Twitter is to engage
with users, follow others whose tweets are interesting or
meaningful to you, and be an active part of the Twitter
community by reading and posting high-quality information.
Be sure to:
5. [email protected] seeks ways to modernize its #IT with
#openstandards, a vital part of the #NewIP http://bit.
ly/1XSW3gU
– Tweet two-to-three times per day
– Engage frequently by actively replying to and retweeting
influencers
– Follow other industry influencers on Twitter
– Use hashtags to ensure your tweets are included in search
results
– Include your Twitter handle in your email signature
– Live tweet at events, using appropriate hashtags
Corporate Headquarters
San Jose, CA USA
T: +1-408-333-8000
[email protected]
European Headquarters
Geneva, Switzerland
T: +41-22-799-56-40
[email protected]
Additional Resources
• Twitter Glossary
• Getting Started with Twitter
• New User FAQs
• Posting a Tweet
• FAQs about Retweets(RT)
• What is a Twitter Timeline?
• What are Replies and Mentions?
• What is a Hasthag?
Asia Pacific Headquarters
Singapore
T: +65-6538-4700
[email protected]
© 2016 Brocade Communications Systems, Inc. All Rights Reserved. 06/15 GA-DS-1514-12
ADX, Brocade, Brocade Assurance, the B-wing symbol, DCX, Fabric OS, HyperEdge, ICX, MLX, MyBrocade, OpenScript,
The Effortless Network, VCS, VDX, Vplane, and Vyatta are registered trademarks, and Fabric Vision and vADX are trademarks
of Brocade Communications Systems, Inc., in the United States and/or in other countries. Other brands, products, or service
names mentioned may be trademarks of others.
Notice: This document is for informational purposes only and does not set forth any warranty, expressed or implied, concerning any
equipment, equipment features, or service offered or to be offered by Brocade. Brocade reserves the right to make changes to this
document at any time, without notice, and assumes no responsibility for its use. This information document describes features that
may not be currently available. Contact a Brocade sales office for information on feature and product availability. Export of technical
data contained in this document may require an export license from the United States government.