No category
Pressure Transducer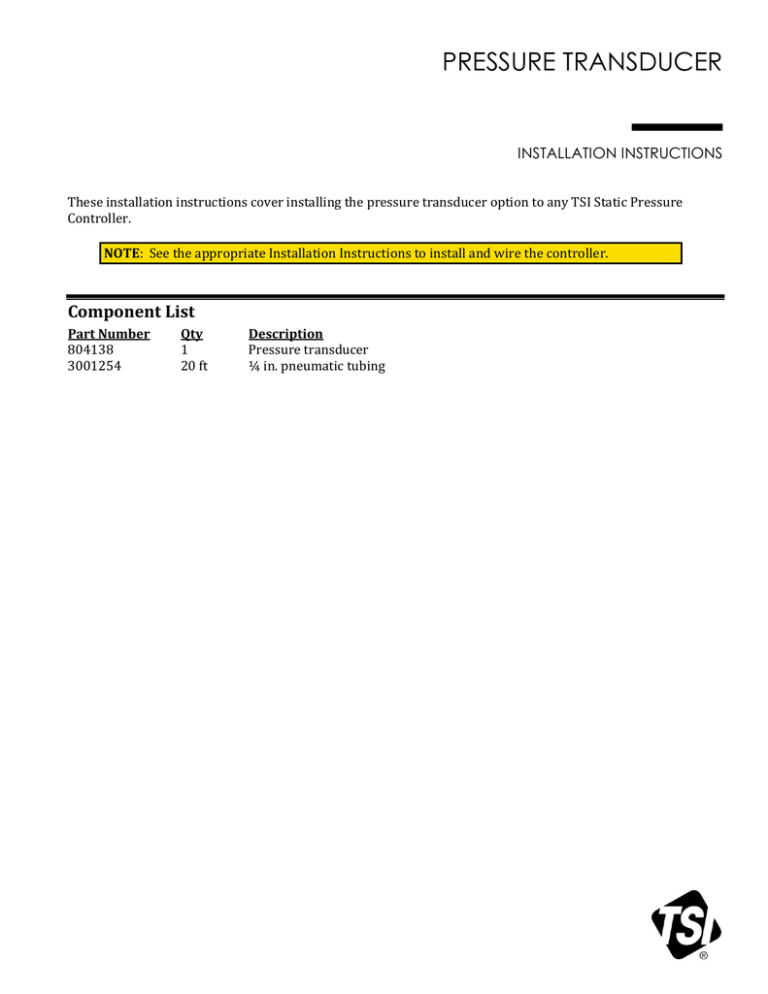 PRESSURE TRANSDUCER
INSTALLATION INSTRUCTIONS
These installation instructions cover installing the pressure transducer option to any TSI Static Pressure
Controller.
NOTE: See the appropriate Installation Instructions to install and wire the controller.
Component List
Part Number
804138
3001254
Qty
1
20 ft
Description
Pressure transducer
¼ in. pneumatic tubing
Pressure Transducer Installation
1) Install the static pressure tap in the ductwork
according to the instructions for the static pressure
tap.
2) Verify that the jumpers on the pressure transducer
are installed correctly, per Figure 1. The default
pressure transducer output range is 0 to 5.0 in.
H2O.
3) Mount the pressure transducer within 10 feet of
the flow station. The transducer must be mounted
on a wall in the correct position per Figure 2
(screws not provided).
WARNING: Do not mount pressure transducer to
ceiling, duct work or vibrating surfaces. Preferred
mounting location is on the wall nearest the pressure
tap.
4) Run ¼ in. pneumatic line (20 ft included) between
static pressure tap and pressure transducer and
connect.
Figure 1: Pressure Transducer Jumpers
Duct Pressure Pressure Transducer
Positive
to
Hi
Negative
to
Lo
Double check that the pneumatic tubing is correctly
plumbed, firmly seated, and has a tight fit.
5) Refer to the wiring diagram for proper transducer
wiring (Figure 3). The cable is terminated at the
pressure transducer and at the TSI controller or
monitor.
Figure 2: Pressure Transducer Mounting
-2-
Wiring the Pressure Transducer
WARNING: Do not connect more than 24 VAC to
any terminal.
Do not apply voltage to the RS-485 output, analog
output, or control output of the TSI device. Severe
damage may occur if voltage is applied.
WARNING: Each damper/actuator and pressure
transducer has a separate transformer that must be
installed. Do not wire more than one device per
transformer.
Wire the transducer to the PRESSURE INPUT terminals
on the TSI controller, per Figure 3. Refer to the
Installation Instructions for the TSI controller to
determine the correct terminals.
Figure 3: Transducer Wiring
This concludes the installation of the pressure transducer. If you need assistance on installing the controller,
see the appropriate Installation Instructions. If you need further assistance installing the system, contact your
local representative or TSI at 1-800-874-2811.
TSI Incorporated – Visit our website www.tsi.com for more information.
USA
UK
France
Germany
Tel: +1 800 874 2811
Tel: +44 149 4 459200
Tel: +33 491 11 87 64
Tel: +49 241 523030
P/N 1980422 Rev. C
India
China
Singapore
©2013 TSI Incorporated
Tel: +91 80 67877200
Tel: +86 10 8251 6588
Tel: +65 6595 6388
Printed in U.S.A.

* Your assessment is very important for improving the work of artificial intelligence, which forms the content of this project