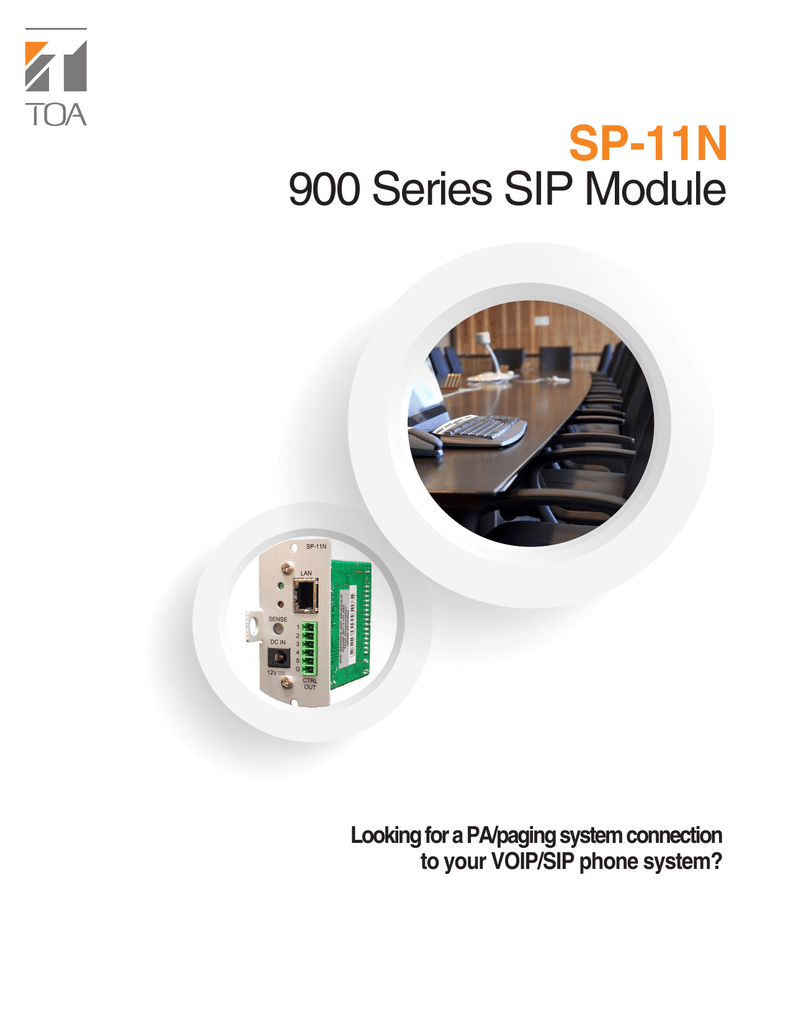 SP-11N
900 Series SIP Module
Looking for a PA/paging system connection
to your VOIP/SIP phone system?
Features:
• The SP-11N is a VoIP phone paging module supported SIP (Session Initiation Protocol) with Auto-answer function.
• It can be connected with IP network and directly registered as
one SIP phone station on various management software of SIP
server.
• It also has VOX and mute functions designed for use with TOA's
9000M2, 900, 700 and BG series amplifiers.
• 5 contact ouputs can be activated by keypad operation on any
phone in the system for paging zone selections, or triggering pre-recorded messages.
SPECIFICATIONS
Power Source
Network Interface
Network Protocol
Audio Format
Control Output
Operating Temperature
Finish
Dimensions
Weight
Human Society with
Sound & Communication
AC Adaptor AD-1215P or its equivalent
RJ-45 connector
10BASE-T / 100BASE-TX, Auto-negotiation
SIP (RFC3261), TCP. UDP, BOOTP, DHCP, RTP
SNMP, ICMP, HTTP
G.711 u-law / a-law
5 channels open collector output
(Max. Voltage: 27V DC, Control current: 50mA Max.)
Removable terminal block (6 pin)
-32°F (0°C) to +104°F (+40°C)
Panel: Aluminum, Hairline finish
1.38"(W) x 3.07" (H) x 3.6"(D)
0.2lb (86g)
TOA Electronics, Inc.
www.toaelectronics.com
Specifications subject to change without notice.

* Your assessment is very important for improving the work of artificial intelligence, which forms the content of this project