Color Vari-Focal Bullet Camera Camera Model No.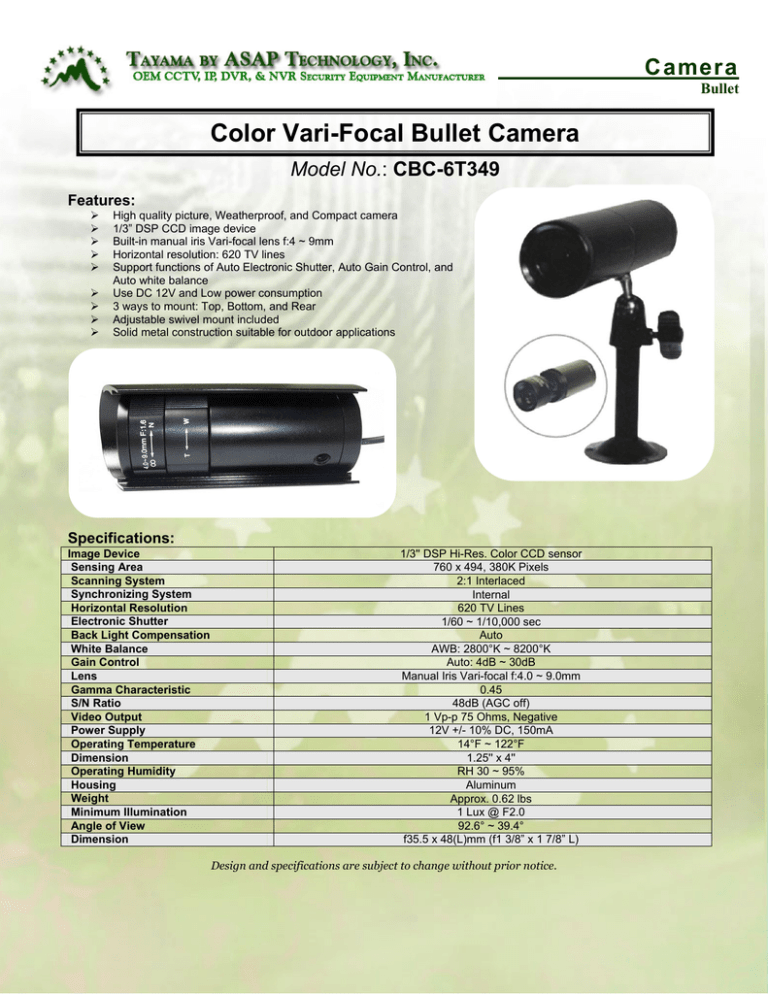 Camera
Bullet
Color Vari-Focal Bullet Camera
Model No.: CBC-6T349
Features:
¾
¾
¾
¾
¾
¾
¾
¾
¾
High quality picture, Weatherproof, and Compact camera
1/3" DSP CCD image device
Built-in manual iris Vari-focal lens f:4 ~ 9mm
Horizontal resolution: 620 TV lines
Support functions of Auto Electronic Shutter, Auto Gain Control, and
Auto white balance
Use DC 12V and Low power consumption
3 ways to mount: Top, Bottom, and Rear
Adjustable swivel mount included
Solid metal construction suitable for outdoor applications
Specifications:
Image Device
Sensing Area
Scanning System
Synchronizing System
Horizontal Resolution
Electronic Shutter
Back Light Compensation
White Balance
Gain Control
Lens
Gamma Characteristic
S/N Ratio
Video Output
Power Supply
Operating Temperature
Dimension
Operating Humidity
Housing
Weight
Minimum Illumination
Angle of View
Dimension
1/3'' DSP Hi-Res. Color CCD sensor
760 x 494, 380K Pixels
2:1 Interlaced
Internal
620 TV Lines
1/60 ~ 1/10,000 sec
Auto
AWB: 2800°K ~ 8200°K
Auto: 4dB ~ 30dB
Manual Iris Vari-focal f:4.0 ~ 9.0mm
0.45
48dB (AGC off)
1 Vp-p 75 Ohms, Negative
12V +/- 10% DC, 150mA
14°F ~ 122°F
1.25'' x 4''
RH 30 ~ 95%
Aluminum
Approx. 0.62 lbs
1 Lux @ F2.0
92.6° ~ 39.4°
f35.5 x 48(L)mm (f1 3/8" x 1 7/8" L)
Design and specifications are subject to change without prior notice.

* Your assessment is very important for improving the work of artificial intelligence, which forms the content of this project