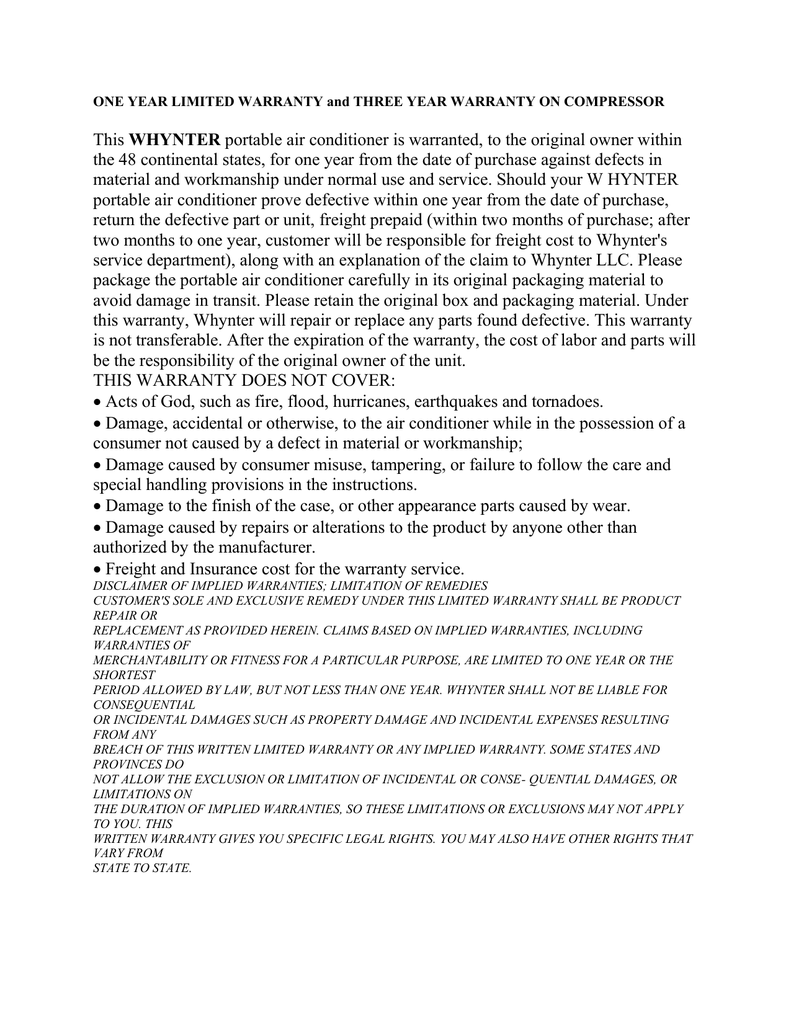 ONE YEAR LIMITED WARRANTY and THREE YEAR WARRANTY ON COMPRESSOR
This WHYNTER portable air conditioner is warranted, to the original owner within
the 48 continental states, for one year from the date of purchase against defects in
material and workmanship under normal use and service. Should your W HYNTER
portable air conditioner prove defective within one year from the date of purchase,
return the defective part or unit, freight prepaid (within two months of purchase; after
two months to one year, customer will be responsible for freight cost to Whynter's
service department), along with an explanation of the claim to Whynter LLC. Please
package the portable air conditioner carefully in its original packaging material to
avoid damage in transit. Please retain the original box and packaging material. Under
this warranty, Whynter will repair or replace any parts found defective. This warranty
is not transferable. After the expiration of the warranty, the cost of labor and parts will
be the responsibility of the original owner of the unit.
THIS WARRANTY DOES NOT COVER:
 Acts of God, such as fire, flood, hurricanes, earthquakes and tornadoes.
 Damage, accidental or otherwise, to the air conditioner while in the possession of a
consumer not caused by a defect in material or workmanship;
 Damage caused by consumer misuse, tampering, or failure to follow the care and
special handling provisions in the instructions.
 Damage to the finish of the case, or other appearance parts caused by wear.
 Damage caused by repairs or alterations to the product by anyone other than
authorized by the manufacturer.
 Freight and Insurance cost for the warranty service.
DISCLAIMER OF IMPLIED WARRANTIES; LIMITATION OF REMEDIES
CUSTOMER'S SOLE AND EXCLUSIVE REMEDY UNDER THIS LIMITED WARRANTY SHALL BE PRODUCT
REPAIR OR
REPLACEMENT AS PROVIDED HEREIN. CLAIMS BASED ON IMPLIED WARRANTIES, INCLUDING
WARRANTIES OF
MERCHANTABILITY OR FITNESS FOR A PARTICULAR PURPOSE, ARE LIMITED TO ONE YEAR OR THE
SHORTEST
PERIOD ALLOWED BY LAW, BUT NOT LESS THAN ONE YEAR. WHYNTER SHALL NOT BE LIABLE FOR
CONSEQUENTIAL
OR INCIDENTAL DAMAGES SUCH AS PROPERTY DAMAGE AND INCIDENTAL EXPENSES RESULTING
FROM ANY
BREACH OF THIS WRITTEN LIMITED WARRANTY OR ANY IMPLIED WARRANTY. SOME STATES AND
PROVINCES DO
NOT ALLOW THE EXCLUSION OR LIMITATION OF INCIDENTAL OR CONSE- QUENTIAL DAMAGES, OR
LIMITATIONS ON
THE DURATION OF IMPLIED WARRANTIES, SO THESE LIMITATIONS OR EXCLUSIONS MAY NOT APPLY
TO YOU. THIS
WRITTEN WARRANTY GIVES YOU SPECIFIC LEGAL RIGHTS. YOU MAY ALSO HAVE OTHER RIGHTS THAT
VARY FROM
STATE TO STATE.
To obtain service or information, contact Whynter LLC via email
at [email protected] or call 866-WHYNTER
Product contents and specifications may change without notice.
Copyright © 2014 Whynter LLC
www.Whynter.com
Manufacturers' warranties may not apply in all cases, depending on factors such as use of the product,
where the product was purchased, or who you purchased the product from. Please review the warranty
carefully, and contact the manufacturer if you have any questions.

* Your assessment is very important for improving the work of artificial intelligence, which forms the content of this project