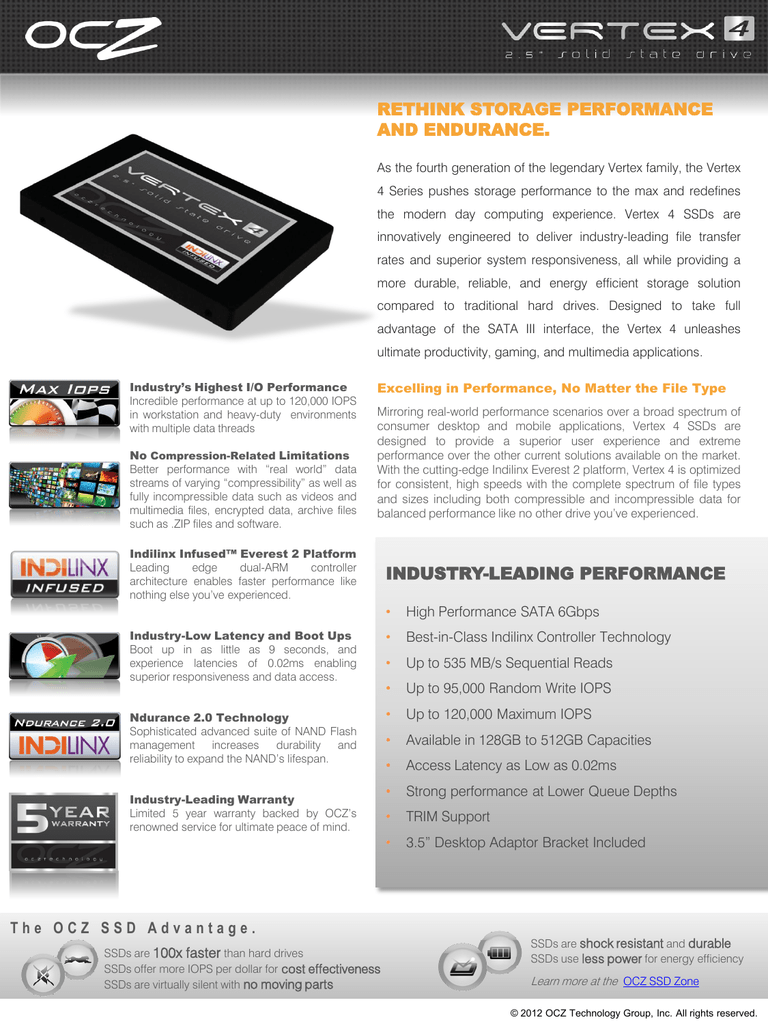 RETHINK STORAGE PERFORMANCE
AND ENDURANCE.
As the fourth generation of the legendary Vertex family, the Vertex
4 Series pushes storage performance to the max and redefines
the modern day computing experience. Vertex 4 SSDs are
innovatively engineered to deliver industry-leading file transfer
rates and superior system responsiveness, all while providing a
more durable, reliable, and energy efficient storage solution
compared to traditional hard drives. Designed to take full
advantage of the SATA III interface, the Vertex 4 unleashes
ultimate productivity, gaming, and multimedia applications.
Industry's Highest I/O Performance
Incredible performance at up to 120,000 IOPS
in workstation and heavy-duty environments
with multiple data threads
No Compression-Related Limitations
Better performance with "real world" data
streams of varying "compressibility" as well as
fully incompressible data such as videos and
multimedia files, encrypted data, archive files
such as .ZIP files and software.
Excelling in Performance, No Matter the File Type
Mirroring real-world performance scenarios over a broad spectrum of
consumer desktop and mobile applications, Vertex 4 SSDs are
designed to provide a superior user experience and extreme
performance over the other current solutions available on the market.
With the cutting-edge Indilinx Everest 2 platform, Vertex 4 is optimized
for consistent, high speeds with the complete spectrum of file types
and sizes including both compressible and incompressible data for
balanced performance like no other drive you've experienced.
Indilinx Infused™ Everest 2 Platform
Leading
edge
dual-ARM
controller
architecture enables faster performance like
nothing else you've experienced.
INDUSTRY-LEADING PERFORMANCE
•
High Performance SATA 6Gbps
Industry-Low Latency and Boot Ups
Boot up in as little as 9 seconds, and
experience latencies of 0.02ms enabling
superior responsiveness and data access.
•
Best-in-Class Indilinx Controller Technology
•
Up to 535 MB/s Sequential Reads
•
Up to 95,000 Random Write IOPS
Ndurance 2.0 Technology
Sophisticated advanced suite of NAND Flash
management increases
durability and
reliability to expand the NAND's lifespan.
•
Up to 120,000 Maximum IOPS
•
Available in 128GB to 512GB Capacities
•
Access Latency as Low as 0.02ms
•
Strong performance at Lower Queue Depths
•
TRIM Support
•
3.5" Desktop Adaptor Bracket Included
Industry-Leading Warranty
Limited 5 year warranty backed by OCZ's
renowned service for ultimate peace of mind.
The OCZ SSD Advantage.
SSDs are 100x faster than hard drives
SSDs offer more IOPS per dollar for cost effectiveness
SSDs are virtually silent with no moving parts
SSDs are shock resistant and durable
SSDs use less power for energy efficiency
Learn more at the OCZ SSD Zone
© 2012 OCZ Technology Group, Inc. All rights reserved.
SPECIFICATIONS
PHYSICAL
Usable Capacities (IDEMA)
128GB, 256GB, 512GB
NAND Components
2Xnm Synchronous Multi-Level Cell (MLC)
Interface
SATA III / 6Gbps (backwards compatible with SATA II / 3Gbps)
Form Factor
2.5 Inch
NAND Controller
Indilinx Everest 2
DRAM Cache
Up to 1GB
Dimensions (L x W x H)
99.8 x 69.63 x 9.3 mm
Weight
101g
RELIABILITY/PROTECTION/SECURITY
MTBF
2 million hours
Data Path Protection
ECC engine corrects up to 128 random bits/1KB
Data Encryption
256-bit AES-compliant, ATA Security Mode Features
Product Health Monitoring
Self-Monitoring, Analysis and Reporting Technology (SMART) Support
Flash Endurance Management
Indilinx Ndurance™ 2.0 Technology
ENVIRONMENTAL
Power Consumption
Idle: 1.3 W
Active: 2.5 W
Operating Temperature
0°C ~ 70°C
Ambient Temperature
0°C ~ 55°C
Storage Temperature
-45°C ~ 85°C
Shock Resistance
1500G
Certifications
RoHS, CE, FCC, KCC
COMPATIBILITY
Serial ATA (SATA
Fully compliant with Serial ATA International Organization: Serial ATA Revision 3.0.
Fully compliant with ATA/ATAPI-8 Standard Native Command Queuing (NCQ)
Operating System
Windows XP 32-bit /64-bit; Windows Vista 32-bit / 64-bit; Windows 7 32-bit / 64-bit;
Linux; Mac OS X
Power Requirements
Standard SATA Power Connector
ADDITIONAL FEATURES
Performance Optimization
TRIM (requires OS support), dynamic and static wear-leveling, background garbage collection
Other Performance Features
Ndurance 2.0 Technology (Reduced Write Amplification without Compression, Advanced Multi-Level ECC,
Adaptive NAND Flash Management)
Service & Support
Limited 5-Year Warranty, Toll-Free Tech Support, 24 Hour Forum Support
© 2012 OCZ Technology Group, Inc. All rights reserved.
PERFORMANCE
128GB
256GB
512GB
Max Read 1
up to 535 MB/s
up to 535 MB/s
up to 535 MB/s
Max Write1
up to 200 MB/s
up to 380 MB/s
up to 475 MB/s
Max 4KB Random Read 2
90,000 IOPS
90,000 IOPS
95,000 IOPS
Write 2
85,000 IOPS
85,000 IOPS
85,000 IOPS
120,000 IOPS
120,000 IOPS
Max 4KB Random
Maximum
IOPS 3
120,000 IOPS
Maximum sequential speeds are determined using ATTO
2 Small file I/O performance is measured using Iometer 2010 (1.1.0 rc1)
3 Maximum I/O performance is measured using Iometer 2010, 512 bytes Random Read
1
Vertex 4 512GB SSD IOMETER 2010 Compressible-Incompressible Performance
Vertex 4 128GB-256GB SSD IOMETER 2010 Compressible-Incompressible Performance
© 2012 OCZ Technology Group, Inc. All rights reserved.
MECHANICAL SPECIFICATIONS
PACKAGING SPECIFICATIONS
Dimensions (L x W x H)
190.5mm x 114.3mm x 19.05mm
Weight
120g
ORDERING INFORMATION
PRODUCT
PART NUMBER
UPC
Vertex 4 128GB 2.5" SSD
VTX4-25SAT3-128G
842024030355
Vertex 4 256GB 2.5" SSD
VTX4-25SAT3-256G
842024030362
Vertex 4 512GB 2.5" SSD
VTX4-25SAT3-512G
842024030379
© 2012 OCZ Technology Group, Inc. All rights reserved.