No category
13-0025 (Amendment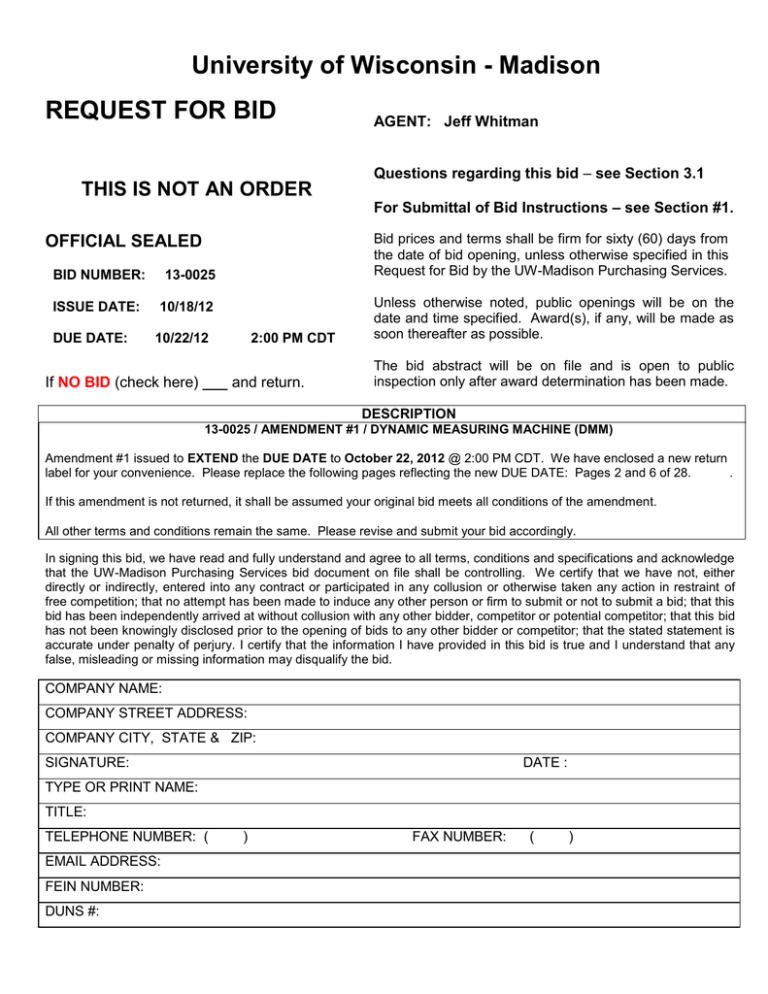 University of Wisconsin - Madison
REQUEST FOR BID
THIS IS NOT AN ORDER
13-0025
ISSUE DATE:
10/18/12
DUE DATE:
10/22/12
If NO BID (check here)
Questions regarding this bid – see Section 3.1
For Submittal of Bid Instructions – see Section #1.
Bid prices and terms shall be firm for sixty (60) days from
the date of bid opening, unless otherwise specified in this
Request for Bid by the UW-Madison Purchasing Services.
OFFICIAL SEALED
BID NUMBER:
AGENT: Jeff Whitman
2:00 PM CDT
and return.
Unless otherwise noted, public openings will be on the
date and time specified. Award(s), if any, will be made as
soon thereafter as possible.
The bid abstract will be on file and is open to public
inspection only after award determination has been made.
DESCRIPTION
13-0025 / AMENDMENT #1 / DYNAMIC MEASURING MACHINE (DMM)
Amendment #1 issued to EXTEND the DUE DATE to October 22, 2012 @ 2:00 PM CDT. We have enclosed a new return
label for your convenience. Please replace the following pages reflecting the new DUE DATE: Pages 2 and 6 of 28.
.
If this amendment is not returned, it shall be assumed your original bid meets all conditions of the amendment.
All other terms and conditions remain the same. Please revise and submit your bid accordingly.
In signing this bid, we have read and fully understand and agree to all terms, conditions and specifications and acknowledge
that the UW-Madison Purchasing Services bid document on file shall be controlling. We certify that we have not, either
directly or indirectly, entered into any contract or participated in any collusion or otherwise taken any action in restraint of
free competition; that no attempt has been made to induce any other person or firm to submit or not to submit a bid; that this
bid has been independently arrived at without collusion with any other bidder, competitor or potential competitor; that this bid
has not been knowingly disclosed prior to the opening of bids to any other bidder or competitor; that the stated statement is
accurate under penalty of perjury. I certify that the information I have provided in this bid is true and I understand that any
false, misleading or missing information may disqualify the bid.
COMPANY NAME:
COMPANY STREET ADDRESS:
COMPANY CITY, STATE & ZIP:
SIGNATURE:
DATE :
TYPE OR PRINT NAME:
TITLE:
TELEPHONE NUMBER: (
EMAIL ADDRESS:
FEIN NUMBER:
DUNS #:
)
FAX NUMBER:
(
)
UNIVERSITY OF WISCONSIN
MADISON, WISCONSIN 53715-1218
AMENDMENT #1
BID NO.: 13-0025
PAGE 2 OF 28
VENDOR NOTE: FOR THE PURPOSES OF THE RETURN ADDRESS LABEL, IF THE ADDRESS IS THE SAME AS
YOU LISTED ON THE REQUEST FOR BID FORM – YOU DO NOT NEED TO FILL OUT THE RETURN ADDRESS
LABEL.
RETURN ADDRESS LABEL:
Below is a label that can be taped to the outside of your sealed bid response. If returning your bid response by
mail or in person, please fill out the information and tape to the outside of your bid package.
OFFICIAL SEALED BID
NUMBER: 13-0025
DUE DATE: 10/22/12
TIME: 2:00 PM CDT
SHIP FROM:
VENDOR NAME HERE: ______________________________________
ADDRESS: ________________________________________________
________________________________________________
________________________________________________
SHIP TO:
UNIVERSITY OF WISCONSIN-MADISON
PURCHASING SERVICES
21 N PARK ST, SUITE 6101
MADISON, WI 53715-1218
1.1
BID RESPONSE REQUIREMENTS:
In order for your bid to be considered, the following forms/information must be completed and submitted as
part of your bid response. Failure to provide these forms/information with your bid submittal may disqualify
your bid.
1.
2.
3.
4.
5.
6.
1.2
Request for Bid Form (signed)
Bidder Response Sheet (including attachments as requested on Bidder Response Sheet) (Attachment
A)
Specifications, descriptive brochure and detail for the item(s) bid (Section 6) (Attachment B)
Itemized Bid List (Attachment C)
Vendor Information Sheet (Attachment D)
Client Reference List (Attachment E)
SEND TWO (2) COMPLETE SETS OF YOUR BID (If faxing or e-mailing your bid, one copy is sufficient – do
not submit twice).
RETAIN A COPY OF YOUR BID RESPONSE FOR YOUR FILES
UNIVERSITY OF WISCONSIN
MADISON, WISCONSIN 53715-1218
AMENDMENT #1
BID NO.: 13-0025
PAGE 6 OF 28
SECTION #3: RFB PROCESS INSTRUCTIONS
3.1
Clarifications and/or Revisions through Designated Contact:
All communications and/or questions in regard to this request should be in writing and must reference the bid
number. Bidders are encouraged to FAX or e-mail written questions to the Agent. Verbal questions, when
permitted, must be directed to the Agent.
If a Bidder discovers any significant ambiguity, error, conflict, discrepancy, omission or other deficiency in this
RFB, they have five (5) business days after the bid issue date and time to notify, in writing, the Agent at the
address shown below of such error and request modification or clarification of the RFB document. All written
questions will be responded to in writing and provided to all bidders.
ADMINISTRATIVE:
Jeff Whitman
UW Purchasing
21 N Park St, Suite 6101
Madison, WI 53715-1218
E-mail: [email protected]
PHONE 608/262-6120 -- FAX 608/262-4467
TECHNICAL:
Remy Lequesne
E-mail: [email protected]
PHONE 248/225-7768
If a Bidder fails to notify the Purchasing Office of an error in the RFB document which is known to the Bidder, or
which should have reasonably been known to the Bidder, then the Bidder shall submit a bid response at the
Bidder's risk and if awarded a contract, shall not be entitled to additional compensation or delivery or installation
time by reason of the error or its later correction.
In the event that it becomes necessary to provide additional clarifying data or information, or to revise any part of
this RFB, amendments and revisions will be provided to all recipients of this initial RFB.
3.2
Applicable Dates:
Date
Event
October 8, 2012
Date of Issue of the RFB
October 15, 2012
Written questions due
October 22, 2012 -- 2:00 PM CDT
RFB Due Date (Local Madison Time)
3.3
Conflict of Interest:
By submitting a bid, the bidder certifies that no relationship exists between the bidder and the University that
interferes with fair competition or is a Conflict of Interest, and no relationship exists between such bidder and
another person or firm that constitutes a Conflict of Interest. Further, bidder certifies that no employee of the
University whose duties relate to this request for bid assisted the bidder in preparing the bid in any way other than
in his or her official capacity and scope of employment.
3.4
Oral Presentations, Product Demonstrations and Site Visits (Pre Award)
The University, at its sole discretion, may require oral presentations, product demonstrations and/or vendor
location site visits to supplement the bids. Failure of a bidder to conduct a presentation on the date scheduled or
allow an on-site/vendor site visit may result in rejection of the bid. Oral presentations cannot be used as an
opportunity to alter bids submitted.

* Your assessment is very important for improving the work of artificial intelligence, which forms the content of this project