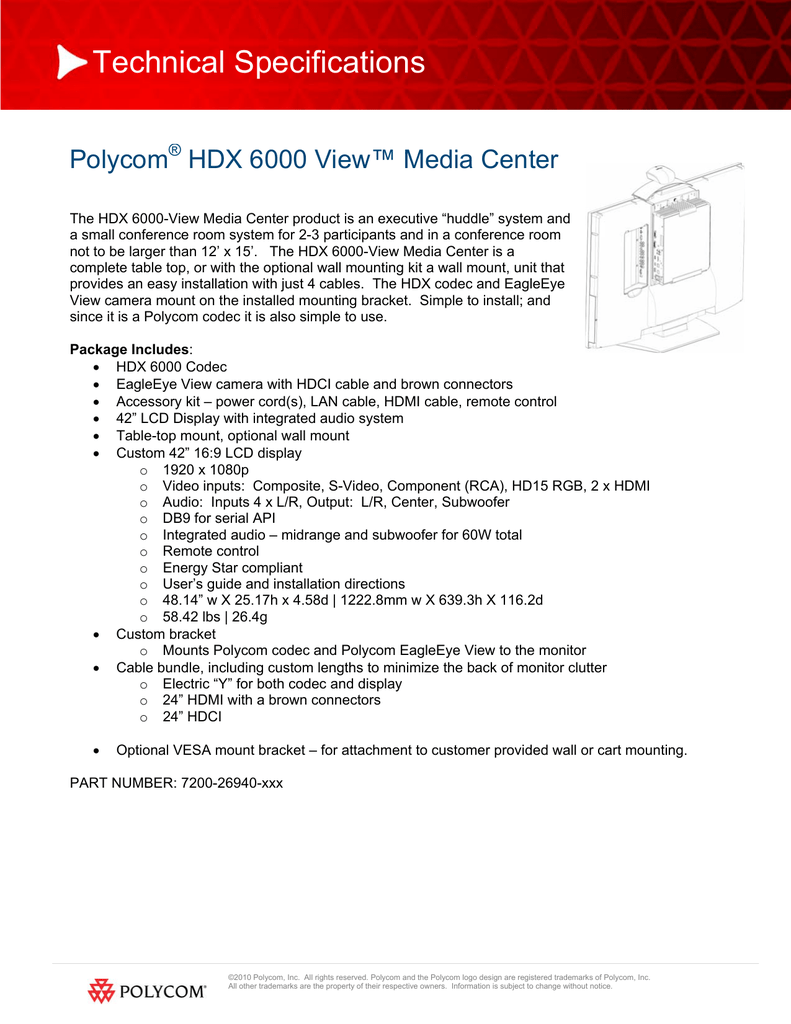 Technical Specifications
Polycom® HDX 6000 View™ Media Center
The HDX 6000-View Media Center product is an executive "huddle" system and
a small conference room system for 2-3 participants and in a conference room
not to be larger than 12' x 15'. The HDX 6000-View Media Center is a
complete table top, or with the optional wall mounting kit a wall mount, unit that
provides an easy installation with just 4 cables. The HDX codec and EagleEye
View camera mount on the installed mounting bracket. Simple to install; and
since it is a Polycom codec it is also simple to use.
Package Includes:
• HDX 6000 Codec
• EagleEye View camera with HDCI cable and brown connectors
• Accessory kit – power cord(s), LAN cable, HDMI cable, remote control
• 42" LCD Display with integrated audio system
• Table-top mount, optional wall mount
• Custom 42" 16:9 LCD display
o 1920 x 1080p
o Video inputs: Composite, S-Video, Component (RCA), HD15 RGB, 2 x HDMI
o Audio: Inputs 4 x L/R, Output: L/R, Center, Subwoofer
o DB9 for serial API
o Integrated audio – midrange and subwoofer for 60W total
o Remote control
o Energy Star compliant
o User's guide and installation directions
o 48.14" w X 25.17h x 4.58d | 1222.8mm w X 639.3h X 116.2d
o 58.42 lbs | 26.4g
• Custom bracket
o Mounts Polycom codec and Polycom EagleEye View to the monitor
• Cable bundle, including custom lengths to minimize the back of monitor clutter
o Electric "Y" for both codec and display
o 24" HDMI with a brown connectors
o 24" HDCI
•
Optional VESA mount bracket – for attachment to customer provided wall or cart mounting.
PART NUMBER: 7200-26940-xxx
©2010 Polycom, Inc. All rights reserved. Polycom and the Polycom logo design are registered trademarks of Polycom, Inc.
All other trademarks are the property of their respective owners. Information is subject to change without notice.

* Your assessment is very important for improving the work of artificial intelligence, which forms the content of this project