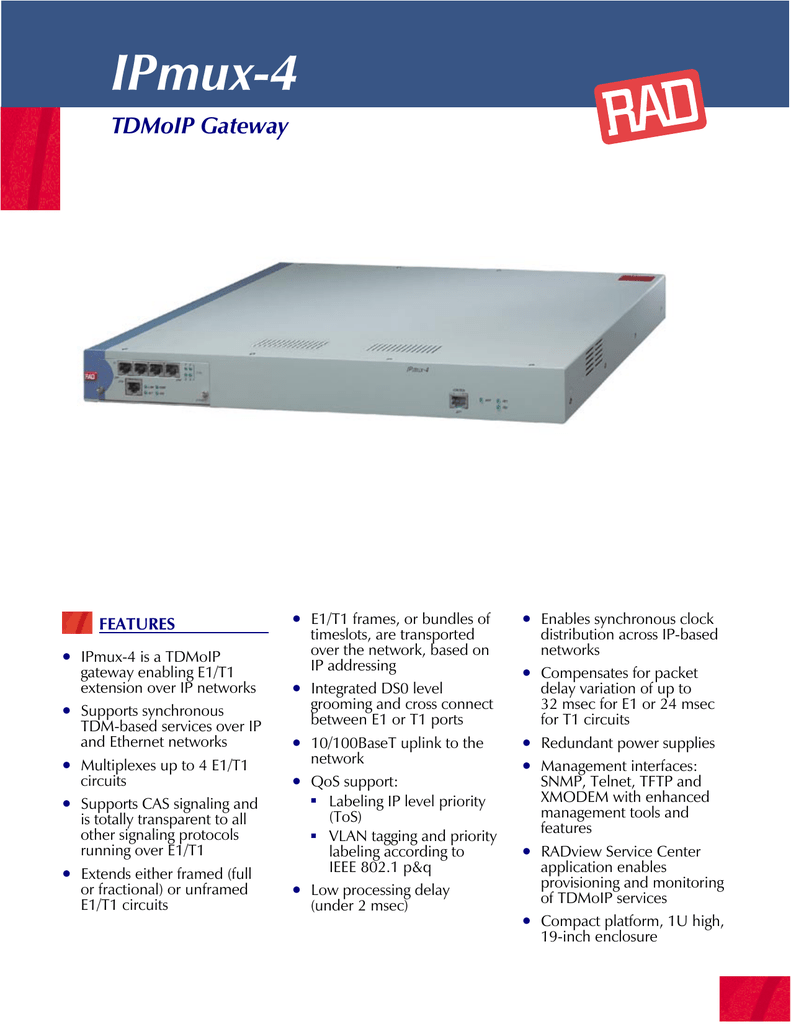 IPmux-4
TDMoIP Gateway
FEATURES
• E1/T1 frames, or bundles of
• IPmux-4 is a TDMoIP
•
•
•
•
gateway enabling E1/T1
extension over IP networks
Supports synchronous
TDM-based services over IP
and Ethernet networks
Multiplexes up to 4 E1/T1
circuits
Supports CAS signaling and
is totally transparent to all
other signaling protocols
running over E1/T1
Extends either framed (full
or fractional) or unframed
E1/T1 circuits
•
•
•
•
timeslots, are transported
over the network, based on
IP addressing
Integrated DS0 level
grooming and cross connect
between E1 or T1 ports
10/100BaseT uplink to the
network
QoS support:
Labeling IP level priority
(ToS)
VLAN tagging and priority
labeling according to
IEEE 802.1 p&q
Low processing delay
(under 2 msec)
• Enables synchronous clock
•
•
•
•
•
distribution across IP-based
networks
Compensates for packet
delay variation of up to
32 msec for E1 or 24 msec
for T1 circuits
Redundant power supplies
Management interfaces:
SNMP, Telnet, TFTP and
XMODEM with enhanced
management tools and
features
RADview Service Center
application enables
provisioning and monitoring
of TDMoIP services
Compact platform, 1U high,
19-inch enclosure
IPmux-4
TDMoIP Gateway
DESCRIPTION
• IPmux-4 provides a compact,
simple to configure, and easily
scalable solution for transporting
TDM E1/T1 services over IP and
Ethernet-based networks.
IPmux-4 takes data streams from
up to 4 E1/T1 ports and converts
them into packets (with an IP
addressing scheme) for
transmission over the network.
These packets are transmitted via
IPmux-4's 10/100BaseT port to
the network. A second IPmux-4 at
the remote location converts the
IP packets back into TDM traffic.
• The primary benefit of IPmux-4 is
that it allows transparent E1/T1
connectivity over the new
generation of switch-based packet
networks, both in carrier and
enterprise environments.
• IPmux-4 is a standard IP device,
supporting ICMP (ping), ARP, next
hop and default gateway
capabilities.
• IPmux-4 features a dry contact
alarm port (DB-9), which allows
the device to send/receive alarms
by opening/closing the contact
between the connector's pins.
PERFORMANCE
OPERATION MODES
• IPmux-4 can achieve an
• Two types of service are offered:
end-to-end processing delay as
low as 1.7 msec, using
high-performance buffering and
forwarding techniques.
• The IP packet size is configurable:
greater packet length results in
smaller bandwidth overhead yet
greater processing delay.
• An enhanced buffering
mechanism compensates for
packet delay variation (jitter) of up
to 32 msec for E1 or up to
24 msec for T1.
QoS SUPPORT
• IPmux-4 supports VLAN tagging
and priority labeling according to
802.1 p&q.
• The user can configure the ToS
(Type of Service) of the outgoing
IP frames. This allows an en-route
Layer-3 router or switch, which
supports ToS (or Diffserve), to give
higher priority to IPmux-4 traffic
for delay-sensitive applications.
• Assigned, IANA-registered UDP
socket number for TDMoIP
simplifies flow classification
through switches and routers.
APPLICATIONS
Figure 1. Voice and Video across Campus LAN
Unframed: IPmux-4 extends full
E1/T1 circuits transparently
across the IP network, regardless
of framing structure.
Structured: IPmux-4 can be
configured on a per timeslot
basis for fractional E1/T1 services
over IP networks. CAS can be
enabled.
• Multibundling (grouping timeslots
originating from a specific E1 or
T1 port) can be performed for up
to 31 bundles per E1 port and
24 bundles per T1 port for
transport over the network. Both
mesh and star topologies are
supported.
• IPmux-4 allows an internal cross
connect of bundles between its E1
or T1 ports.
POWER SUPPLY
• IPmux-4 power supplies support
carrier environments with −36 to
−72 VDC, or 100 to 240 VAC.
• IPmux-4 features optional dual
power supplies for redundancy.
TIMING
• IPmux-4 maintains
synchronization between TDM
devices by employing advanced
clock distribution mechanisms.
The clocking options are:
Internal: The master clock
source for the TDM circuit is
provided by the internal clock
oscillator of IPmux-4.
External: Port 4 of IPmux-4 can
be defined as the clock input
port. This enables any of the
remaining 3 ports to be
configured to work in EXT
mode, thus being locked to the
receive clock of port 4.
Loopback: The transmit clock is
derived from the respective
port's receive clock.
Adaptive: The clock is
recovered from the Ethernet
network interface.
INTERFACE MODULES
ETHERNET PORT
• IPmux-4 is ordered with one E1 or
• Each E1/T1 module includes a
T1 module which provides an
Ethernet port and either one or
four standard E1 or T1 ports
enabling connectivity to any
standard E1 or T1 device
(see Ordering).
E1/T1 PORT
• Integral LTU/CSU can be enabled
for line protection and long haul
options.
• Alarm detection and insertion are
supported together with error
statistics. SES/UAS statistics,
LOS/AIS physical layer alarms and
remote loop/local loop test modes
are all supported. Standard E1/T1
alarms are supported end-to-end.
single, standard 10/100BaseT port
with auto-negotiation support,
which provides the uplink to the
network. If auto-negotiation is
disabled, IPmux-4 can be
configured to any of the following:
100BaseT – full duplex
100BaseT – half duplex
10BaseT – full duplex
10BaseT – half duplex.
DIAGNOSTICS & MANAGEMENT
• IPmux-4 supports remote and
local loop testing. End-to-end
alarm generation and end-to-end
AIS indication are also provided.
In the event that a local E1/T1
port receives an AIS, it is passed to
the remote port via the
Ethernet/IP network. If a local
Ethernet port is not connected, an
AIS indication will be generated
both in the local and the remote
devices.
• On the E1/T1 ports, SES and UAS
statistics are collected in
15-minute intervals and are stored
for 24 hours (96 intervals). E1/T1
physical layer alarms (LOS, AIS,
LOF, LCV) are also supported.
Figure 2. Multiplexing Voice and Data over Fast/Giga Ethernet Trunk
IPmux-4
TDMoIP Gateway
• IPmux-4 monitors LAN and IP
layer network condition statistics,
such as packet loss and packet
delay variation (jitter). The events
are stored in log files and SNMP
traps are generated.
• IPmux-4 performs an internal
built-in test (BIT) after power up.
The results of the test are visible
via the local terminal.
• Software download is supported
via the local terminal using
XMODEM or remotely, using
TFTP. After downloading a new
software version, IPmux-4
automatically saves the previous
version in non-volatile memory for
backup purposes. Similarly, copies
of the configuration file may be
downloaded and uploaded to a
remote workstation for backup
and restore purposes.
• IPmux-4 can be configured and
monitored locally via an ASCII
terminal, or remotely via Telnet or
RADview.
Figure 3. IP-based Metropolitan Area Network (MAN)
IPmux-4
TDMoIP Gateway
• RADview-HPOV, RAD's
SNMP-based network
management system, provides a
user-friendly graphical display that
allows monitoring and configuring
of multiple IPmux-4 devices. Fault
isolation, statistics and events
gathering are available.
RADview-HPOV can hold a
complete predefined IPmux-4
configuration to shorten and
simplify field installation.
• The RADview Service Center and
element manager package
supplies and monitors TDM over
IP (TDMoIP) devices and circuits.
The Service Center's intuitive GUI
interface, "point-and-click"
functionality and easy-to-follow
wizards increase the efficiency
and accuracy of the service
provisioning process.
SPECIFICATIONS
E1 INTERFACE
• Ports
1 or 4 (see Ordering)
• Standards
ITU-T Rec. G.703, G.704, G.706,
G.732, G.823
• Framing
Unframed, CRC4 MF, CAS MF
• Data Rate
2.048 Mbps
• Transmit Level
±2.75V ±10% at 0–655 ft
with DSU
0 dB, −7.5 dB, −15 dB, −22.5 dB
with CSU
• Line Impedance
100Ω, balanced
• Jitter Performance
Per AT&T TR-62411
• Connector
RJ-45, 8 pin
ETHERNET INTERFACE
• Line Code
• Ports
• Receive Level
• Standards
HDB3
0 to −27 dB with LTU
0 to −10 dB without LTU
• Transmit Level
Balanced: ±3V (±10%)
Unbalanced: ±2.3V (±10%)
• Line Impedance
Balanced: 120Ω
Unbalanced: 75Ω
• Jitter Performance
Per ITU-T G.823
• Connectors
Balanced: RJ-45, 8-pin
Unbalanced: pair of mini BNC,
75Ω (adapter cables from mini
BNC to BNC are supplied)
T1 INTERFACE
• Ports
1 or 4 (see Ordering)
• Standards
AT&T TR-62411,
ITU-T Rec. G.703, G.704,
ANSI T1.403
• Data Rate
1.544 Mbps
• Line Code
AMI, B8ZS, B7ZS
• Framing
Unframed, SF, ESF
• Receive Level
0 dB to −27 dB
1
IEEE 802.3, 802.3u
• Data Rate
10 or 100 Mbps, half duplex or
full duplex
• Range
Up to 100m on UTP Cat.5
• Connector
RJ-45, 8-pin
DTE CONTROL INTERFACE
• Standards
RS-232/V.24 (DTE)
• Data Rate
9,600, 19,200, 38,400 or
57,600 bps
• Connector
DB-9
GENERAL
• Power
100 to 240 VAC, 47 to 63 Hz, 30W
−36 to −72 VDC
Note: Supports power supply redundancy
• Physical
Height
Width
Depth
Weight
4.4 cm/1.7 in (1U)
43.2 cm/17.0 in
35.0 cm/13.8 in
2.8 kg/6.2 lb
• Environment
Temperature:
Operating:
0 to 50°C/32 to 122°F
Storage:
−20 to 70°C/32 to 110°F
Humidity: Up to 90%,
non-condensing
IPmux-4
TDMoIP Gateway
ORDERING
BASIC UNIT
IPmux-4/&/*
TDMoIP Gateway for IP networks
& Specify power supply:
AC for 100 to 240 VAC
48 for −36 to −72 VDC
* Specify R for redundant identical
power supply
INTERFACE MODULE
IPmux-4M/#/+/ETH
E1/T1 Optional Modules
Note: A single module must be ordered in
conjunction with the IPmux-4 basic unit.
# Specify supported service:
E1 for E1 interface, with RJ-45
connector
T1 for T1 interface, with RJ-45
connector
E1CX for E1 interface, with mini
BNC connectors
+ Specify number of ports:
1 for 1 port
4 for 4 ports
RM-11
Hardware for mounting IPmux-4
units in a 19-inch rack
data communications
www.rad.com
International Headquarters
24 Raoul Wallenberg Street
Tel Aviv 69719, Israel
Tel: (972) 3-6458181
Fax: (972) 3-6498250, 6474436
Email: [email protected]
U.S. Headquarters
900 Corporate Drive
Mahwah, NJ 07430
Tel: (201) 529-1100
Toll free: 1-800-444-7234
Fax: (201) 529-5777
Email: [email protected]
115-100-09/01
 2001 RAD Data Communications Ltd.
All other trademarks are the property of their respective holders.
Specifications are subject to change without prior notice.