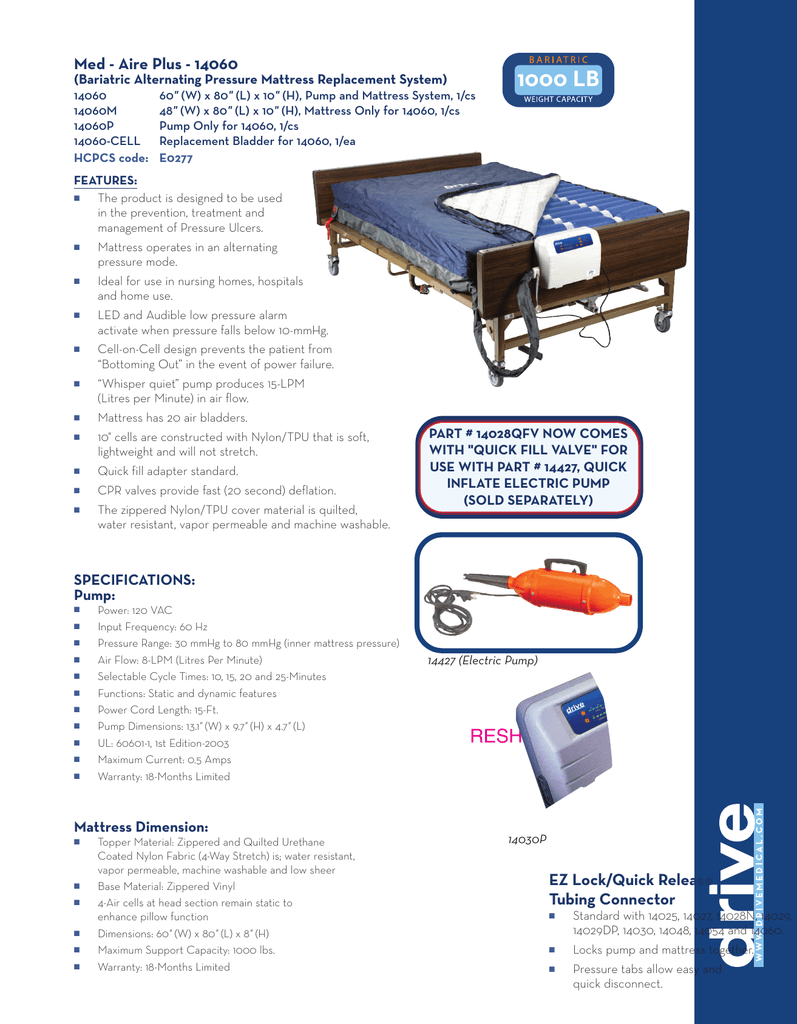 Med - Aire Plus - 14060
1000 LB
(Bariatric Alternating Pressure Mattress Replacement System)
14060
14060M
14060P
14060-CELL
HCPCS code:
60" (W) x 80" (L) x 10" (H), Pump and Mattress System, 1/cs
48" (W) x 80" (L) x 10" (H), Mattress Only for 14060, 1/cs
Pump Only for 14060, 1/cs
Replacement Bladder for 14060, 1/ea
E0277
FEATURES:
■
The product is designed to be used
in the prevention, treatment and
management of Pressure Ulcers.
■
Mattress operates in an alternating
pressure mode.
■
Ideal for use in nursing homes, hospitals
and home use.
■
LED and Audible low pressure alarm
activate when pressure falls below 10-mmHg.
■
Cell-on-Cell design prevents the patient from
"Bottoming Out" in the event of power failure.
■
"Whisper quiet" pump produces 15-LPM
(Litres per Minute) in air flow.
■
Mattress has 20 air bladders.
■
10" cells are constructed with Nylon/TPU that is soft,
lightweight and will not stretch.
■
Quick fill adapter standard.
■
CPR valves provide fast (20 second) deflation.
■
The zippered Nylon/TPU cover material is quilted,
water resistant, vapor permeable and machine washable.
PART # 14028QFV NOW COMES
WITH "QUICK FILL VALVE" FOR
USE WITH PART # 14427, QUICK
INFLATE ELECTRIC PUMP
(SOLD SEPARATELY)
SPECIFICATIONS:
Pump:
■
■
■
■
■
■
■
■
■
■
■
Power: 120 VAC
Input Frequency: 60 Hz
Pressure Range: 30 mmHg to 80 mmHg (inner mattress pressure)
Air Flow: 8-LPM (Litres Per Minute)
Selectable Cycle Times: 10, 15, 20 and 25-Minutes
Functions: Static and dynamic features
Power Cord Length: 15-Ft.
Pump Dimensions: 13.1" (W) x 9.7" (H) x 4.7" (L)
UL: 60601-1, 1st Edition-2003
Maximum Current: 0.5 Amps
Warranty: 18-Months Limited
14427 (Electric Pump)
RESHOOT
Mattress Dimension:
■
■
■
■
■
■
Topper Material: Zippered and Quilted Urethane
Coated Nylon Fabric (4-Way Stretch) is; water resistant,
vapor permeable, machine washable and low sheer
Base Material: Zippered Vinyl
4-Air cells at head section remain static to
enhance pillow function
Dimensions: 60" (W) x 80" (L) x 8" (H)
Maximum Support Capacity: 1000 lbs.
Warranty: 18-Months Limited
14030P
EZ Lock/Quick Release
Tubing Connector
■
Standard with 14025, 14027, 14028N, 14029,
14029DP, 14030, 14048, 14054 and 14060.
■
Locks pump and mattress together.
■
Pressure tabs allow easy and
quick disconnect.

* Your assessment is very important for improving the work of artificial intelligence, which forms the content of this project