No category
BIDS MUST BE SEALED AND ADDRESSED TO: State of Wisconsin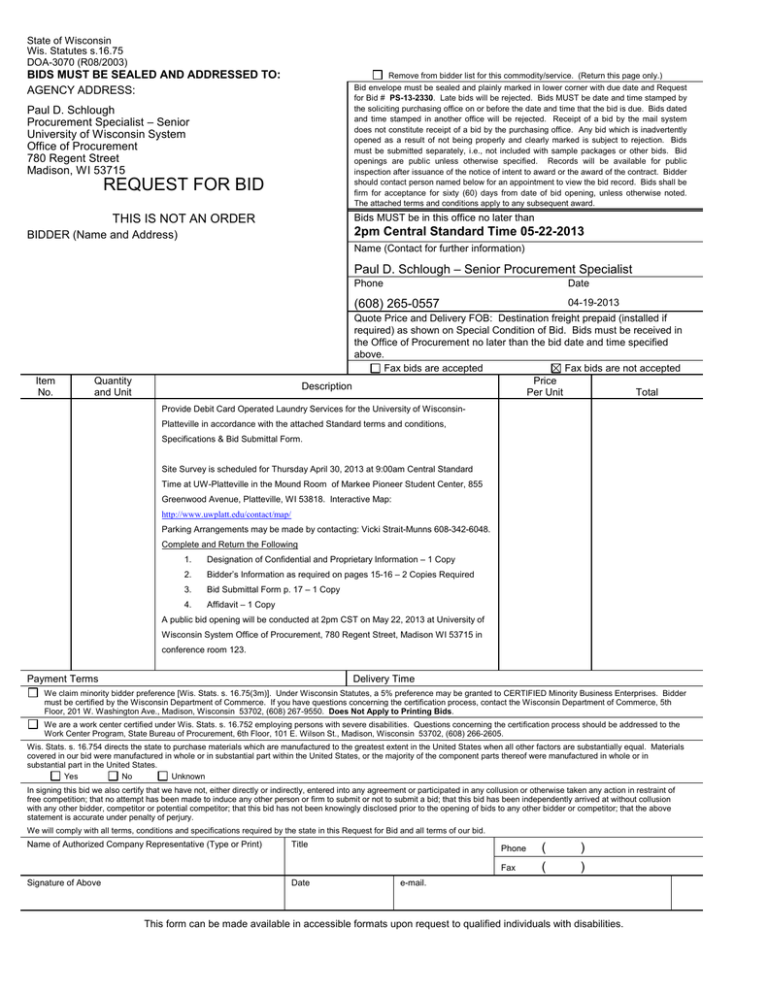 State of Wisconsin
Wis. Statutes s.16.75
DOA-3070 (R08/2003)
BIDS MUST BE SEALED AND ADDRESSED TO:
AGENCY ADDRESS:
Remove from bidder list for this commodity/service. (Return this page only.)
Bid envelope must be sealed and plainly marked in lower corner with due date and Request
for Bid # PS-13-2330. Late bids will be rejected. Bids MUST be date and time stamped by
the soliciting purchasing office on or before the date and time that the bid is due. Bids dated
and time stamped in another office will be rejected. Receipt of a bid by the mail system
does not constitute receipt of a bid by the purchasing office. Any bid which is inadvertently
opened as a result of not being properly and clearly marked is subject to rejection. Bids
must be submitted separately, i.e., not included with sample packages or other bids. Bid
openings are public unless otherwise specified. Records will be available for public
inspection after issuance of the notice of intent to award or the award of the contract. Bidder
should contact person named below for an appointment to view the bid record. Bids shall be
firm for acceptance for sixty (60) days from date of bid opening, unless otherwise noted.
The attached terms and conditions apply to any subsequent award.
Paul D. Schlough
Procurement Specialist – Senior
University of Wisconsin System
Office of Procurement
780 Regent Street
Madison, WI 53715
REQUEST FOR BID
Bids MUST be in this office no later than
THIS IS NOT AN ORDER
2pm Central Standard Time 05-22-2013
BIDDER (Name and Address)
Name (Contact for further information)
Paul D. Schlough – Senior Procurement Specialist
Item
No.
Phone
Date
(608) 265-0557
04-19-2013
Quote Price and Delivery FOB: Destination freight prepaid (installed if
required) as shown on Special Condition of Bid. Bids must be received in
the Office of Procurement no later than the bid date and time specified
above.
Fax bids are accepted
Fax bids are not accepted
Price
Description
Per Unit
Total
Quantity
and Unit
Provide Debit Card Operated Laundry Services for the University of WisconsinPlatteville in accordance with the attached Standard terms and conditions,
Specifications & Bid Submittal Form.
Site Survey is scheduled for Thursday April 30, 2013 at 9:00am Central Standard
Time at UW-Platteville in the Mound Room of Markee Pioneer Student Center, 855
Greenwood Avenue, Platteville, WI 53818. Interactive Map:
http://www.uwplatt.edu/contact/map/
Parking Arrangements may be made by contacting: Vicki Strait-Munns 608-342-6048.
Complete and Return the Following
1.
Designation of Confidential and Proprietary Information – 1 Copy
2.
Bidder's Information as required on pages 15-16 – 2 Copies Required
3.
Bid Submittal Form p. 17 – 1 Copy
4.
Affidavit – 1 Copy
A public bid opening will be conducted at 2pm CST on May 22, 2013 at University of
Wisconsin System Office of Procurement, 780 Regent Street, Madison WI 53715 in
conference room 123.
Payment Terms
Delivery Time
We claim minority bidder preference [Wis. Stats. s. 16.75(3m)]. Under Wisconsin Statutes, a 5% preference may be granted to CERTIFIED Minority Business Enterprises. Bidder
must be certified by the Wisconsin Department of Commerce. If you have questions concerning the certification process, contact the Wisconsin Department of Commerce, 5th
Floor, 201 W. Washington Ave., Madison, Wisconsin 53702, (608) 267-9550. Does Not Apply to Printing Bids.
We are a work center certified under Wis. Stats. s. 16.752 employing persons with severe disabilities. Questions concerning the certification process should be addressed to the
Work Center Program, State Bureau of Procurement, 6th Floor, 101 E. Wilson St., Madison, Wisconsin 53702, (608) 266-2605.
Wis. Stats. s. 16.754 directs the state to purchase materials which are manufactured to the greatest extent in the United States when all other factors are substantially equal. Materials
covered in our bid were manufactured in whole or in substantial part within the United States, or the majority of the component parts thereof were manufactured in whole or in
substantial part in the United States.
Yes
No
Unknown
In signing this bid we also certify that we have not, either directly or indirectly, entered into any agreement or participated in any collusion or otherwise taken any action in restraint of
free competition; that no attempt has been made to induce any other person or firm to submit or not to submit a bid; that this bid has been independently arrived at without collusion
with any other bidder, competitor or potential competitor; that this bid has not been knowingly disclosed prior to the opening of bids to any other bidder or competitor; that the above
statement is accurate under penalty of perjury.
We will comply with all terms, conditions and specifications required by the state in this Request for Bid and all terms of our bid.
Name of Authorized Company Representative (Type or Print)
Title
Signature of Above
Date
Phone
(
)
Fax
(
)
e-mail.
This form can be made available in accessible formats upon request to qualified individuals with disabilities.

* Your assessment is very important for improving the work of artificial intelligence, which forms the content of this project