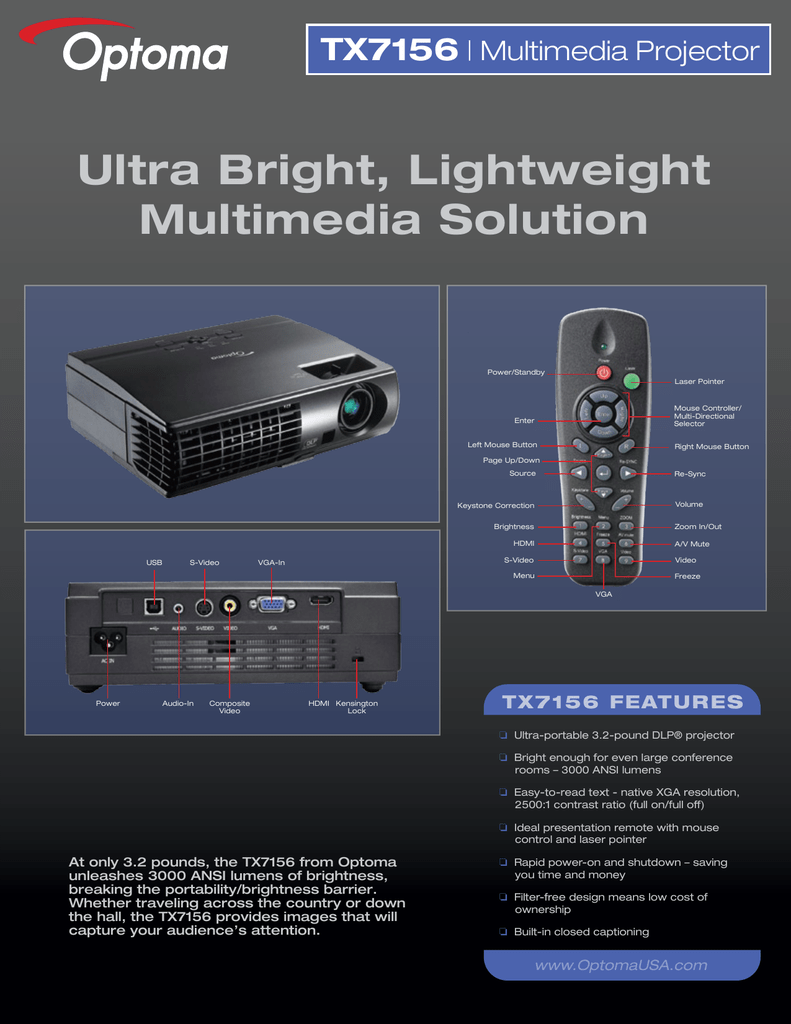 TX7156 | Multimedia Projector
Ultra Bright, Lightweight
Multimedia Solution
Power/Standby
Laser Pointer
Mouse Controller/
Multi-Directional
Selector
Enter
Left Mouse Button
Right Mouse Button
Page Up/Down
Source
Re-Sync
Volume
Keystone Correction
Zoom In/Out
Brightness
HDMI
USB
S-Video
A/V Mute
S-Video
VGA-In
Video
Menu
Freeze
VGA
Power
Audio-In
Composite
Video
HDMI Kensington
Lock
T X7 1 56 F EATURES
❏ Ultra-portable 3.2-pound DLP® projector
❏ Bright enough for even large conference
rooms – 3000 ANSI lumens
❏ Easy-to-read text - native XGA resolution,
2500:1 contrast ratio (full on/full off)
❏ Ideal presentation remote with mouse
control and laser pointer
At only 3.2 pounds, the TX7156 from Optoma
unleashes 3000 ANSI lumens of brightness,
breaking the portability/brightness barrier.
Whether traveling across the country or down
the hall, the TX7156 provides images that will
capture your audience's attention.
❏ Rapid power-on and shutdown – saving
you time and money
❏ Filter-free design means low cost of
ownership
❏ Built-in closed captioning
www.OptomaUSA.com
TX7156 | Multimedia Projector
Minimum Diagonal
(Inches)
Maximum Diagonal
(Inches)
Specifications
Display Technology:
Single 0.55" DMD DLP® Technology by Texas Instruments
6
50
41
Resolution:
Native XGA (1024 x 768)
8
67
55
Maximum Resolution:
UXGA (1600 x 1200)
Brightness (Typical):
3000 ANSI Lumens
Contrast Ratio:
2500:1 (Full On/Full Off)
Lamp Type:
220W SHP
Lamp Life (STD/Bright):
Estimated at 3000/2000 Hours
10
83
68
12
100
82
14
117
95
16
133
109
Throw Ratio:
1.8 to 2.2:1 (Distance/Width)
18
150
123
Image Size (Diagonal):
24.4" to 295.5" (0.62 to 7.51 m)
Projection Distance:
3.9' to 39.4' (1.2 to 12.0 m)
Noise Level (STD/Bright):
33dB/36dB
Remote Control:
Fully Featured IR Remote with Laser Pointer and Mouse
Computer Compatibility:
UXGA, WXGA, SXGA+, SXGA, XGA, SVGA, VGA, VESA, PC and
Macintosh Compatible
Video Compatibility:
NTSC, PAL, SECAM, SDTV (480i), EDTV (480p), HDTV (720p, 1080i/p)
Aspect Ratio:
4:3 Native, 16:9 & 16:10 Compatible
Projection Lens:
F=2.55~2.72, f=21.3~24.5 mm, 1.15x Manual Zoom & Focus
Offset:
114%
User Controls:
Complete On-Screen Menu in 22 Languages
Audio:
One 1-Watt Speakers
Keystone Correction:
± 30° Vertical
Vertical Refresh Rate:
43 to 87 Hz
Horizontal Scan Rate:
15, 30 to 91.4 KHz
Power Supply:
AC Input 100-240V, 50-60Hz Auto-Switching
Power Consumption:
280 Watts (Bright), 230 Watts (STD), <5 Watts (Standby)
Weight:
3.2 lbs (1.4 kg)
Dimensions (W x H x D):
8.66" x 2.79" x 7.0" (220 x 71 x 178 mm)
Operating Temperature:
41° to 104°F (5° to 40°C), 80% Max Humidity, Adjustable Fan Speed for
High Altitude Application
Control Panel
Lamp LED
Power LED
Temp LED
Power/Standby
AV Mute
Enter
Menu
Source & Left Direction Key
Re-Sync & Right Direction Key
Keystone +/- & Up/Down Direction Key
Optional Accessories
Lamp:
BL-FS220B
Displayable Colors:
134 Million
Remote:
BR-5028L
Projection Method:
Front, Rear, Ceiling Mount, Table Top
Mount:
BM-5001U
Uniformity:
85%
VGA Cable (1.8m):
BC-VGVGXX02
Security:
One Kensington® Lock Port
HDMI Cable (7.5m):
BC-HMHMXX08
I/O Connectors:
HDMI v1.3, VGA-In, Composite Video, S-Video, Audio-In and USB
HDMI Cable (5m):
BC-HMHMXX05
Standard Accessories:
Power Cord (1m):
BC-PUPNXY01
AC Power Cord, VGA to VGA Cable, USB Cable, Remote Control,
Batteries for Remote, Lens Cap, Carrying Case, Quick Start Card,
CD-ROM User's Manual and Warranty Card
Power Cord (2m):
BC-PUPNXY02
Optional Accessories:
Ceiling Mount, VGA to Component Cable, S-Video Cable, HDMI Cable,
Composite Video Cable, Panoview™ Series Screens
S-Video Cable (1.8m):
BC-SVSVXX02
Warranty:
Three Years Optoma Express Replacement Service, One Year on Lamp
Composite Cable (1.8m):
BC-COCOXX02
UPC:
796435 41 109 1
VGA to Component Cable (1.8m):
BC-VGCRXX02
Carrying Case:
BK-4021
84" 4:3 Manual Pull-Up Screen:
DP-MW3084A
Data-TX7156-001-0509
Projection Distance/Image Size
Projection Distance
(Feet)
www.OptomaUSA.com
NO FILTER
REQUIRED
All Specifications are subject to change without notice. ©2009 Optoma Technology, Inc. DLP® and the DLP logo are
registered trademarks of Texas Instraments. All other names mentioned herein are property of their respective owners.