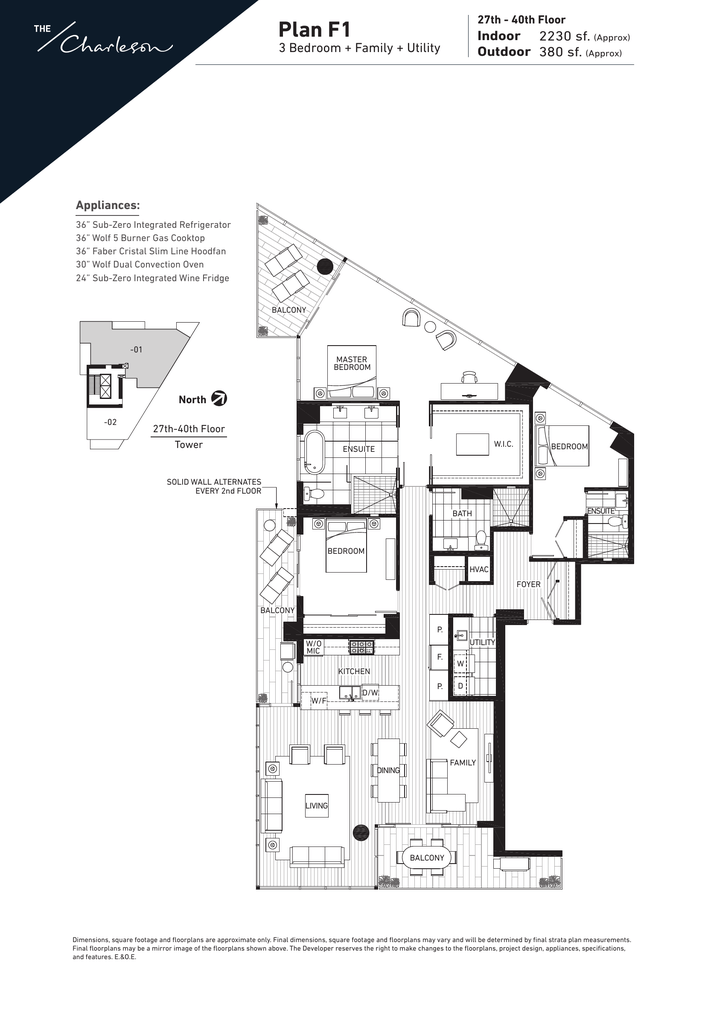 FOYER
27th - 40th Floor
Plan F1
Indoor 2230 sf. (Approx)
Outdoor 380 sf. (Approx)
3 Bedroom + Family + Utility
ILITY
Y
Appliances:
36" Sub-Zero Integrated Refrigerator
36" Wolf 5 Burner Gas Cooktop
36" Faber Cristal Slim Line Hoodfan
30" Wolf Dual Convection Oven
24" Sub-Zero Integrated Wine Fridge
BALCONY
-01
MASTER
BEDROOM
North
-02
27th-40th Floor
Tower
W.I.C.
ENSUITE
BEDROOM
SOLID WALL ALTERNATES
EVERY 2nd FLOOR
ENSUITE
BATH
BEDROOM
HVAC
FOYER
BALCONY
P.
UTILITY
W/O
MIC
F.
KITCHEN
W/F
D/W
P.
W
D
FAMILY
DINING
LIVING
BALCONY
Dimensions, square footage and floorplans are approximate only. Final dimensions, square footage and floorplans may vary and will be determined by final strata plan measurements.
Final floorplans may be a mirror image of the floorplans shown above. The Developer reserves the right to make changes to the floorplans, project design, appliances, specifications,
and features. E.&O.E.

* Your assessment is very important for improving the work of artificial intelligence, which forms the content of this project