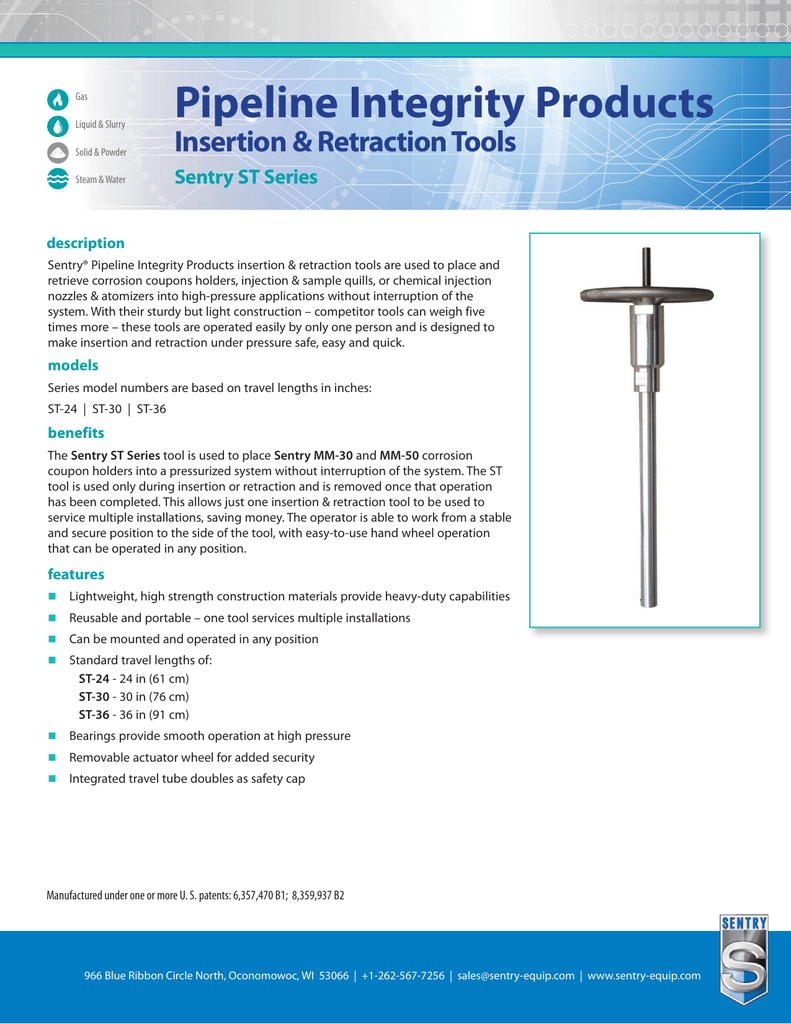 Liquid & Slurry
Pipeline Integrity Products
Solid & Powder
Insertion & Retraction Tools
Steam & Water
Sentry ST Series
Gas
description
Sentry® Pipeline Integrity Products insertion & retraction tools are used to place and
retrieve corrosion coupons holders, injection & sample quills, or chemical injection
nozzles & atomizers into high-pressure applications without interruption of the
system. With their sturdy but light construction – competitor tools can weigh five
times more – these tools are operated easily by only one person and is designed to
make insertion and retraction under pressure safe, easy and quick.
models
Series model numbers are based on travel lengths in inches:
ST-24 | ST-30 | ST-36
benefits
The Sentry ST Series tool is used to place Sentry MM-30 and MM-50 corrosion
coupon holders into a pressurized system without interruption of the system. The ST
tool is used only during insertion or retraction and is removed once that operation
has been completed. This allows just one insertion & retraction tool to be used to
service multiple installations, saving money. The operator is able to work from a stable
and secure position to the side of the tool, with easy-to-use hand wheel operation
that can be operated in any position.
features
 Lightweight, high strength construction materials provide heavy-duty capabilities
 Reusable and portable – one tool services multiple installations
 Can be mounted and operated in any position
 Standard travel lengths of:
ST-24 - 24 in (61 cm)
ST-30 - 30 in (76 cm)
ST-36 - 36 in (91 cm)
 Bearings provide smooth operation at high pressure
 Removable actuator wheel for added security
 Integrated travel tube doubles as safety cap
Manufactured under one or more U. S. patents: 6,357,470 B1; 8,359,937 B2
966 Blue Ribbon Circle North, Oconomowoc, WI 53066 | +1-262-567-7256 | [email protected] | www.sentry-equip.com
Pipeline Integrity Products > Insertable & Retractable Tool Holders > Sentry ST Series
Removable
Hand Wheel
Hand Wheel
Set Screw
Adapter for Rod
Insertion/Retraction
Coupon Insertion/
Retraction Tool
(Standard Tool)
"OA Height"
A
"Travel"
(See Specificatios)
Coupon Holder
Assembly
(Example)
A
Standard Tool
Dimensions
Anti-rotation
Screw
OA Height
ST24 ST30 ST36
36''
42"
Section A-A
(2X Scale)
Tool Connection
S-PI-SPS-00400-0 7-15
specifications
weight
ST-24: 9.5 lbs (4 kg); ST-30: 10 lbs (4.5 kg); ST-36: 11 lbs (5 kg)
materials
Lightweight aircraft grade aluminum, brass and SS
pressure rating
For use with coupon holder rated up to 5000 psi (345 bar) MAOP at 100°F (37.7°C)
temperature rating
Ambient
tool connection
3/4 in female NPT
966 Blue Ribbon Circle North
Oconomowoc, WI 53066 U.S.
+1-262-567-7256
[email protected]
www.sentry-equip.com
It is solely the responsibility of end users, through their own analysis and testing, to select products and materials suitable for their specific
application requirements, ensure they are properly installed, safely applied and properly maintained, and to limit their use to their intended purpose.
Improper selection, installation, or use may result in personal injury or property damage.
48"

* Your assessment is very important for improving the work of artificial intelligence, which forms the content of this project