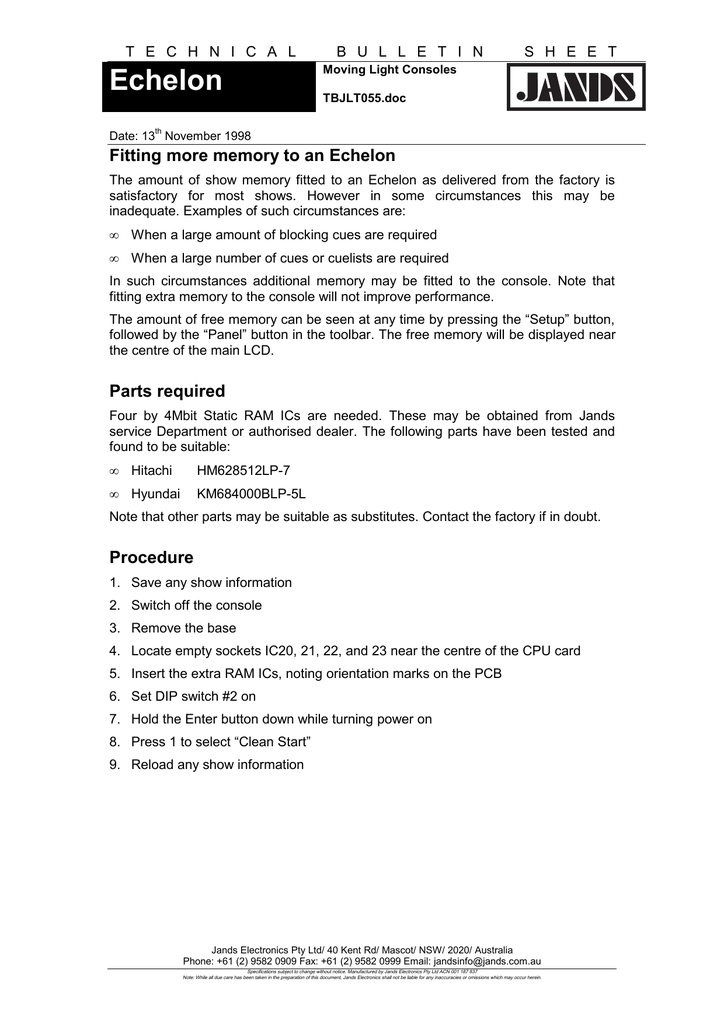 T E C H N I C A L
Echelon
B U L L E T I N
S H E E T
Moving Light Consoles
TBJLT055.doc
th
Date: 13 November 1998
Fitting more memory to an Echelon
The amount of show memory fitted to an Echelon as delivered from the factory is
satisfactory for most shows. However in some circumstances this may be
inadequate. Examples of such circumstances are:
•
When a large amount of blocking cues are required
•
When a large number of cues or cuelists are required
In such circumstances additional memory may be fitted to the console. Note that
fitting extra memory to the console will not improve performance.
The amount of free memory can be seen at any time by pressing the "Setup" button,
followed by the "Panel" button in the toolbar. The free memory will be displayed near
the centre of the main LCD.
Parts required
Four by 4Mbit Static RAM ICs are needed. These may be obtained from Jands
service Department or authorised dealer. The following parts have been tested and
found to be suitable:
•
Hitachi
HM628512LP-7
•
Hyundai
KM684000BLP-5L
Note that other parts may be suitable as substitutes. Contact the factory if in doubt.
Procedure
1. Save any show information
2. Switch off the console
3. Remove the base
4. Locate empty sockets IC20, 21, 22, and 23 near the centre of the CPU card
5. Insert the extra RAM ICs, noting orientation marks on the PCB
6. Set DIP switch #2 on
7. Hold the Enter button down while turning power on
8. Press 1 to select "Clean Start"
9. Reload any show information
Jands Electronics Pty Ltd/ 40 Kent Rd/ Mascot/ NSW/ 2020/ Australia
Phone: +61 (2) 9582 0909 Fax: +61 (2) 9582 0999 Email: [email protected]
Specifications subject to change without notice. Manufactured by Jands Electronics Pty Ltd ACN 001 187 837
Note: While all due care has been taken in the preparation of this document, Jands Electronics shall not be liable for any inaccuracies or omissions which may occur herein.

* Your assessment is very important for improving the work of artificial intelligence, which forms the content of this project