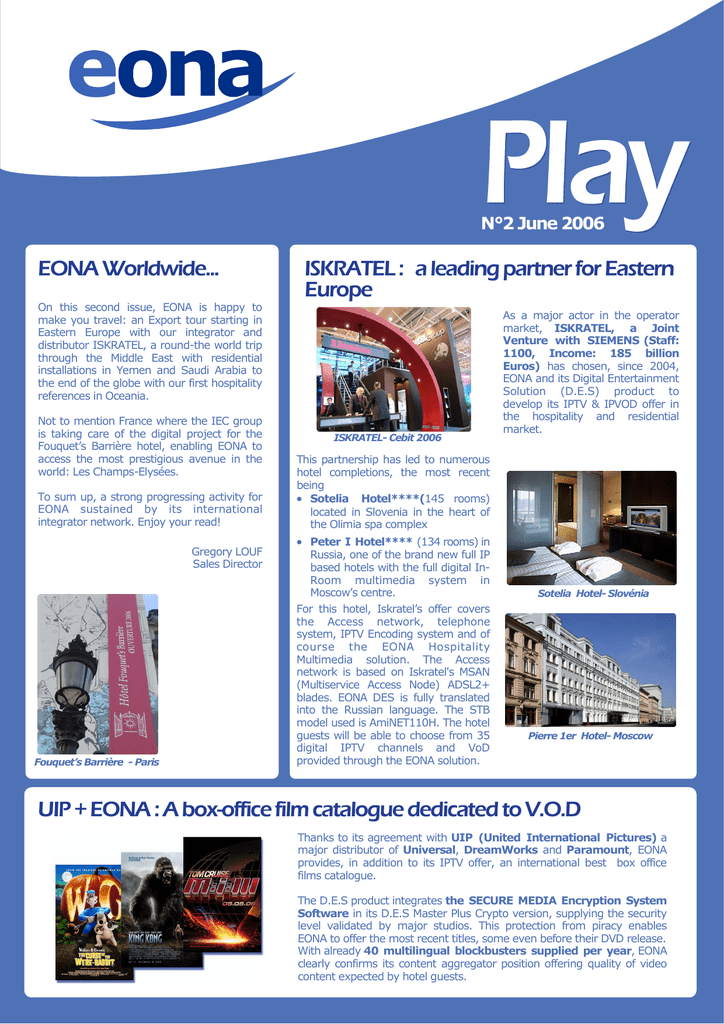 N°2 June 2006
EONA Worldwide...
ISKRATEL : a leading partner for Eastern
Europe
On this second issue, EONA is happy to
make you travel: an Export tour starting in
Eastern Europe with our integrator and
distributor ISKRATEL, a round-the world trip
through the Middle East with residential
installations in Yemen and Saudi Arabia to
the end of the globe with our first hospitality
references in Oceania.
Not to mention France where the IEC group
is taking care of the digital project for the
Fouquet's Barrière hotel, enabling EONA to
access the most prestigious avenue in the
world: Les Champs-Elysées.
To sum up, a strong progressing activity for
EONA sustained by its international
integrator network. Enjoy your read!
Gregory LOUF
Sales Director
Fouquet's Barrière - Paris
ISKRATEL- Cebit 2006
As a major actor in the operator
market, ISKRATEL, a Joint
Venture with SIEMENS (Staff:
1100, Income: 185 billion
Euros) has chosen, since 2004,
EONA and its Digital Entertainment
Solution (D.E.S) product to
develop its IPTV & IPVOD offer in
the hospitality and residential
market.
This partnership has led to numerous
hotel completions, the most recent
being
• Sotelia Hotel****(145 rooms)
located in Slovenia in the heart of
the Olimia spa complex
• Peter I Hotel**** (134 rooms) in
Russia, one of the brand new full IP
based hotels with the full digital InRoom multimedia system in
Moscow's centre.
For this hotel, Iskratel's offer covers
the Access network, telephone
system, IPTV Encoding system and of
course the EONA Hospitality
Multimedia solution. The Access
network is based on Iskratel's MSAN
(Multiservice Access Node) ADSL2+
blades. EONA DES is fully translated
into the Russian language. The STB
model used is AmiNET110H. The hotel
guests will be able to choose from 35
digital IPTV channels and VoD
provided through the EONA solution.
Sotelia Hotel- Slovénia
Pierre 1er Hotel- Moscow
UIP + EONA : A box-office film catalogue dedicated to V.O.D
Thanks to its agreement with UIP (United International Pictures) a
major distributor of Universal, DreamWorks and Paramount, EONA
provides, in addition to its IPTV offer, an international best box office
films catalogue.
The D.E.S product integrates the SECURE MEDIA Encryption System
Software in its D.E.S Master Plus Crypto version, supplying the security
level validated by major studios. This protection from piracy enables
EONA to offer the most recent titles, some even before their DVD release.
With already 40 multilingual blockbusters supplied per year, EONA
clearly confirms its content aggregator position offering quality of video
content expected by hotel guests.
IEC : Engineering and Integration
&
Rewind
Forward...
November2005 - Mills - Mapic (France)
With more than 450 employees
split into 17 French agencies
and 8 subsidiaries in Spain,
Italy, Finland and the United
States, the IEC multimedia and
audiovisual group has a national
and international cover enhanced
by its Engineering department. This
profile perfectly fits EONA's will to
collaborate with close to final
customer integrators from the
study, the accomplishment, to the
application support.
Since the beginning of 2006, IEC
and EONA collaboration has
speeded up:
• The Barrière Group has chosen
National network
IEC for the Fouquet's Barrière,
a new Parisian hotel on ChampsElysées Avenue. For this project,
IEC provides supplies and start
up of digital architecture linked to
access control, automation and
of course interactive TV with
EONA D.E.S Master Plus.
During MAPIC (Professional international market
for sales development and distribution),
BUTTON DESIGN used Media Retrieval
Solution. On the American MILLS booth, M.R.S
has enabled to manage both signage and
information interactive consulting.
March 2006 - Holiday Inn Blagnac (France)
After a first hotel of the same brand installed in
Bordeaux in 2005, VISACOM equipped 119
rooms of the 3 stars Holiday Inn hotel in Toulouse
Blagnac.
• In parallel, for the Export market
IEC is achieving in collaboration
with AMEC SPIE COM an IPTV
solution based on the D.E.S TV
Plus product. This project
concerns a Yemen gas plant with
the installation of 800 end
points.
May 2006 - California Hotel (Australia)
EONA signs with FREEGATE NETWORKS its first
hotel in Melbourne (80 rooms)
Note: A single design by color and topic in each
room plus ERICSSON DSL technology
associated with EONA.
Newsletter
D.E.S : A new version V1.13
D.E.S version 1.13 has been provided to all
our integrators with a remodelled graphic
interface.
Among the main evolutions of this new
version:
• TV channels direct access from D.E.S
navigation pages with remote control
digital keys
• Multicast streams support in Info Portal
service
• Juke-Box speed optimisation
• Access control to some services for a set-
June 2006 - Morjan Village (Saudi Arabia)
A second residential complex for EONA in Saudi
Arabia, Morjan Village is a 255 villa project of
ISC integrator.
July 2006 - Emerald Hotel (New Zealand)
A first completion between EONA and
INTERACTIVE ENTERTAINMENT SERVICES
with this top-of-the-range hotel (70 rooms and
suites) located on the East coast of New Zealand.
top box group
• External components update: Apache2,
PHP5, MySQL5
EONA - 4 bis, Avenue du Pré de Challes - 74940 Annecy le Vieux - France - Tel. +33(0)4 50 64 08 97 - Fax. +33(0)4 50 64 09 02
www.eona.com
[email protected]
© EONA SA 2006. All rights reserved. D.E.S (Digital Entertainment Solution), M.R.S (Media Retrieval Solution),
EONA and EONA logo design are either trademarks or registered trademarks of EONA.
Specifications subject to change without notice.

* Your assessment is very important for improving the work of artificial intelligence, which forms the content of this project