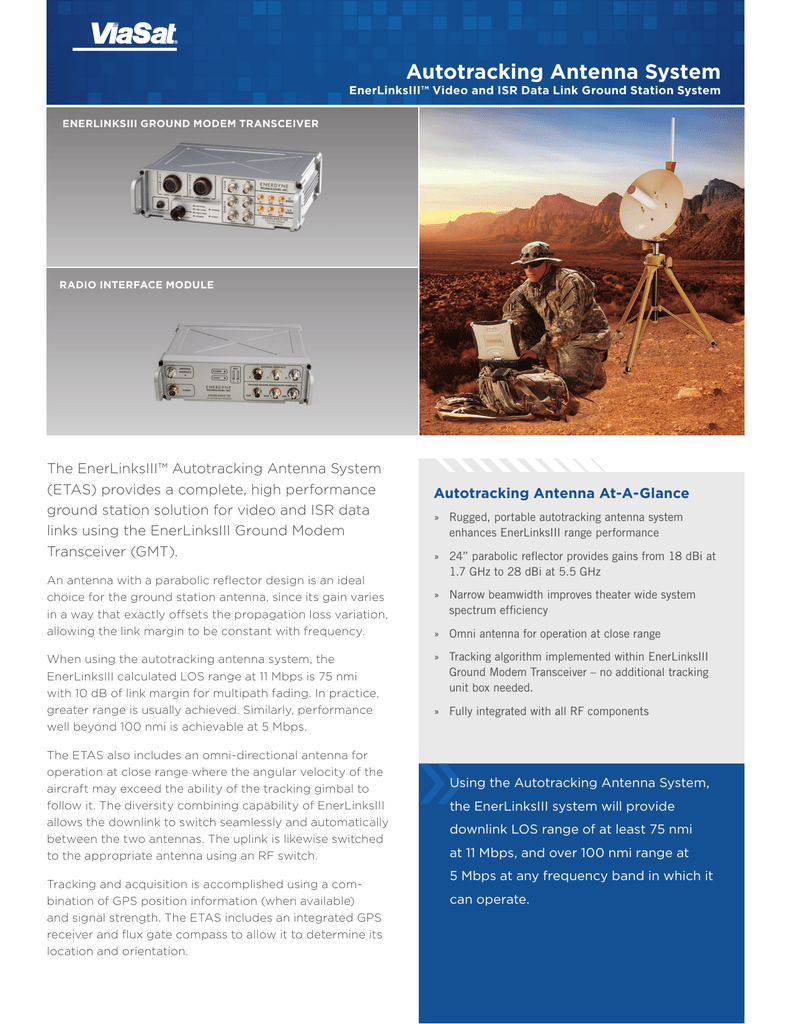 Autotracking Antenna System
EnerLinksIII™ Video and ISR Data Link Ground Station System
ENERLINKSIII GROUND MODEM TRANSCEIVER
RADIO INTERFACE MODULE
The EnerLinksIII™ Autotracking Antenna System
(ETAS) provides a complete, high performance
ground station solution for video and ISR data
links using the EnerLinksIII Ground Modem
Transceiver (GMT).
An antenna with a parabolic reflector design is an ideal
choice for the ground station antenna, since its gain varies
in a way that exactly offsets the propagation loss variation,
allowing the link margin to be constant with frequency.
When using the autotracking antenna system, the
EnerLinksIII calculated LOS range at 11 Mbps is 75 nmi
with 10 dB of link margin for multipath fading. In practice,
greater range is usually achieved. Similarly, performance
well beyond 100 nmi is achievable at 5 Mbps.
The ETAS also includes an omni-directional antenna for
operation at close range where the angular velocity of the
aircraft may exceed the ability of the tracking gimbal to
follow it. The diversity combining capability of EnerLinksIII
allows the downlink to switch seamlessly and automatically
between the two antennas. The uplink is likewise switched
to the appropriate antenna using an RF switch.
Tracking and acquisition is accomplished using a combination of GPS position information (when available)
and signal strength. The ETAS includes an integrated GPS
receiver and flux gate compass to allow it to determine its
location and orientation.
Autotracking Antenna At-A-Glance
» Rugged, portable autotracking antenna system
enhances EnerLinksIII range performance
» 24" parabolic reflector provides gains from 18 dBi at
1.7 GHz to 28 dBi at 5.5 GHz
» Narrow beamwidth improves theater wide system spectrum efficiency
»Omni antenna for operation at close range
» Tracking algorithm implemented within EnerLinksIII Ground Modem Transceiver – no additional tracking
unit box needed.
» Fully integrated with all RF components
Using the Autotracking Antenna System,
the EnerLinksIII system will provide
downlink LOS range of at least 75 nmi
at 11 Mbps, and over 100 nmi range at
5 Mbps at any frequency band in which it
can operate.
Autotracking Antenna System Specifications
GROUND MODEM/TRANSCEIVER (GMT)
2 ANALOG VIDEO
VIDEO SWITCH &
DACS
RADIO INTERFACE
MODULE (RIM)
DC/DC CONVERTER
ANTENNA TRIPOD ASSEMBLY
GPS
ANTENNA
PARABOLIC
REFLECTOR
ANTENNA
OMNI
DIRECTIONAL
ANTENNA
DUPLEXER/
LNA
DUPLEXER/
LNA
FREQUENCY OR SPACE DIVERSITY
SWITCHING
CONTROL
PROCESSOR
IP TRAFFIC,
ORDERWIRE
MULTIPLEXING
RF SWITCH
RF
UPCONVERTER
2 SYNC DATA PORTS
MOTORIZED
GIMBAL
POSITIONER
SERIAL PORT
2 AUDIO (LINE)
6 ASYNC DATA PORTS
SERIAL PORT
FEC AND
MODULATE
CONTROL/STATUS
NETWORK AND
CONTROL
PROCESSOR
PORT 1 RF
DOWNCONVERTER
ETHERNET
PORT 2 RF
DOWNCONVERTER
DEMULTIPLEXING
DATA LINK
DEMOD & FEC
2 SYNC DATA PORTS
DATA LINK
DEMOD & FEC
6 ASYNC DATA PORTS
DIVERSITY COMBINER
2 AUDIO (LINE)
MPEG2
COMPRESS
H.264
DECOMPRESS
H.264
DECOMPRESS
MJPEG
DECOMPRESS
GPS RCVR
ETAS incorporates all the RF components that
are sensitive to cable loss including duplexers,
LNAs and Power Amplifiers. These are packaged
directly behind the parabolic reflector using
minimum length cable runs. Power for the LNAs
and PA is conducted on the RF cables, minimizing
the number of cables required.
PA MODULE
The tracking algorithms are implemented in software
residing in the GMT. The GMT interfaces to the
Antenna Tripod Assembly through a Radio Interface
Module that provides power conditioning for the
gimbal power and control for the GPS receiver and
various RF switches. The Radio Interface Module
also allows switching to enable use of the GMT in a
frequency diversity mode if required.
ANTENNA
RADIO INTERFACE MODULE
ENVIRONMENTAL
Parabolic Diameter: 24"
Size: 3.2" x 7.9" x 10.5"
Operating temperature range: -0° to +60°C
Gain at 1700 MHz (approx): 18 dBi
Weight: 6.5 lbs.
Non-operating temperature range: -40° to +85°C
3 dB beamwidth at 1700 MHz: 20°
Gain at 5500 MHz (approx): 28 dBi
ANTENNA TRIPOD ASSEMBLY
3 dB beamwidth at 5500 MHz: 6°
Size: 6 ft < height < 7.5 ft; triangular
foot print 45" /side
OMNI ANTENNA
Weight: 68 lb.
Humidity: to 95% non-condensing
Vibration: consistent with sec 514.4,
category 20 of MIL-STD-810F Procedure 1,
Figure 514.5 (wheeled vehicles)
1700 – 2500 MHz Gain: 3dBic;
16" L x 1.58" Dia.
4400 – 5850 MHz: Gain: 4dBic;
4.2" L x 2.0" Dia.
CONTACT
1935 CORDELL COURT
EL CAJON, CA 92020-0911
W E B W W W.V I A S AT. C O M / I S R - D ATA - L I N K S
TEL 619.438.6000
E M A I L E N E R L I N K S @ V I A S AT. C O M
Copyright © 2011 ViaSat, Inc. All rights reserved. Printed in the USA. "ViaSat" and ADVS are registered trademarks of ViaSat, Inc. Predator is a registered trademark of General Atomics. All other trademarks are the
sole property of their respective companies. Specifications and product availability are subject to change without notice. Enerdyne Technologies, Inc. is now a part of ViaSat.

* Your assessment is very important for improving the work of artificial intelligence, which forms the content of this project