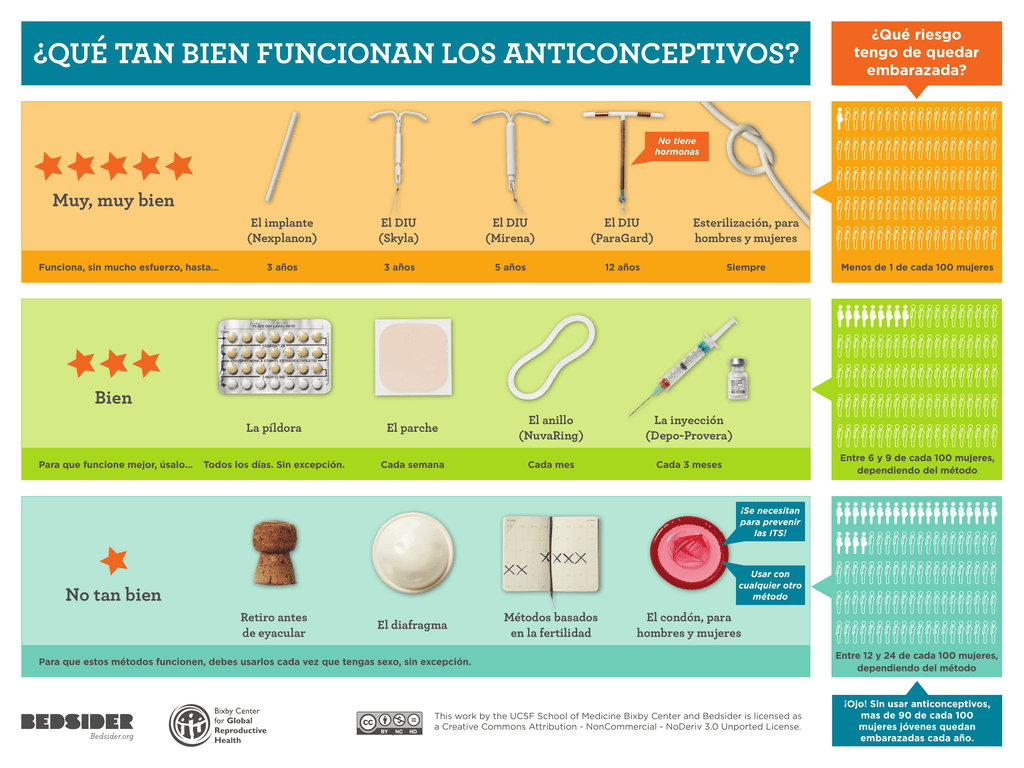 ¿QUÉ TAN BIEN FUNCIONAN LOS ANTICONCEPTIVOS?
¿Qué riesgo
tengo de quedar
embarazada?
No tiene
hormonas
Muy, muy bien
Funciona, sin mucho esfuerzo, hasta…
El implante
(Nexplanon)
El DIU
(Skyla)
El DIU
(Mirena)
El DIU
(ParaGard)
Esterilización, para
hombres y mujeres
3 años
3 años
5 años
12 años
Siempre
Menos de 1 de cada 100 mujeres
Bien
Para que funcione mejor, úsalo…
La píldora
El parche
El anillo
(NuvaRing)
Todos los días. Sin excepción.
Cada semana
Cada mes
La inyección
(Depo-Provera)
Cada 3 meses
Entre 6 y 9 de cada 100 mujeres,
dependiendo del método
¡Se necesitan
para prevenir
las ITS!
Usar con
cualquier otro
método
No tan bien
Retiro antes
de eyacular
El diafragma
Métodos basados
en la fertilidad
El condón, para
hombres y mujeres
Para que estos métodos funcionen, debes usarlos cada vez que tengas sexo, sin excepción.
This work by the UCSF School of Medicine Bixby Center and Bedsider is licensed as
a Creative Commons Attribution - NonCommercial - NoDeriv 3.0 Unported License.
Entre 12 y 24 de cada 100 mujeres,
dependiendo del método
¡Ojo! Sin usar anticonceptivos,
mas de 90 de cada 100
mujeres jóvenes quedan
embarazadas cada año.

* Your assessment is very important for improving the work of artificial intelligence, which forms the content of this project