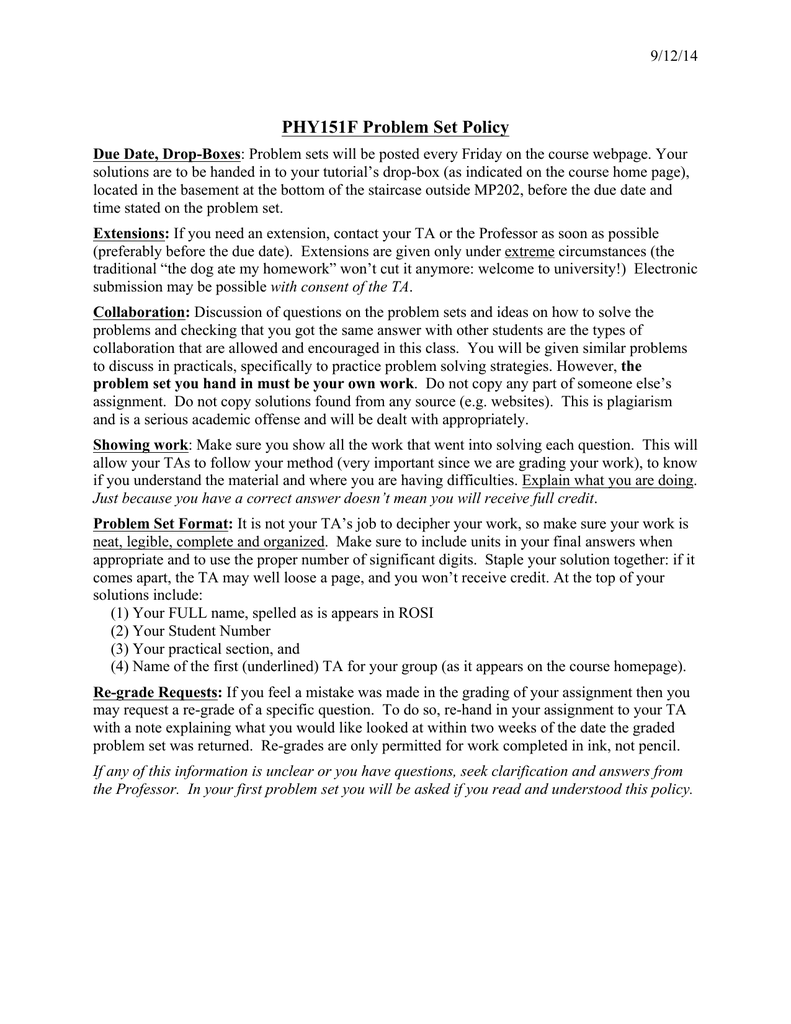 9/12/14
PHY151F Problem Set Policy
Due Date, Drop-Boxes: Problem sets will be posted every Friday on the course webpage. Your
solutions are to be handed in to your tutorial's drop-box (as indicated on the course home page),
located in the basement at the bottom of the staircase outside MP202, before the due date and
time stated on the problem set.
Extensions: If you need an extension, contact your TA or the Professor as soon as possible
(preferably before the due date). Extensions are given only under extreme circumstances (the
traditional "the dog ate my homework" won't cut it anymore: welcome to university!) Electronic
submission may be possible with consent of the TA.
Collaboration: Discussion of questions on the problem sets and ideas on how to solve the
problems and checking that you got the same answer with other students are the types of
collaboration that are allowed and encouraged in this class. You will be given similar problems
to discuss in practicals, specifically to practice problem solving strategies. However, the
problem set you hand in must be your own work. Do not copy any part of someone else's
assignment. Do not copy solutions found from any source (e.g. websites). This is plagiarism
and is a serious academic offense and will be dealt with appropriately.
Showing work: Make sure you show all the work that went into solving each question. This will
allow your TAs to follow your method (very important since we are grading your work), to know
if you understand the material and where you are having difficulties. Explain what you are doing.
Just because you have a correct answer doesn't mean you will receive full credit.
Problem Set Format: It is not your TA's job to decipher your work, so make sure your work is
neat, legible, complete and organized. Make sure to include units in your final answers when
appropriate and to use the proper number of significant digits. Staple your solution together: if it
comes apart, the TA may well loose a page, and you won't receive credit. At the top of your
solutions include:
(1) Your FULL name, spelled as is appears in ROSI
(2) Your Student Number
(3) Your practical section, and
(4) Name of the first (underlined) TA for your group (as it appears on the course homepage).
Re-grade Requests: If you feel a mistake was made in the grading of your assignment then you
may request a re-grade of a specific question. To do so, re-hand in your assignment to your TA
with a note explaining what you would like looked at within two weeks of the date the graded
problem set was returned. Re-grades are only permitted for work completed in ink, not pencil.
If any of this information is unclear or you have questions, seek clarification and answers from
the Professor. In your first problem set you will be asked if you read and understood this policy.

* Your assessment is very important for improving the work of artificial intelligence, which forms the content of this project