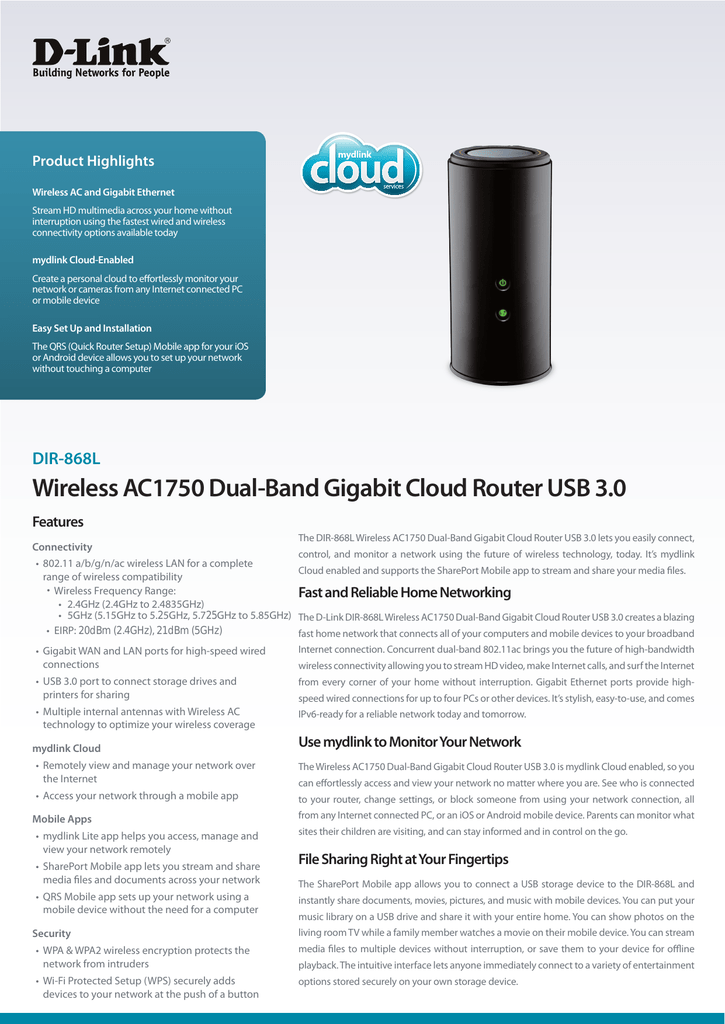 Product Highlights
Wireless AC and Gigabit Ethernet
Stream HD multimedia across your home without
interruption using the fastest wired and wireless
connectivity options available today
mydlink Cloud-Enabled
Create a personal cloud to effortlessly monitor your
network or cameras from any Internet connected PC
or mobile device
Easy Set Up and Installation
The QRS (Quick Router Setup) Mobile app for your iOS
or Android device allows you to set up your network
without touching a computer
DIR-868L
Wireless AC1750 Dual-Band Gigabit Cloud Router USB 3.0
Features
Connectivity
The DIR-868L Wireless AC1750 Dual-Band Gigabit Cloud Router USB 3.0 lets you easily connect,
control, and monitor a network using the future of wireless technology, today. It's mydlink
• 802.11 a/b/g/n/ac wireless LAN for a complete
Cloud enabled and supports the SharePort Mobile app to stream and share your media files.
range of wireless compatibility
• Wireless Frequency Range:
Fast and Reliable Home Networking
• 2.4GHz (2.4GHz to 2.4835GHz)
• 5GHz (5.15GHz to 5.25GHz, 5.725GHz to 5.85GHz) The D-Link DIR-868L Wireless AC1750 Dual-Band Gigabit Cloud Router USB 3.0 creates a blazing
• EIRP: 20dBm (2.4GHz), 21dBm (5GHz)
fast home network that connects all of your computers and mobile devices to your broadband
Internet connection. Concurrent dual-band 802.11ac brings you the future of high-bandwidth
• Gigabit WAN and LAN ports for high-speed wired
connections
wireless connectivity allowing you to stream HD video, make Internet calls, and surf the Internet
• USB 3.0 port to connect storage drives and
from every corner of your home without interruption. Gigabit Ethernet ports provide highprinters for sharing
speed wired connections for up to four PCs or other devices. It's stylish, easy-to-use, and comes
• Multiple internal antennas with Wireless AC
IPv6-ready for a reliable network today and tomorrow.
technology to optimize your wireless coverage
mydlink Cloud
Use mydlink to Monitor Your Network
• Remotely view and manage your network over
the Internet
The Wireless AC1750 Dual-Band Gigabit Cloud Router USB 3.0 is mydlink Cloud enabled, so you
• Access your network through a mobile app
to your router, change settings, or block someone from using your network connection, all
Mobile Apps
• mydlink Lite app helps you access, manage and
view your network remotely
• SharePort Mobile app lets you stream and share
media files and documents across your network
• QRS Mobile app sets up your network using a
mobile device without the need for a computer
Security
can effortlessly access and view your network no matter where you are. See who is connected
from any Internet connected PC, or an iOS or Android mobile device. Parents can monitor what
sites their children are visiting, and can stay informed and in control on the go.
File Sharing Right at Your Fingertips
The SharePort Mobile app allows you to connect a USB storage device to the DIR-868L and
instantly share documents, movies, pictures, and music with mobile devices. You can put your
music library on a USB drive and share it with your entire home. You can show photos on the
living room TV while a family member watches a movie on their mobile device. You can stream
• WPA & WPA2 wireless encryption protects the
network from intruders
media files to multiple devices without interruption, or save them to your device for offline
• Wi-Fi Protected Setup (WPS) securely adds
devices to your network at the push of a button
options stored securely on your own storage device.
playback. The intuitive interface lets anyone immediately connect to a variety of entertainment
DIR-868L
Wireless AC1750 Dual-Band Gigabit Cloud Router USB 3.0
Smooth Streaming with Wireless AC
Rear View
The DIR-868L uses the latest Wireless AC technology, which can provide
transfer rates of up to 1.75Gbps1 (1300AC + 450N). The router operates on
both the 2.4 GHz and 5 GHz wireless bands at the same time using concurrent
dual-band technology and six internal antennas. This allows you to browse
the web, chat and email using the 2.4 GHz band, while simultaneously
streaming digital media, playing online games, or making Internet phone
calls on the 5 GHz band.
USB 3.0 Port
WPS Button
Designed for Optimal Wireless Coverage
The antennas inside the DIR-868L have been carefully placed to ensure that
Gigabit LAN Ports
you will get discover little to no dead space in any environment. The highpowered amplifer sends the signal into the farthest corners of your home.
Furthermore, the Wireless AC1750 Dual-Band Gigabit Cloud Router USB 3.0's
Gigabit Internet Port
multiple internal antennas improve wireless reception by adjusting antenna
positions to where they are most needed to achieve the best possible
Power Button
Power Connector
performance.
Easy to Set Up and Use
Get the DIR-868L up and running in no time right from your couch using the
QRS (Quick Router Setup) Mobile app on your iOS or Android device. Simply
plug in the router, open the app, and follow a few easy steps to get your home
network connected without having to touch a computer. You can also set up
a secure network with the touch of a button using Wi-Fi Protected Setup.
Simply press the WPS button to instantly establish a secure connection to
a new device. If you have additional mydlink cloud products, you can take
advantage of mydlink Zero Configuration. Simply connect your mydlinkenabled device to the DIR-868L and the router will automatically link it to your
mydlink account with no configuration required.
Technical Specifications
General
Device Interfaces
• 802.11 a/b/g/n/ac wireless LAN
• Four 10/100/1000 Gigabit LAN ports
• 10/100/1000 Gigabit WAN port
• USB 3.0 port
Antenna Type
• Six internal antennas
Standards
• IEEE 802.11ac (draft)
• IEEE 802.11n
• IEEE 802.11g
• IEEE 802.11b
• IEEE 802.11a
• IEEE 802.3
• IEEE 802.3u
Minimum System Requirements
• Windows 7/Vista/XP SP3 or
Mac OS X 10.4 or higher
• Microsoft Internet Explorer 6 or higher, Firefox 1.5 or
higher, or other Java-enabled browser
• CD-ROM
• Ethernet network interface
• Cable or DSL modem
• Subscription with an Internet Service Provider
• Guest Zone
• SharePort™ web access
• Multi-language web setup wizard
• Green Ethernet
• DLNA Media server support
• Dual Active Firewall
• Network Address Translation (NAT)
• Stateful Packet Inspection (SPI)
• VPN passthrough/multi-session PPTP/L2TP/IPSec
Functionality
Advanced Features
DIR-868L
Wireless AC1750 Dual-Band Gigabit Cloud Router USB 3.0
mydlink Features
• Remote Management
• View current upload/download bandwidth
• View currently connected clients
• View web browsing history per client
• Block/unblock client network access
• Manage wireless network details
• Accessible through a web browser or iOS or Android
mobile app
Mobile App Support
• mydlink Lite
• SharePort Mobile
• QRS Mobile
Wireless Security
• WPA & WPA2 (Wi-Fi Protected Access)
• Wi-Fi Protected Setup (WPS) PIN/PBC
Physical
Dimensions (L x W x D)
• 102.3 x 123.3 x 217mm (4.03 x 4.85 x 8.54 inches)
Weight
• 560 grams (1.23 lbs)
Power
• Input: 100 to 240 V AC, 50/60 Hz
• Output: 12 V DC, 2.5 A
Temperature
• Operating: 0 to 40 °C (32 to 104 °F)
• Storage: -20 to 65 °C (-4 to 149 °F)
Humidity
• Operating: 0% to 90% non-condensing
• Storage: 5% to 95% non-condensing
Certifications
• FCC Class B
• CE Class B
• C-Tick
• DLNA
• IPv6 Ready
• Wi-Fi Certified
• Wi-Fi Protected Setup (WPS)
• Wi-Fi Multimedia (WMM)
• Compatible with Windows 8
Order Information
Part Number
Description
DIR-868L
Wireless AC1750 Dual-Band Gigabit Cloud Router USB 3.0
Maximum wireless signal rate derived from IEEE standard 802.11ac (draft) specifications which are subject to change. Actual data throughput will vary. Network conditions and environmental factors, including volume of
network traffic, building materials and construction, and network overhead, lower actual data throughput rate. Environmental factors will adversely affect wireless signal range.
File sharing is for local network use only
1
2
Updated 2013/01/22
Specifications are subject to change without notice. D-Link is a registered trademark of D-Link
Corporation and its overseas subsidiaries. All other trademarks belong to their respective owners.
©2013 D-Link Corporation. All rights reserved. E&OE.

* Your assessment is very important for improving the work of artificial intelligence, which forms the content of this project