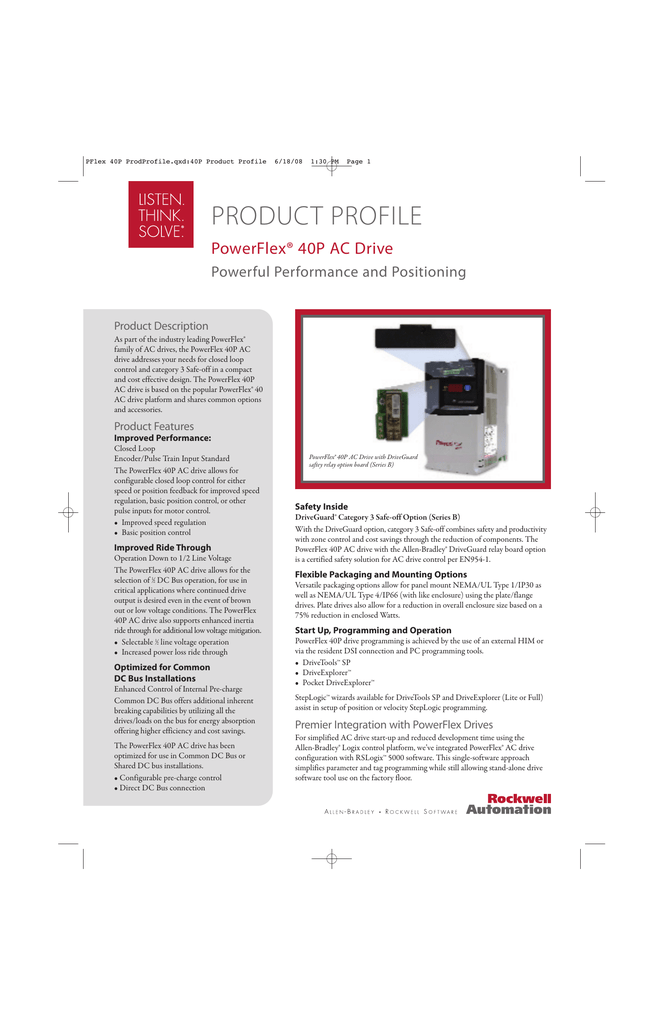 PFlex 40P ProdProfile.qxd:40P Product Profile
6/18/08
1:30 PM
Page 1
PRODUCT PROFILE
PowerFlex® 40P AC Drive
Powerful Performance and Positioning
Product Description
As part of the industry leading PowerFlex®
family of AC drives, the PowerFlex 40P AC
drive addresses your needs for closed loop
control and category 3 Safe-off in a compact
and cost effective design. The PowerFlex 40P
AC drive is based on the popular PowerFlex® 40
AC drive platform and shares common options
and accessories.
Product Features
Improved Performance:
Closed Loop
Encoder/Pulse Train Input Standard
The PowerFlex 40P AC drive allows for
configurable closed loop control for either
speed or position feedback for improved speed
regulation, basic position control, or other
pulse inputs for motor control.
• Improved speed regulation
• Basic position control
Improved Ride Through
Operation Down to 1/2 Line Voltage
The PowerFlex 40P AC drive allows for the
selection of 1⁄2 DC Bus operation, for use in
critical applications where continued drive
output is desired even in the event of brown
out or low voltage conditions. The PowerFlex
40P AC drive also supports enhanced inertia
ride through for additional low voltage mitigation.
• Selectable 1⁄2 line voltage operation
• Increased power loss ride through
Optimized for Common
DC Bus Installations
Enhanced Control of Internal Pre-charge
Common DC Bus offers additional inherent
breaking capabilities by utilizing all the
drives/loads on the bus for energy absorption
offering higher efficiency and cost savings.
The PowerFlex 40P AC drive has been
optimized for use in Common DC Bus or
Shared DC bus installations.
• Configurable pre-charge control
• Direct DC Bus connection
PowerFlex® 40P AC Drive with DriveGuard
saftey relay option board (Series B)
Safety Inside
DriveGuard® Category 3 Safe-off Option (Series B)
With the DriveGuard option, category 3 Safe-off combines safety and productivity
with zone control and cost savings through the reduction of components. The
PowerFlex 40P AC drive with the Allen-Bradley® DriveGuard relay board option
is a certified safety solution for AC drive control per EN954-1.
Flexible Packaging and Mounting Options
Versatile packaging options allow for panel mount NEMA/UL Type 1/IP30 as
well as NEMA/UL Type 4/IP66 (with like enclosure) using the plate/flange
drives. Plate drives also allow for a reduction in overall enclosure size based on a
75% reduction in enclosed Watts.
Start Up, Programming and Operation
PowerFlex 40P drive programming is achieved by the use of an external HIM or
via the resident DSI connection and PC programming tools.
• DriveTools™ SP
• DriveExplorer™
• Pocket DriveExplorer™
StepLogic™ wizards available for DriveTools SP and DriveExplorer (Lite or Full)
assist in setup of position or velocity StepLogic programming.
Premier Integration with PowerFlex Drives
For simplified AC drive start-up and reduced development time using the
Allen-Bradley® Logix control platform, we've integrated PowerFlex® AC drive
configuration with RSLogix™ 5000 software. This single-software approach
simplifies parameter and tag programming while still allowing stand-alone drive
software tool use on the factory floor.
PFlex 40P ProdProfile.qxd:40P Product Profile
6/18/08
1:30 PM
Page 2
Simple Positioning
The PowerFlex 40P AC Drive comes standard with configurable dual channel (Quadrature) incremental Encoder or Pulse Train Input.
The drive can provide 5V or 12V DC supply to the encoder and can accept 5V/12V/or 24V DC pulse inputs. The PowerFlex 40P AC
Drive can be used as an independent position controller for basic positioning or as part of an outer position control loop using an
improved analog input.
Local Position Control
Input/STEP
Local Position Control:
With the use of StepLogic™, the
PowerFlex 40P AC drive can operate
as an independent position controller
for simple time or digital input
based index positioning applications,
eliminating the need for multiple
sensors and limit switches.
Home
Input
}
And/Or
Time
Step
Pos 2
Step 1
Step 2
Move Profile:
Max 8
Accel/Decel 1 or 2
Max Freq = Preset Speed 0-7
Speed Reference = Position
!
Risk of electrical
shock.
Do not remove
this label unless
Installing Safety
Relay Option.
Remove power and
wait 3 minutes
before removing
label.
Encoder
Feedback
Outer Position Control Loop:
By means of a PLC controller such as
CompactLogix™, the PowerFlex 40P
AC drive can be used for some simple
motion control applications with more
complex position profiles. The PLC
controller calculates the required motion
profile, builds the outer position control,
and provides a speed reference to the
drive via analog I/O or over a field bus
network connection.
Applications
• Material Handling
– Diverters
– Smart Conveyors
• Packaging
– Packaging Machine
– Palletizers/ De-Palletizers
Position Programming Made Easy
• Simple and intuitive programming of common settings
• Graphical representation of application
• Provides printable list of parameter changes
• Works with DriveExplorer (full & lite) and DriveTools SP
StepLogic™ wizards available for DriveTools SP
and DriveExplorer (Lite or Full) software.
PFlex 40P ProdProfile.qxd:40P Product Profile
6/18/08
1:30 PM
Page 3
TEXTILE & FIBER APPLICATIONS
The PowerFlex 40P AC drive has specific functions added to make it ideal for low cost Fiber and Textile applications. The addition of
the embedded Pulse Train Input provides economical and configurable speed control. Drives can also be set up to ratio speed given a
single speed reference. With flexible communication options to multiple field bus networks and plate drive capability allowing for a
reduction in cabinet size, the PowerFlex 40P AC drive is an ideal fit for the diverse needs of your Fibers and Textile applications.
Software Features:
• Output frequency up to 500Hz
• Slip calculation and display (induction motor)
• Synchronized input ramps
• Synchronous or induction motor control
• Speed ratio over communication command
• 8 preset speeds and 4 Accel/Decel ramps
• Standard traverse and P-Jump
Hardware Features:
• Enhanced pre-charge control (for common DC Bus) • 1/2 line voltage operation
• Improved power loss ride through capability
• 5/12/24V DC pulse train input
• Standard NEMA/UL Type 1/IP30 panel mount
• Encoder Feedback with speed
version as well as plate drive and flange mount
regulation of +/-0.3% of base
configurations for a 75% reduction of enclosed watts
speed across an 80:1 speed range
Applications:
• Drafting machines
• Carding machines
• Ring spinning machines – drafting rolls speed
ratio to mainspindle drive
• Draw/twist and
texturing machines
• Roving machines - motion capabilities with
standard motors with economical feedback
• Synthetic fiber
spinning machines
• Fiber winder control
PowerFlex 40P AC drive.
Plate drive for mounting
to external heat sink.
PFlex 40P ProdProfile.qxd:40P Product Profile
6/18/08
1:30 PM
Page 4
Specifications
Operator Interface
Standards
Electrical
Input Specifications
Output Specifications
Enclosure and Ambient Operating Temperature
Frequency Range
Control
Feedback Types:
Dynamic Braking
Carrier Frequency
Frequency Accuracy
B Frame Ratings
C Frame Ratings
Dimensions mm (inches)
Additional Functionality
Additional Accessories
4 digit display, 3 additional LED indicators and scroll/reset button, optional Remote Human Interface Modules (HIM) or PC interface
UL, C-Tick, CE, EMC EN61800-3, Low Voltage EN60204-1/EN50178
EN 954-1 with DriveGuard option
Maximum Short Circuit Rating: 100,000 Amps Symmetrical
3-Phase Voltage: 200-240V, 0.4-7.5 kW (0.5-10Hp) / 380-480V, 0.4-11 kW (0.5-15Hp) / 480-600V, 0.75-11 kW (1-15Hp)
Frequency: 47 to 63 Hz
Logic Control Ride Through: >0.5 seconds, 2 seconds typical
Voltage: Adjustable from 0V to rated motor voltage
Intermittent Current: 150% for 60 seconds
Open Type / IP20: -10° to 50° C (14° - 122°F)
Plate drive for external Heatsink mounting up to IP66
NEMA/UL Type 1 / IP30: -10° to 40° C (14° - 104°F) with optional conduit kit
0-500 Hz
24V sink or source control
3 dedicated inputs for start, stop and reverse
4 programmable inputs for functions such as preset speed, jog, etc
±10V (bipolar), 0 - 10V and 4-20mA
1 programmable form C relay output
1 analog output (0 - 10V or 4 - 20mA)
2 programmable opto outputs
Line Driver Type Encoder Quadrature (dual channel) or Single Channel
5/12V DC supply, 10 mA minimum per channel
Single ended or differential (A, B channel)
Duty cycle of 50%, +10%
Pulse-Train Input
Configurable Input Voltage: 5VDC (±10%),
10-12VDC (±10%), or 24V DC (±15%)
Frequency controlled PWM
Allowable Pulse Frequency
DC to 250Kz
Built in brake chopper
2-16 kHz. The drive rating is based on 4 kHz
Digital input within + 0.05% of set frequency
Analog input within 0.5% of maximum output frequency
200-240V, 3Ø, 0.4-3.7 kW (0.5-5Hp)
380-480V, 3Ø, 0.4-4.0 kW (0.5-5Hp)
480-600V, 3Ø, 0.75-4.0 kW (1-5Hp)
200-240V, 3Ø, 5.5-7.5 kW (7.5-10Hp)
380-480V, 3Ø, 5.5-11 kW (7.5-15Hp)
480-600V, 3Ø, 5.5-11 kW (7.5-15hHp)
B Frame: 180 (7.09) H X 100 (3.94) W X 136 (5.35) D*
C Frame: 260 (10.2) H X 130 (5.1) W X 180 (7.1) D*
* Add 12mm (0.5") when using the DriveGuard safety relay board option
Sensorless vector control with slip compensation or Encoder feedback
Process PID
StepLogic™ functions (relays and timers)
PTC input compatible
Position Control Regulation with Encoder feedback or analog input
Internal Communications: RS485
Integral Communication options:
– DeviceNet™
– EtherNet/IP™
– PROFIBUS DP™
– ControlNet™
– LonWorks®
– Bluetooth®EMC line filters
Line reactors
Dynamic brake resistors
DSI cable accessories/HIMs
DriveGuard Safety Relay (Series B)
PowerFlex, PowerFlex 40P, PowerFlex 40, StepLogic, RSLogix, CompactLogix, DriveGuard and Allen-Bradley are trademarks of Rockwell Automation.
Trademarks not belonging to Rockwell Automation are the property of their respective companies.
Publication 22D-PP001D-EN-P – June 2008 Supersedes Publication 22D-PP001C-EN-P – May 2008
Copyright ©2008 Rockwell Automation, Inc. All Rights Reserved. Printed in USA.