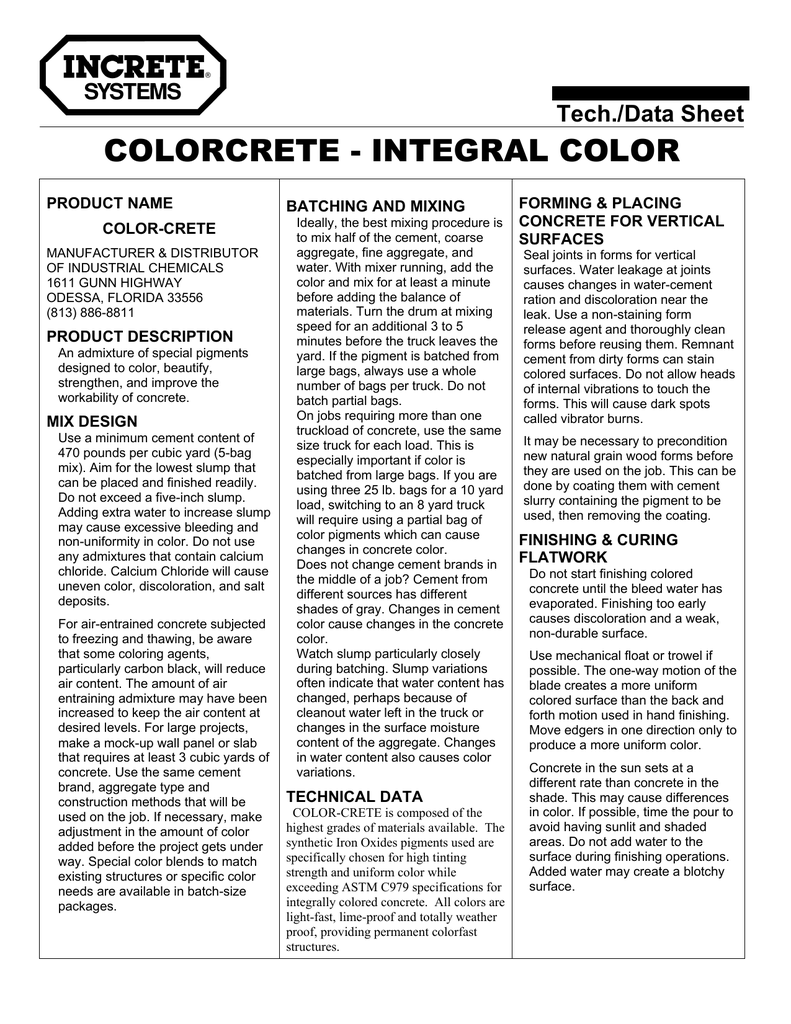 Tech./Data Sheet
COLORCRETE - INTEGRAL COLOR
PRODUCT NAME
COLOR-CRETE
MANUFACTURER & DISTRIBUTOR
OF INDUSTRIAL CHEMICALS
1611 GUNN HIGHWAY
ODESSA, FLORIDA 33556
(813) 886-8811
PRODUCT DESCRIPTION
An admixture of special pigments
designed to color, beautify,
strengthen, and improve the
workability of concrete.
MIX DESIGN
Use a minimum cement content of
470 pounds per cubic yard (5-bag
mix). Aim for the lowest slump that
can be placed and finished readily.
Do not exceed a five-inch slump.
Adding extra water to increase slump
may cause excessive bleeding and
non-uniformity in color. Do not use
any admixtures that contain calcium
chloride. Calcium Chloride will cause
uneven color, discoloration, and salt
deposits.
For air-entrained concrete subjected
to freezing and thawing, be aware
that some coloring agents,
particularly carbon black, will reduce
air content. The amount of air
entraining admixture may have been
increased to keep the air content at
desired levels. For large projects,
make a mock-up wall panel or slab
that requires at least 3 cubic yards of
concrete. Use the same cement
brand, aggregate type and
construction methods that will be
used on the job. If necessary, make
adjustment in the amount of color
added before the project gets under
way. Special color blends to match
existing structures or specific color
needs are available in batch-size
packages.
BATCHING AND MIXING
Ideally, the best mixing procedure is
to mix half of the cement, coarse
aggregate, fine aggregate, and
water. With mixer running, add the
color and mix for at least a minute
before adding the balance of
materials. Turn the drum at mixing
speed for an additional 3 to 5
minutes before the truck leaves the
yard. If the pigment is batched from
large bags, always use a whole
number of bags per truck. Do not
batch partial bags.
On jobs requiring more than one
truckload of concrete, use the same
size truck for each load. This is
especially important if color is
batched from large bags. If you are
using three 25 lb. bags for a 10 yard
load, switching to an 8 yard truck
will require using a partial bag of
color pigments which can cause
changes in concrete color.
Does not change cement brands in
the middle of a job? Cement from
different sources has different
shades of gray. Changes in cement
color cause changes in the concrete
color.
Watch slump particularly closely
during batching. Slump variations
often indicate that water content has
changed, perhaps because of
cleanout water left in the truck or
changes in the surface moisture
content of the aggregate. Changes
in water content also causes color
variations.
TECHNICAL DATA
COLOR-CRETE is composed of the
highest grades of materials available. The
synthetic Iron Oxides pigments used are
specifically chosen for high tinting
strength and uniform color while
exceeding ASTM C979 specifications for
integrally colored concrete. All colors are
light-fast, lime-proof and totally weather
proof, providing permanent colorfast
structures.
FORMING & PLACING
CONCRETE FOR VERTICAL
SURFACES
Seal joints in forms for vertical
surfaces. Water leakage at joints
causes changes in water-cement
ration and discoloration near the
leak. Use a non-staining form
release agent and thoroughly clean
forms before reusing them. Remnant
cement from dirty forms can stain
colored surfaces. Do not allow heads
of internal vibrations to touch the
forms. This will cause dark spots
called vibrator burns.
It may be necessary to precondition
new natural grain wood forms before
they are used on the job. This can be
done by coating them with cement
slurry containing the pigment to be
used, then removing the coating.
FINISHING & CURING
FLATWORK
Do not start finishing colored
concrete until the bleed water has
evaporated. Finishing too early
causes discoloration and a weak,
non-durable surface.
Use mechanical float or trowel if
possible. The one-way motion of the
blade creates a more uniform
colored surface than the back and
forth motion used in hand finishing.
Move edgers in one direction only to
produce a more uniform color.
Concrete in the sun sets at a
different rate than concrete in the
shade. This may cause differences
in color. If possible, time the pour to
avoid having sunlit and shaded
areas. Do not add water to the
surface during finishing operations.
Added water may create a blotchy
surface.
WARRANTY
All recommendations, statements and
technical data contained herein based
on tests we believe to be reliable and
correct, but accuracy and
completeness of said tests are not
guaranteed and are not to be
construed as a warranty, either
expressed or implied. User shall rely
on his own information and tests to
determine suitability of the product for
the intended use and user assumes all
risk and liability resulting from his use
of the product of this manufacturer
which proves to be defective. Neither
seller nor manufacturer shall be liable
to the buyer or any third person having
any injury, loss or damage directly or
indirectly resulting from use of or
inability to use the product.
Recommendations or statements other
than those contained in written
agreement signed by an officer of the
manufacturer shall not be binding upon
the manufacturer or seller.
IMPORTANT NOTICE
THESE PRODUCTS ARE SOLD
SUBJECT ONLY TO THE
EXPRESSED WARRANTIES
CONTAINED HEREIN.
ADDITIONAL WARRANTIES,
EXPRESSED OR IMPLIED, AND
ANY WARRANTY OF MERCHANT
ABILITY IS HEREBY EXCLUDED.
BUYER AGREES THAT SELLER
ASSUMES NO LIABILITY FOR
CONSEQUENTIAL DAMAGES OF
ANY KIND, WHICH RESULT
FROM THE USE OR MISUSE OF
THE MERCHANDISE SOLD
HEREUNDER. IN THE EVENT
THAT THE BUYER PROVES THAT
ANY GOODS RECEIVED DO NOT
CONFORM TO THE
SPECIFICATIONS AGREED TO
BETWEEN THE PARTIES OR IF
THE BUYER PROVES THAT
SUCH GOODS WERE
DEFECTIVELY MANUFACTURED.
THE BUYER'S REMEDIES SHALL
BE LIMITED TO EITHER THE
RETURN OF THE GOODS AND
REPAYMENT OF THE PURCHASE
PRICE OR REPLACEMENT OF
THE NON-CONFORMING GOODS
AT THE OPTION OF THE SELLER.
SUCH REMEDY BEING
EXCLUSIVE OF ALL OTHERS
AND THE SOLE REMEDY
AVAILABLE TO THE BUYER,
HEREBY EXPRESSLY WAIVES
ANY CLAIM TO ADDITIONAL
DAMAGES.

* Your assessment is very important for improving the work of artificial intelligence, which forms the content of this project