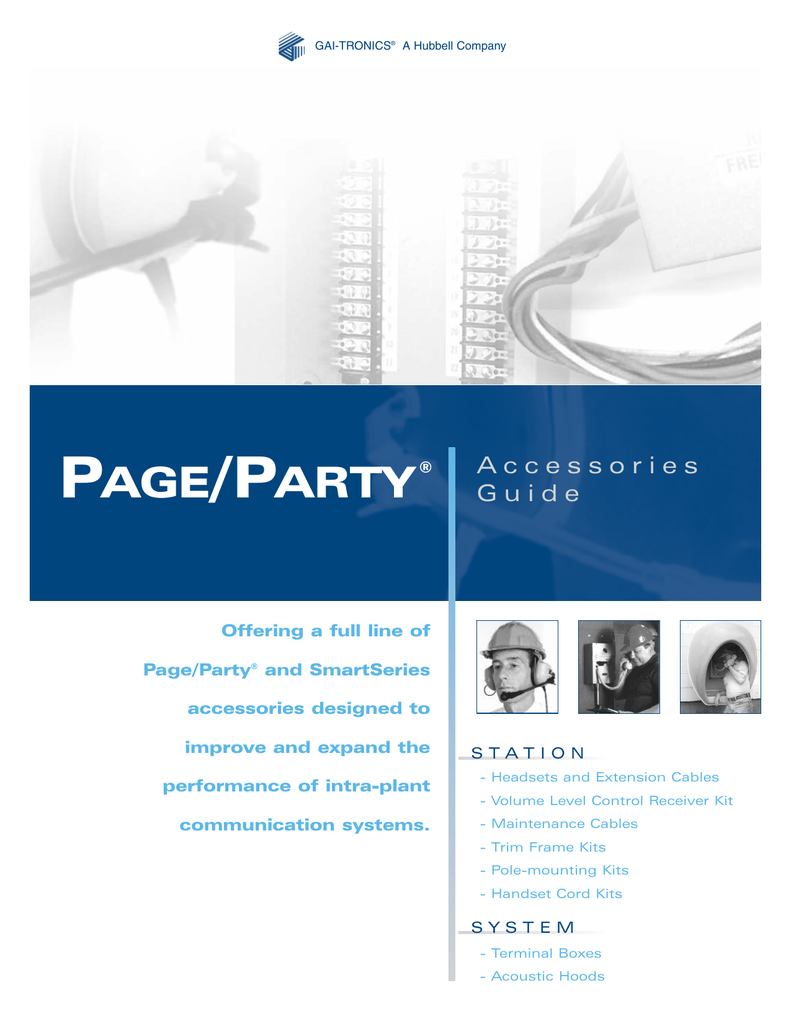 GAI-TRONICS® A Hubbell Company
PAGE/PARTY
®
Accessories
Guide
Offering a full line of
Page/Party® and SmartSeries
accessories designed to
improve and expand the
performance of intra-plant
STATION
- Headsets and Extension Cables
- Volume Level Control Receiver Kit
communication systems.
- Maintenance Cables
- Trim Frame Kits
- Pole-mounting Kits
- Handset Cord Kits
SYSTEM
- Terminal Boxes
- Acoustic Hoods
GAI-TRONICS®
A Hubbell Company
PAGE/PARTY® ACCESSORIES GUIDE
Station Accessories
System Accessories
Model 12587-001 Subset Extension Cable
Model 10499-001 Weatherproof Terminal Box
38-point
• Installed on Page/Party® Subsets to allow up to
50 feet between subset and remote amplifier
• Receptacle & wall plate provided for installation into wall
• Compatible with the following stations:
710/7105 Desk-edge; 715/7155 Flush-mount;
and 726/7265 Desktop Subsets
Note: A 30' extended subset cable can be factory-installed
and prewired by adding EX to the part number.
Models 10440-001, 10440-002, and
10440-003 Maintenance Cables
• Interconnects handset/speaker amplifier and enclosure
• Allows adjustment of all amplifier level controls under
operating conditions
• Model 10440-001 is 8-pin and is used with 650 style
amplifier; Model 10440-002 is a 16-pin and is used with
700/750/760 style amplifiers; Model 10440-003 is 24-pin
and is used with 723 remote speaker amplifier
• 38-point thermoplastic junction box housing
• Fully weatherproof and suitable for harsh outdoor
NEMA 4X environments and applications
• 38-point design allows user to link auxiliary systems,
e.g. an alarm system, through the terminal box
• Hinged door provides easy access
Model 9974 Indoor/Outdoor Terminal Box
22-point
• Constructed of corrosion resistant, glass reinforced
polyester for suitable NEMA 4X harsh indoor and
outdoor conditions
• Accommodates up to four inter-station connections,
significantly reducing costs by reducing conduit
routing
• Hinged door with captive screws
Protective Coatings
Tropicalization and epoxy coatings are available to resist the
adverse affects that humid, damp, or corrosive environments
can have on the performance of PCBA's and enclosures.
• Tropicalization (also referred to as "conformal coating"),
available on all PCBAs, helps seal the board against
damage from moisture
• All GAI-Tronics amplifiers and metal enclosures can be
epoxy-coated to resist corrosion. These options are
ordered from the factory by adding a "TR" (tropicalization)
or "EP" (epoxy) to the model number
Model 12886-001 Nameplate Tamperproof Screw Kit
• Installed on GAI-Tronics Amplifier nameplates to
prevent unauthorized tampering with speaker volume
• Includes a hex socket bit for installation and 20 screws
(enough to secure 10 nameplates)
Model 10434-002 (Indoor) and Model
10436-002 (Shown) (Weatherproof)
22-point Terminal Box
• Constructed of 16-gauge cold-rolled steel (Indoor)
or heavy-gauge aluminum (Outdoor)
• Model 10436-002 uses
dual 1.25" (31.75mm)
conduit hubplates
• Accommodates up
to four interstation
connections,
significantly reducing
installation costs by
reducing conduit
routing
PAGE/PARTY® ACCESSORIES GUIDE
GAI-TRONICS®
A Hubbell Company
Station Accessories
Model 12250-xxx Volume Level Control (VLC)
Receiver Kit
• Allows manual or automatic remote volume control of
specific speaker amplifiers.
• Provides one alternative amplifier
volume setting for special
applications, i.e.: night-time
settings, or crews quarters settings
• Kit is available factory-installed on
120VAC Page/Party® Model 701-xxx
and 751-xxx Series amplifiers by
adding a "VC" to the model number.
VLC option is available for other
amplifiers by special order.
• Special transmitter packages are available for various
applications
• Model 10959 Audio Messenger Interface is equipped
with VLC transmitter to activate VLC Receivers in amplifiers
Model 10401-201 Headset/Microphone Assembly
& Model 10416-103 Extension Cable
• Allows the user to be hands-free and mobile while
maintaining communication.
• Model 10401-201 offers a Noise
Reduction Rating of 24dB while
also providing hearing protection
to the user
• Includes noise-cancelling, dynamic,
gooseneck microphone and
hearing-aid compatible receiver
• Model 10401-201 provides a
comfortable fit and is adaptable
for use with or without hardhats
• Requires use of Model 10416-103, 30-foot extension
cable with push-to-page switch
Model 12571-001 Maintenance Cover Kit
• Manufactured for use on hazardous area Division 1
Page/Party® stations
• Designed to act as a temporary
cover for stations under repair
• Temporarily converts a station into
a junction box, allowing system
power to be applied when the
cover is installed
Model 14727-003 Handset Retainer Assembly
• Durable stainless steel retainer
and cold-rolled steel panel for
long life
• Holds handset firmly in place to
prevent damage
• Adaptable to all wall stations:
panel aligns with bottom
screws in wall stations
Model 230 Pole Mounting Kit
• Easy to install, allowing
versatility in placement of
Page/Party® and SmartSeries™
outdoor stations
• Adaptable to poles with
diameters ranging from
2.5 inches to 15 inches
• Suitable for use with all
GAI-Tronics Weatherproof
handset wall stations
Models 12536-001 (Single-party) and
12536-002 (Multi-party) Trim Frame Kits
• Allows 700 Series Indoor Wall Stations to be
flush-mounted outdoor stations
• 14" x 10" (Multi-party) and
10" x10" (Single-party)
overall dimensions
• 12.5" x 8.25" (Multi-party)
and 8.25" x 8.25" (Singleparty) wall cutout size
• Can be used with
700/7005/750-401
Series stations
Model 12251-001 Spring Kit
• Easily installed on outdoor non-metallic enclosures
• Ensures closure of door to
protect handset/speaker
amplifier from rain and
dust, and damage to
enclosure door
PAGE/PARTY® ACCESSORIES GUIDE
GAI-TRONICS®
A Hubbell Company
Handset Cord Kits
Hytrel Handset Cords
Chemical Resistance and Temperature Information
Hytrel®: Not recommended for areas containing
high concentrations of:
PVC Handset Cords
Chemical Resistance and Temperature Information
PVC: Not recommended for areas containing high
concentrations or exposure to:
• Sulfur Dioxide
• Chlorine*
Temperature Range: -40ºC to +100ºC (-40ºF to +212ºF)
• Chlorine*
Temperature Range: -10ºC to +80ºC (+14ºF to +176ºF)
• Easily installed on GAI-Tronics handset/speaker amplifier handsets
(excluding Div. 1 Stations)
• Thermoplastic elastometer cords (Hytrel®) offer superior performance.
Material has "memory" to retain coil and performance better in extreme
temperatures. Bushings are molded to cord to protect internal wires.
• Cords are available factory-installed by adding the option code as noted
6' (1.8 m)
15' (4.6 m)
25' (7.6 m)
PVC
(Order Code)
12514-007
(standard)
12514-008
(15)
12514-009
(25)
Hytrel®
(Order Code)
12514-004
(H6)
12514-005
(H1)
12514-006
(H2)
*NOTE: For applications where there is exposure to chlorine, it is recommended that an outdoor weatherproof enclosure be used to reduce exposure.
Hytrel® is a registered trademark of DuPont
Acoustic Hoods
Acoustic Hoods
A GAI-Tronics Acoustic Hood is the answer to
High Noise Environments and is specifically
designed for installation and service within
the industrial, petrochemical and offshore
environments.
High quality design, construction and materials
used ensure Mean Noise Reduction over the
speech interference band of 400Hz to 2500Hz.
•
•
•
•
•
•
•
•
Full or Half Hood Designs
Available with 23 or 7 dB reduction
1.96 in. (50mm) Lining Thickness
Optional Internal Gear Plate for
Ease of Equipment Mounting
Up to 132 lbs. (60kgs) of
Equipment may be mounted with
Stainless Steel Lining Internal Shelf
External Mounting Straps
Fire Retardant
Maintenance Free
Specifications:
6866-xxx Series
• Designed specifically for GAI-Tronics® equipment
with the capacity to mount an indoor or an
outdoor station
• Rugged construction includes a
wood support to securely
mount station to hood surface
• Made to resist corrosive
environments
• Facilitates communication in
high noise areas
Specifications:
Hoods are available in
a wide variety of colors.
Please contact the factory
for specific part numbers
when ordering.
• Material: Fiberglass
• Half Hood Type:
Weight of Complete Hood - 55 lbs. (25 Kgs)
27 1/2 (700) H x 27 (690) W x 24 (610) D; inches (mm)
• Full Hood Type:
Weight of Complete Hood - 66 lbs. (30 Kgs)
39 (1000) H x 27 (690) W x 24 (610) D; inches (mm)
• Material: Fiberglass
• Outside Dimensions: 42 (1067)H x 36 (914)W x
32 (813)D max; inches (mm)
• Inside Dimensions: 37.75 (959)H x 35.25 (895)W x
30 (762)D max; inches (mm)
• Suggested Mounting Height: 38 (965); inches (mm)
from ground to bottom of hood
• Shipping Weight: 80lb. (36 kg.) (approx.)
Part #
6866-001
6866-002
6866-003
6866-004
Ordering Information
Description
Yellow Hood
Gray Hood
Yellow Hood with carpet
Gray Hood with carpet
Noise Reduction
9dB max
9dB max
14dB max
14dB max
GAI-Tronics® USA (Corporate) Toll Free: 1 (800) 492-1212 Tel: (610) 777-1374 Fax: (610) 796-5954 www.gai-tronics.com
GAI-Tronics® UK Tel: +44 (0)1283 500500 Fax: +44 (0)1283 500400 www.gai-tronics.co.uk
GAI-Tronics® S.r.l - Italy Tel: +39 02 48601460 Fax: +39 02 93663110 www.gai-tronics.it
GAI-Tronics® Malaysia Tel: +60-3-8945-4035 / 8945-7348 Fax: +60-3-8945-4675 www.gai-tronics.com
GAI-Tronics® Austdac - Australia Tel: 011-61-28-851-5000 Fax: 011-61-29-899-2490 www.austdac.com.au
Pub. 990401 Rev. 12/2012
Quality Management System Certified by DNV - ISO 9001:2008
The policy of GAI-Tronics is one of continuous improvement; therefore the company reserves the right to change specifications without notice.

* Your assessment is very important for improving the work of artificial intelligence, which forms the content of this project