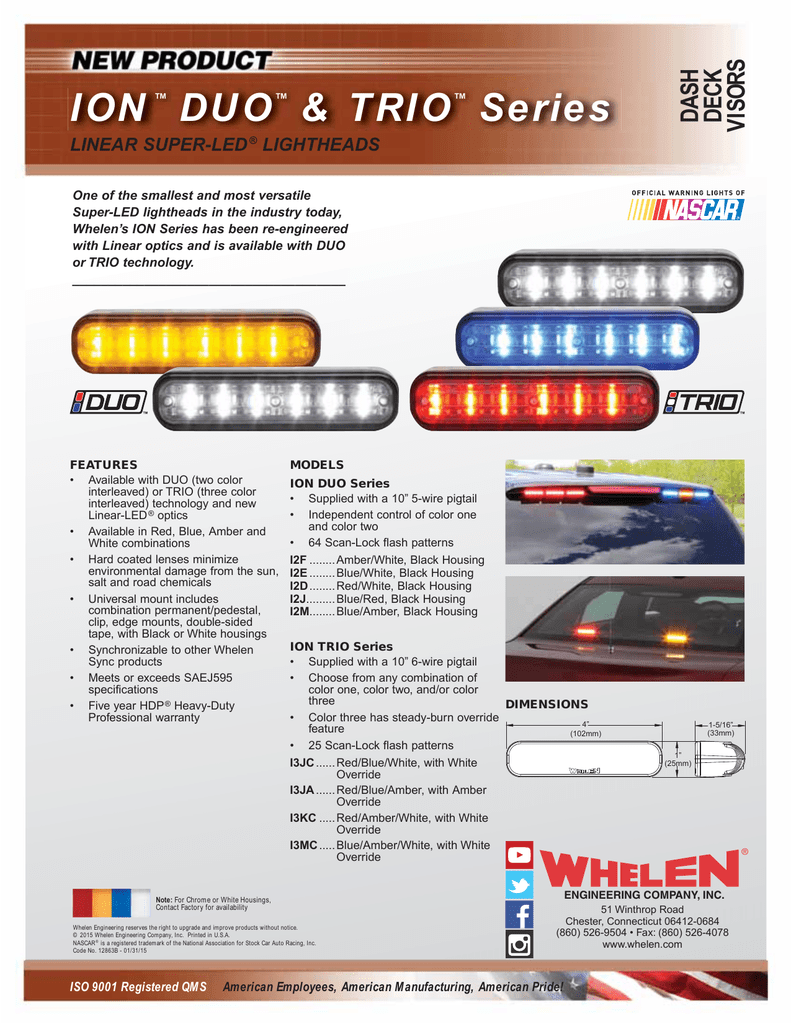 ™
™
DASH
DECK
VISORS
ION DUO & TRIO Series
™
LINEAR SUPER-LED ® LIGHTHEADS
One of the smallest and most versatile
Super-LED lightheads in the industry today,
Whelen's ION Series has been re-engineered
with Linear optics and is available with DUO
or TRIO technology.
______________________________________
FEATURES
• Available with DUO (two color
interleaved) or TRIO (three color
interleaved) technology and new
Linear-LED ® optics
• Available in Red, Blue, Amber and
White combinations
• Hard coated lenses minimize
environmental damage from the sun,
salt and road chemicals
• Universal mount includes
combination permanent/pedestal,
clip, edge mounts, double-sided
tape, with Black or White housings
• Synchronizable to other Whelen
Sync products
• Meets or exceeds SAEJ595
specifications
• Five year HDP ® Heavy-Duty
Professional warranty
MODELS
ION DUO Series
• Supplied with a 10" 5-wire pigtail
• Independent control of color one
and color two
• 64 Scan-Lock flash patterns
I2F ........ Amber/White, Black Housing
I2E ........ Blue/White, Black Housing
I2D ........ Red/White, Black Housing
I2J......... Blue/Red, Black Housing
I2M........ Blue/Amber, Black Housing
ION TRIO Series
• Supplied with a 10" 6-wire pigtail
• Choose from any combination of
color one, color two, and/or color
three
DIMENSIONS
• Color three has steady-burn override
4"
feature
(102mm)
• 25 Scan-Lock flash patterns
1"
(25mm)
I3JC ...... Red/Blue/White, with White
Override
I3JA ...... Red/Blue/Amber, with Amber
Override
I3KC ..... Red/Amber/White, with White
Override
I3MC ..... Blue/Amber/White, with White
Override
Note: For Chrome or White Housings,
Contact Factory for availability
Whelen Engineering reserves the right to upgrade and improve products without notice.
© 2015 Whelen Engineering Company, Inc. Printed in U.S.A.
NASCAR ® is a registered trademark of the National Association for Stock Car Auto Racing, Inc.
Code No. 12863B - 01/31/15
ISO 9001 Registered QMS
1-5/16"
(33mm)
®
ENGINEERING COMPANY, INC.
51 Winthrop Road
Chester, Connecticut 06412-0684
(860) 526-9504 • Fax: (860) 526-4078
www.whelen.com
American Employees, American Manufacturing, American Pride!

* Your assessment is very important for improving the work of artificial intelligence, which forms the content of this project