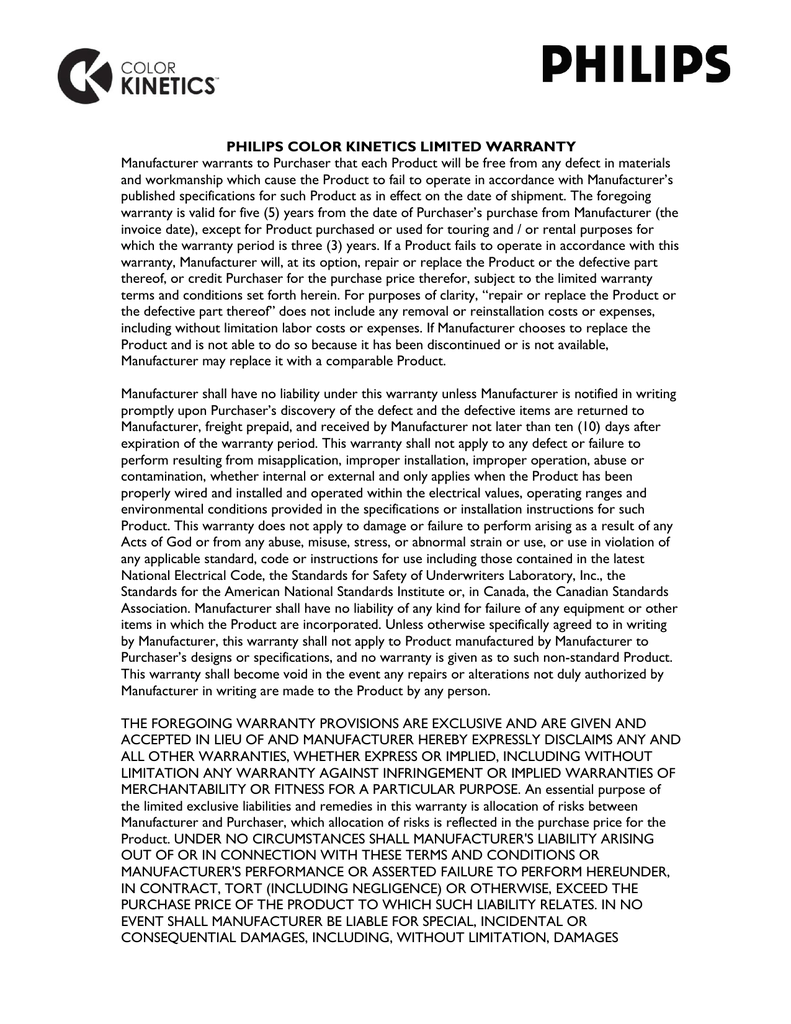 PHILIPS COLOR KINETICS LIMITED WARRANTY
Manufacturer warrants to Purchaser that each Product will be free from any defect in materials
and workmanship which cause the Product to fail to operate in accordance with Manufacturer's
published specifications for such Product as in effect on the date of shipment. The foregoing
warranty is valid for five (5) years from the date of Purchaser's purchase from Manufacturer (the
invoice date), except for Product purchased or used for touring and / or rental purposes for
which the warranty period is three (3) years. If a Product fails to operate in accordance with this
warranty, Manufacturer will, at its option, repair or replace the Product or the defective part
thereof, or credit Purchaser for the purchase price therefor, subject to the limited warranty
terms and conditions set forth herein. For purposes of clarity, "repair or replace the Product or
the defective part thereof" does not include any removal or reinstallation costs or expenses,
including without limitation labor costs or expenses. If Manufacturer chooses to replace the
Product and is not able to do so because it has been discontinued or is not available,
Manufacturer may replace it with a comparable Product.
Manufacturer shall have no liability under this warranty unless Manufacturer is notified in writing
promptly upon Purchaser's discovery of the defect and the defective items are returned to
Manufacturer, freight prepaid, and received by Manufacturer not later than ten (10) days after
expiration of the warranty period. This warranty shall not apply to any defect or failure to
perform resulting from misapplication, improper installation, improper operation, abuse or
contamination, whether internal or external and only applies when the Product has been
properly wired and installed and operated within the electrical values, operating ranges and
environmental conditions provided in the specifications or installation instructions for such
Product. This warranty does not apply to damage or failure to perform arising as a result of any
Acts of God or from any abuse, misuse, stress, or abnormal strain or use, or use in violation of
any applicable standard, code or instructions for use including those contained in the latest
National Electrical Code, the Standards for Safety of Underwriters Laboratory, Inc., the
Standards for the American National Standards Institute or, in Canada, the Canadian Standards
Association. Manufacturer shall have no liability of any kind for failure of any equipment or other
items in which the Product are incorporated. Unless otherwise specifically agreed to in writing
by Manufacturer, this warranty shall not apply to Product manufactured by Manufacturer to
Purchaser's designs or specifications, and no warranty is given as to such non-standard Product.
This warranty shall become void in the event any repairs or alterations not duly authorized by
Manufacturer in writing are made to the Product by any person.
THE FOREGOING WARRANTY PROVISIONS ARE EXCLUSIVE AND ARE GIVEN AND
ACCEPTED IN LIEU OF AND MANUFACTURER HEREBY EXPRESSLY DISCLAIMS ANY AND
ALL OTHER WARRANTIES, WHETHER EXPRESS OR IMPLIED, INCLUDING WITHOUT
LIMITATION ANY WARRANTY AGAINST INFRINGEMENT OR IMPLIED WARRANTIES OF
MERCHANTABILITY OR FITNESS FOR A PARTICULAR PURPOSE. An essential purpose of
the limited exclusive liabilities and remedies in this warranty is allocation of risks between
Manufacturer and Purchaser, which allocation of risks is reflected in the purchase price for the
Product. UNDER NO CIRCUMSTANCES SHALL MANUFACTURER'S LIABILITY ARISING
OUT OF OR IN CONNECTION WITH THESE TERMS AND CONDITIONS OR
MANUFACTURER'S PERFORMANCE OR ASSERTED FAILURE TO PERFORM HEREUNDER,
IN CONTRACT, TORT (INCLUDING NEGLIGENCE) OR OTHERWISE, EXCEED THE
PURCHASE PRICE OF THE PRODUCT TO WHICH SUCH LIABILITY RELATES. IN NO
EVENT SHALL MANUFACTURER BE LIABLE FOR SPECIAL, INCIDENTAL OR
CONSEQUENTIAL DAMAGES, INCLUDING, WITHOUT LIMITATION, DAMAGES
RESULTING FROM LOSS OF USE, PROFITS, BUSINESS OR GOODWILL, WHETHER OR
NOT MANUFACTURER HAS BEEN ADVISED OF THE POSSIBILITY THEREOF. No warranty
or agreement varying or extending the foregoing warranty and limitation of remedy provisions
may be relied upon by Purchaser unless it is in writing and signed by Manufacturer's General
Manager. No representation or affirmation of Manufacturer, whether by words or action, shall
be construed as a warranty. If any model or sample was shown to Purchaser, such model or
sample was used merely to illustrate the general type and quality of the Product and not to
represent that the Product would necessarily conform to the model or sample.
With respect to product sold to Purchaser by Manufacturer but not bearing the Manufacturer's
name or sub-brand name (including, without limitation, lamps, control systems, ballasts, drivers
and other products), Manufacturer makes no warranty of any kind, express or implied, including,
without limitation, any warranty of merchantability or fitness for a particular purpose, but will
make available to Purchaser upon request but only to the extent permitted by law and relevant
Product.