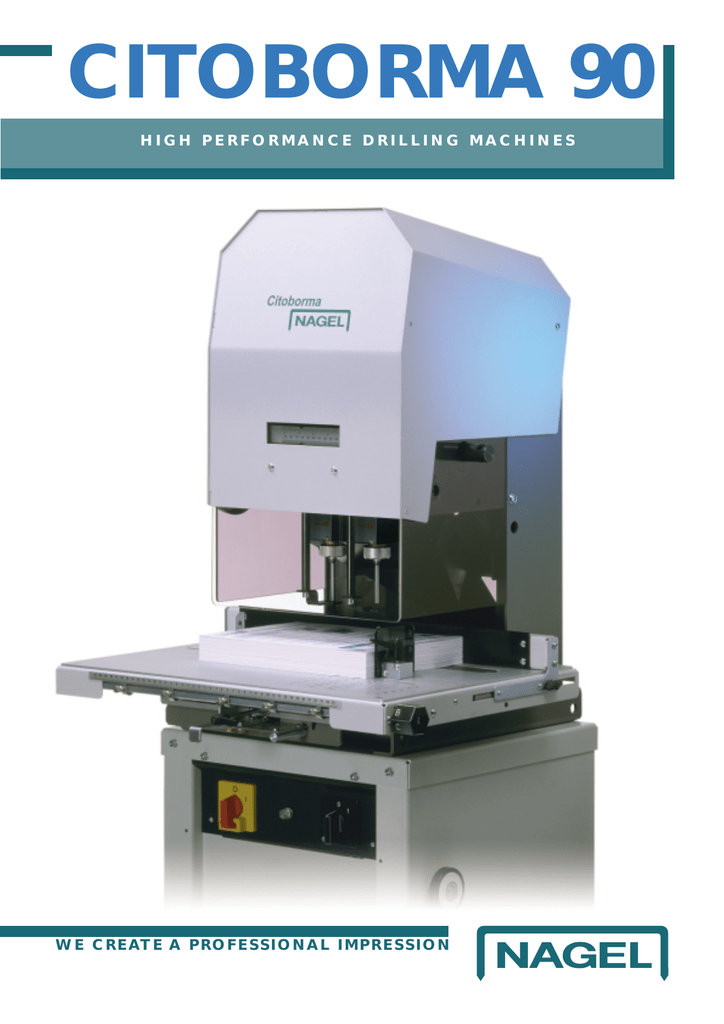 CITOBORMA 90
HIGH PERFORMANCE DRILLING MACHINES
W E C R E AT E A P R O F E S S I O N A L I M P R E S S I O N
CITOBORMA 90
Page 2
The new drilling machine generation.
The Nagel Citobormas are known world
wide as the industry standard for twin or
single spindle drills. The Citoborma 90
drills cover a wide range of applications
and are remarkably user-friendly.
The standard version of the Citoborma 190
and 290 comes as a table top model. They
are available with one spindle, two fixed
spindles or two spindles with variable
distance for any combination of holes to
be drilled.
NAGEL CITOBORMA 290 B
with treadle.
Features
Unique quick release FlexoDrill° sliding
table.
Suitable for drilling paper, cardboard,
plastic, textiles, leather etc.
6 preprogrammed hole patterns set-up
within a second.
Additional tabulator bar
with interchangeable
stops for individual
programs.
Paper width up to
470 mm.
Throat depth up to
105 mm.
Smooth drilling
process.
NAGEL CITOBORMA 290 AB.
Options
To increase productivity all table top
models can be upgrated to foot treadle
operation or power stroke.
3 phase model available at no extra
cost.
Drill bit cooling for difficult material.
CITOBORMA 90
Page 3
The high comfort FlexoDrill° sliding table with remarkable features.
Automatic release after each stroke.
Large sliding distance and throat
depth.
Centres the paper stack.
Left side stop is retractable to ensure
smooth and fast access.
Takes large formats.
Individually programmed tabulator bars
are interchangeable.
Table can be fixed at any position if
required.
NAGEL CITOBORMA
twin-spindle 290
For operator's convenience: The quick release FlexoDrill° sliding table.
Preprogrammed hole patterns: Set-up within a second.
Model Citoborma 290 B with two
self-centering spindles that can vary in
position between 45 – 160 mm.
Allows any combination of holes
to be drilled.
Model Citoborma 290 with
fixed centres 80 mm. Achieves
the two hole pattern in one
stroke.
NAGEL CITOBORMA 290 B
table top.
NAGEL CITOBORMA 190
Single drill spindle for any hole
pattern. Same precision as the
larger models.
CITOBORMA 90
Page 4
Technical specifications
Model
Number of drill heads
Max. pile height (mm)
Max. paper width (mm)
Max. throat depth (mm)
Drill bit sizes (mm)
Distance between centres (mm)
Time/stroke (s)
Power stroke
Foot treadle
Certification
Power supply (V)
Power consumption (kW)
H x W x D net (cm)
Weight, net (kg)
H x W x D (cm) gross
Weight, gross (kg)
290 AB
2
60
470
105
2 – 20
45 – 160
3,3
Yes
–
CE
3 phase
0,7
158 x 64 x 60
165
165 x 80 x 80
195
290 B
2
60
470
105
2 – 20
45 – 160
Operator speed
Option
Option
CE
Single or 3 phase
0,5
73 x 64 x 60
69
80 x 80 x 80
90
290
2
60
470
105
2 – 20
80
Operator speed
Option
Option
CE
190
1
60
470
105
2 – 20
–
Operator speed
Option
Option
CE
0,5
70 x 64 x 60
59
80 x 80 x 80
80
0,5
70 x 64 x 60
55
80 x 80 x 80
75
HD quality
Green colour-coding.
Yellow colour-coding.
High-speed steel.
High-speed steel with high-density
special coating.
Suitable for offset, copying and typing
paper and board.
Service life up to four times that of
type 1.
Recommended for all manual drilling
machines.
Excellent value for money.
Suitable for art paper and illustration
printing paper.
NAGEL drill bits:
2 – 35 mm diameter;
50 – 60 mm cutting length;
Drill bit care
Nagel-waxpaper.
Nagel-drill sharpener.
Top performance in high volume
applications.
options for special applications.
Contact
Teflon quality
Ernst Nagel GmbH
Breitwiesenstraße 21
70565 Stuttgart
Germany
Blue colour-coding.
Telephone domestic +49 7 11-7 80 78-0
Fax domestic
+49 7 11-7 80 78-10
Teflon-coated high-speed steel.
Telephone Export
Fax Export
Suitable for coated papers and board,
plastic, films and rubber.
E-Mail [email protected]
www.ernstnagel.com
+49 7 11-7 80 78-21
+49 7 11-7 80 78-20
Print No: 003.2 9/04 3T
Type 1 quality
Technical specifications are subject to change without prior notice. Status September 2004.
NAGEL-drill bits with colour-coding.

* Your assessment is very important for improving the work of artificial intelligence, which forms the content of this project