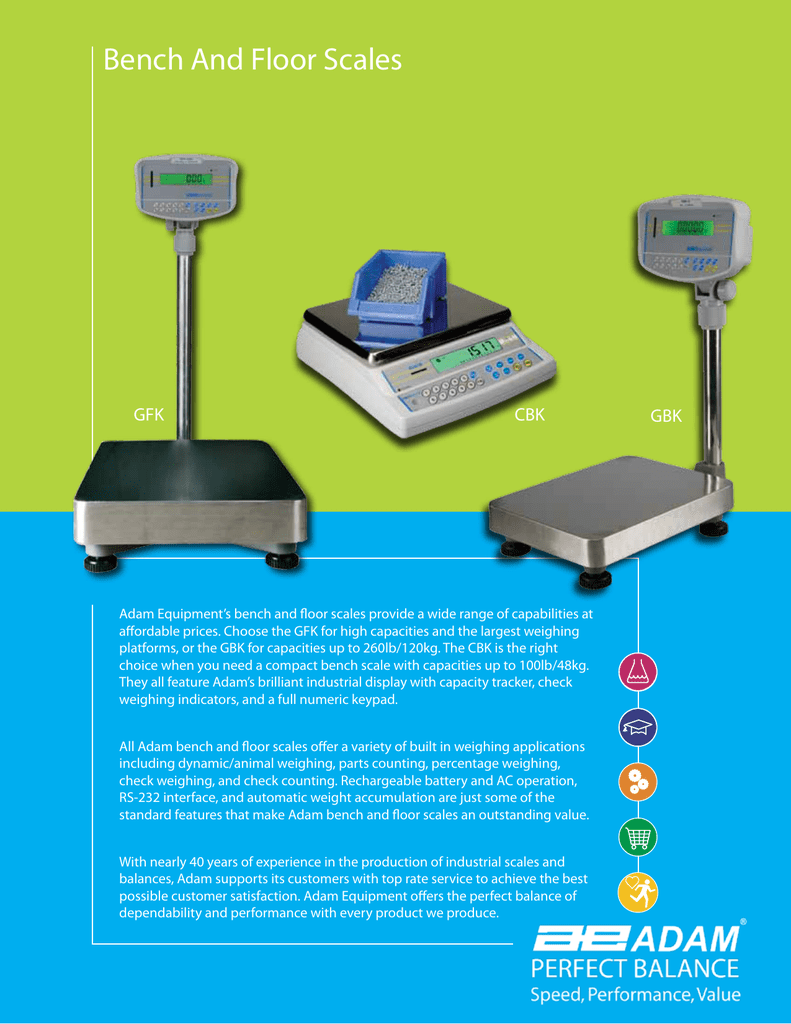 Bench And Floor Scales
GFK
CBK
Adam Equipment's bench and floor scales provide a wide range of capabilities at
affordable prices. Choose the GFK for high capacities and the largest weighing
platforms, or the GBK for capacities up to 260lb/120kg. The CBK is the right
choice when you need a compact bench scale with capacities up to 100lb/48kg.
They all feature Adam's brilliant industrial display with capacity tracker, check
weighing indicators, and a full numeric keypad.
All Adam bench and floor scales offer a variety of built in weighing applications
including dynamic/animal weighing, parts counting, percentage weighing,
check weighing, and check counting. Rechargeable battery and AC operation,
RS-232 interface, and automatic weight accumulation are just some of the
standard features that make Adam bench and floor scales an outstanding value.
With nearly 40 years of experience in the production of industrial scales and
balances, Adam supports its customers with top rate service to achieve the best
possible customer satisfaction. Adam Equipment offers the perfect balance of
dependability and performance with every product we produce.
GBK
Highlights:
The large backlit display with capacity tracker is easy-to-read
and shows how much weighing range is left when using the
tare function, ensuring that you do not overload the scale.
Amber, green and red LED indicators for easy recognition of
underweight, overweight and acceptable limits make check
weighing applications quick and simple. Multiple LED's for
each color can be programmed to turn on together to quickly indicate over/under weights, or in sequence for a more
detailed indication.
A full numeric keypad allows for preset tare functions and
freely selectable sample size in the counting mode. The
keypad and functions can be locked out by a supervisor to
prevent unauthorized tampering with scale settings.
Sending information to printers and computers is easy
with the bi-directional RS-232 interface with date and time,
providing easy data recording and traceability to increase
productivity.
General Features
• Full range tare lets you tare throughout the weighing range
• Solid removable stainless steel pan makes for easy cleaning and
can withstand industrial applications.
• Bi-directional RS-232 output for connection to computers and
printers standard on every model.
• Rechargeable battery means that these units can be used
anywhere even in industrial warehouses where power might not
be readily available. Selectable auto power off saves battery life.
• Large backlit LCD display with capacity tracker is easy to view and
gives you everything you need in one place.
• Parts counting with freely selectable sample sizes.
• Check weighing LED lights to show acceptable limits.
• Automatic accumulation, for adding totals for every weight
reading.
• For accurate readings adjustable feet and level bubble let you
level your scale for optimal performance.
GBK and GFK Features
• Adjustable pillar mounted indicator can be rotated and angled
for the ideal viewing position.
• Indicator can be mounted on the included pillar or optional wall
mount bracket
Applications
• Weighing
• Parts counting
• Percentage weighing
• Dynamic/Animal weighing
• Check weighing
• Check counting
Sturdy plastic design
Solid ABS housing built
strong for industrial
applications
LED ckeck weighing lights
For check weighing or
check counting these
indicators can be set to
give clear designation
Capacity tracker
Clearly shows the user where
they are in the weighing range
to help protect from overload
Bright display
Large easy-to-read digits clearly
show the weight displayed
Stainless steel pan
Removable platform
for easy clean up
Color coded keypad
Highlighting the most frequently
used keys for quick recognition
Bi-directional RS-232
Allows for communication with
peripheral devices
CBK models
Adjustable feet
Four non-slip rubber feet can
be set for levelling the scale
www.adamequipment.com
Rechargeable Battery
Easy access to the rechargeable
battery when needed
GBK and GFK models
Warehousing, production, and testing
applications are a breeze the GFK scales. The
indicator can be installed on the pillar (included),
wall or bench as needed. With solid base
construction with adjustable feet, and an overall
height of 34"/860mm, the GFK can be used in a
range of environments.
The GFK is the right choice for your floor
weighing applications with better readabilities
and capacity combinations than the competitive
products in this range
GFK
The GFK features the largest platforms and highest capacities in this
range
GBK
The GBK offers floor scale or bench scale weighing in one package
Artful design and superior performance are embodied in the GBK for the ultimate
bench/floor scale. The GBK can be used with or without the pillar for complete
operating flexibility, and combined with a mid-sized stainless steel platform they are an
exceptional value.
Dynamic weighing, check weighing, parts counting, percentage weighing or basic
weighing are performed effortlessly with the smart software and color coded keypad.
The CBK offers a full range of features in a compact and
rugged bench scale
The sleek case design resists dirt and dust
build-up with easy-to-clean surfaces and
smooth contours. With a range of capacities
and better readabilities than many others in
its class, the CBK offers unmatched quality
and versatility.
CBK
Whether check-weighing, parts counting or
basic weighing the CBK offers the speed and
function needed by any professional.
Technical Specifications
Model
GFK 165a
GFK 165aH
GFK 330a
GFK 330aH
GFK 660a
GFK 1320a
165lb / 75kg
165lb / 75kg
330lb / 150kg
330lb / 150kg
660lb / 300kg
1320lb / 600kg
Readability
0.01lb / 5g
0.002lb / 1g
0.02lb / 10g
0.005lb / 2g
0.05lb / 20g
0.1lb / 50g
Repeatability (S.D.)
0.01lb / 5g
0.004lb / 2g
0.02lb / 10g
0.01lb / 4g
0.05lb / 20g
0.1lb / 50g
Linearity (+/-)
0.02lb / 10g
0.006lb / 3g
0.04lb / 20g
0.015lb / 6g
0.1lb / 40g
0.2lb / 100g
Capacity
Pan Size
Overall Dimensions (WxDxH)
15.7" x 19.7" / 400 x 500mm
23.6" x 31.5" / 600 x 800mm
15.7" x 24.4" x 33.9" / 400 x 620 x 860mm
23.6" x 36.4" x 35" /
600 x 925 x 890mm
27.6lb / 12.5kg
52.9lb / 24kg
Net Weight
Model
GBK 16a
GBK 35a
GBK 70a
GBK 130a
GBK 260a
Capacity
16lb / 8kg
35lb / 16kg
70lb / 32kg
130lb / 60kg
260lb / 120kg
Readability
0.0002lb / 0.1g
0.001lb / 0.5g
0.002lb / 1g
0.005lb / 2g
0.01lb / 5g
Repeatability (S.D.)
0.0004lb / 0.2g
0.002lb / 1g
0.004lb / 2g
0.01lb / 4g
0.02lb / 10g
Linearity (+/-)
0.0006lb / 0.3g
0.002lb / 1g
0.004lb / 2g
0.01lb / 4g
0.02lb / 10g
Pan Size
11.8" x 15.7" / 300 x 400mm
Overall Dimensions (WxDxH)
11.8" x 20.5" x 26.8" / 300 x 520 x 680mm
Net Weight
16.31lb / 7.4kg
Model
CBK 8a
CBK 16aH
CBK 16a
CBK 35a
CBK 70a
CBK 100a
8lb / 4000g
16lb / 8000g
16lb / 8000g
35lb / 16kg
70lb / 32kg
100lb / 48kg
Readability
0.0002lb / 0.1g
0.0002lb / 0.1g
0.0005lb / 0.2g
0.001lb / 0.5g
0.002lb / 1g
0.005lb / 2g
Repeatability (S.D.)
0.0002lb / 0.1g
0.0002lb / 0.1g
0.0005lb / 0.2g
0.001lb / 0.5g
0.002lb / 1g
0.005lb / 2g
Linearity (+/-)
0.0004lb / 0.2g
0.0004lb /0.2g
0.001lb / 0.4g
0.002lb / 1g
0.004lb / 2g
0.001lb / 4g
Capacity
Pan Size
8.9" x 10.8" / 225 x 275mm
Overall Dimensions (WxDxH)
12.4" x 14" x 4.3" / 315 x 355 x 110mm
Net Weight
9.9lb / 4.5kg
General Features
Weighing Units
Pounds (lb), Kilograms (kg), Grams (g), Ounce (oz), Pound-Ounce (lb:oz)
Modes
Weighing, Parts counting, Check weighing, Percentage weighing, Check Counting, Dynamic/ Animal weighing1
Stabilization Time
2-3 secs
Calibration
Automatic External
Interface
Bi-directional RS-232 with data and time
Display
Backlit Green display with 1" / 20mm digits and capacity tracker
Power Supply
12VDC 800mA adapter
Battery
Internal rechargeable battery up to 90 hours of use
Operating Temperature
32°F to 104°F / 0°C to 40°C
Construction
1
Casing: ABS Plastic Top Pan: Stainless steel pan
Dynamic / Animal weighing not available on CBK series
23.6" / 600mm
22.8" / 580mm*
33.9" / 860mm
35" / 890mm*
12.4" / 315mm
8.9" / 225mm
26".8 / 680mm
19.7" / 500mm
31.5" / 800mm*
10.8" / 275mm
15.7" / 400mm
4.3" / 110mm
2" / 50mm
15.7" / 400mm
23.6" / 600mm*
2.6" / 65mm
2.8" / 70mm*
*Model 1320a
15.7" / 400mm
GFK
11.8" / 300mm
GBK
14" / 355mm
CBK
www.adamequipment.com
Adam Equipment follows a policy of continuous improvement and reserves the right to change specification and pricing without notice.
Adam Equipment's standard terms and conditions of sale apply. Errors and Omissions excepted. ©Adam Equipment 2011.

* Your assessment is very important for improving the work of artificial intelligence, which forms the content of this project