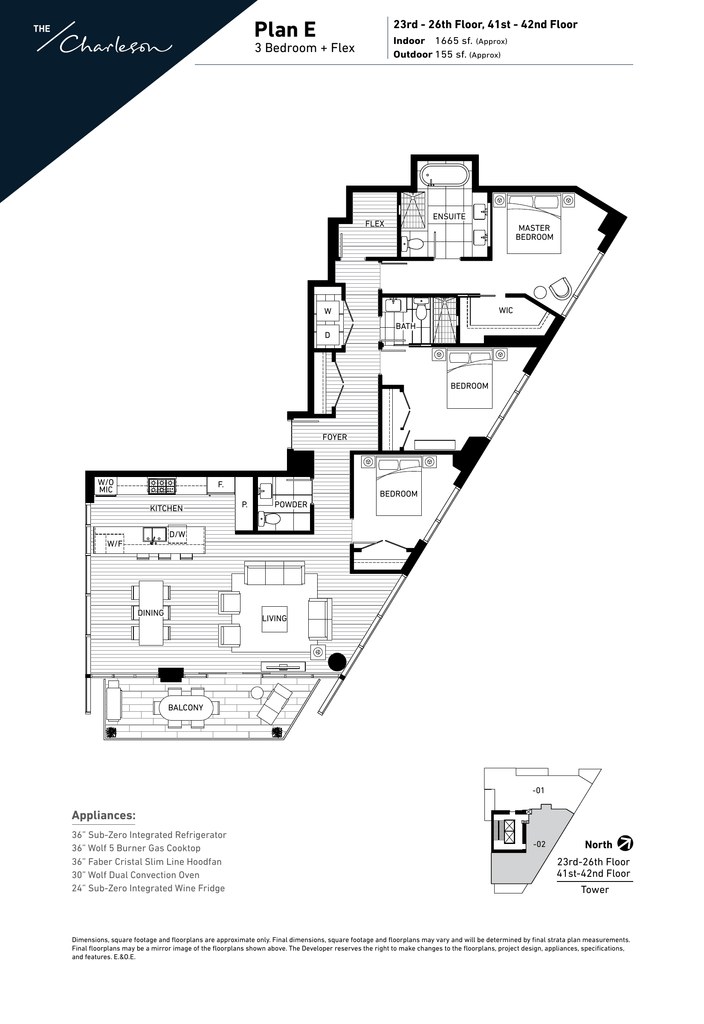 Plan E
23rd - 26th Floor, 41st - 42nd Floor
Indoor 1665 sf. (Approx)
Outdoor 155 sf. (Approx)
3 Bedroom + Flex
ENSUITE
FLEX
MASTER
BEDROOM
ENSUITE
FLEX
MASTER
BEDROOM
WIC
W
D
W
D
BATH
WIC
BATH
BEDROOM
BEDROOM
FOYER
FOYER
W/O
MIC
W/O
MIC
F.
KITCHEN KITCHEN
W/F
W/F D/W
F.
P.
P. POWDER
POWDER
BEDROOM
BEDROOM
D/W
DINING
LIVING
DINING
LIVING
BALCONY
BALCONY
-01
Appliances:
36" Sub-Zero Integrated Refrigerator
36" Wolf 5 Burner Gas Cooktop
36" Faber Cristal Slim Line Hoodfan
30" Wolf Dual Convection Oven
24" Sub-Zero Integrated Wine Fridge
-01
-02
North
23rd-26th Floor
41st-42nd Floor
Tower
-02
Dimensions, square footage and floorplans are approximate only. Final dimensions, square footage and floorplans may vary and will be determined by final strata plan measurements.
Final floorplans may be a mirror image of the floorplans shown above. The Developer reserves the right to make changes to the floorplans, project design, appliances, specifications,
and features. E.&O.E.

* Your assessment is very important for improving the work of artificial intelligence, which forms the content of this project