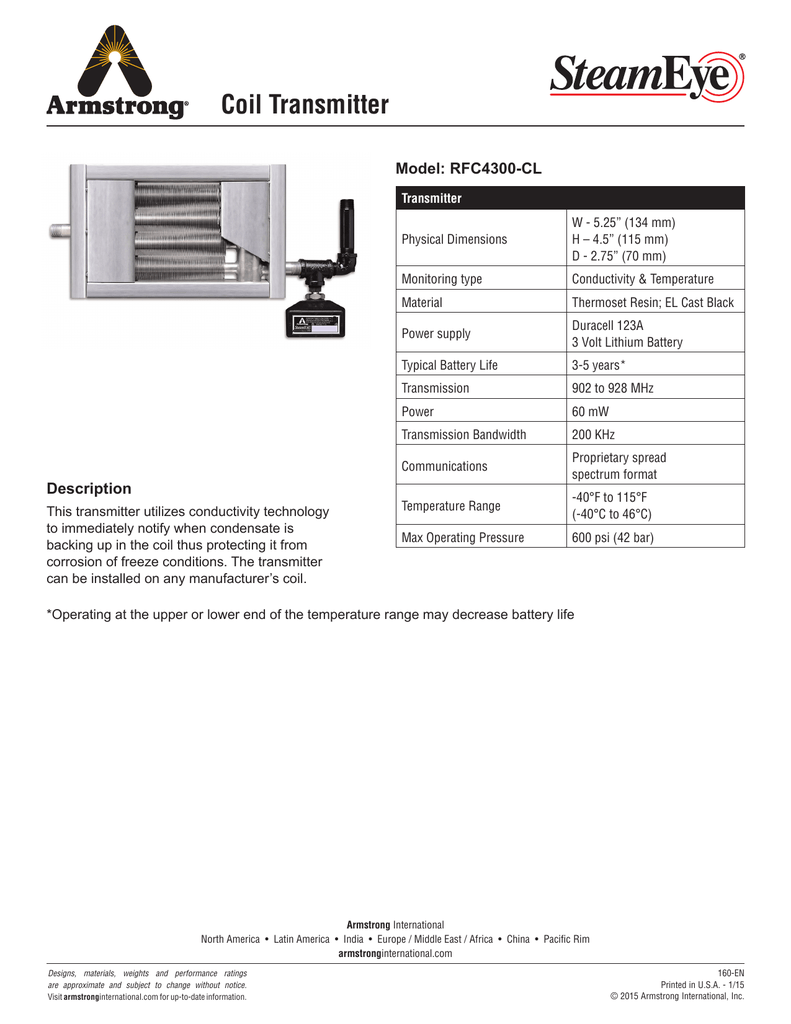 Coil Transmitter
Model: RFC4300-CL
Transmitter
Description
This transmitter utilizes conductivity technology
to immediately notify when condensate is
backing up in the coil thus protecting it from
corrosion of freeze conditions. The transmitter
can be installed on any manufacturer's coil.
Physical Dimensions
W - 5.25" (134 mm)
H – 4.5" (115 mm)
D - 2.75" (70 mm)
Monitoring type
Conductivity & Temperature
Material
Thermoset Resin; EL Cast Black
Power supply
Duracell 123A
3 Volt Lithium Battery
Typical Battery Life
3-5 years*
Transmission
902 to 928 MHz
Power
60 mW
Transmission Bandwidth
200 KHz
Communications
Proprietary spread
spectrum format
Temperature Range
-40°F to 115°F
(-40°C to 46°C)
Max Operating Pressure
600 psi (42 bar)
*Operating at the upper or lower end of the temperature range may decrease battery life
Armstrong International
North America • Latin America • India • Europe / Middle East / Africa • China • Pacific Rim
armstronginternational.com
Designs, materials, weights and performance ratings
are approximate and subject to change without notice.
Visit armstronginternational.com for up-to-date information.
160-EN
Printed in U.S.A. - 1/15
© 2015 Armstrong International, Inc.

* Your assessment is very important for improving the work of artificial intelligence, which forms the content of this project