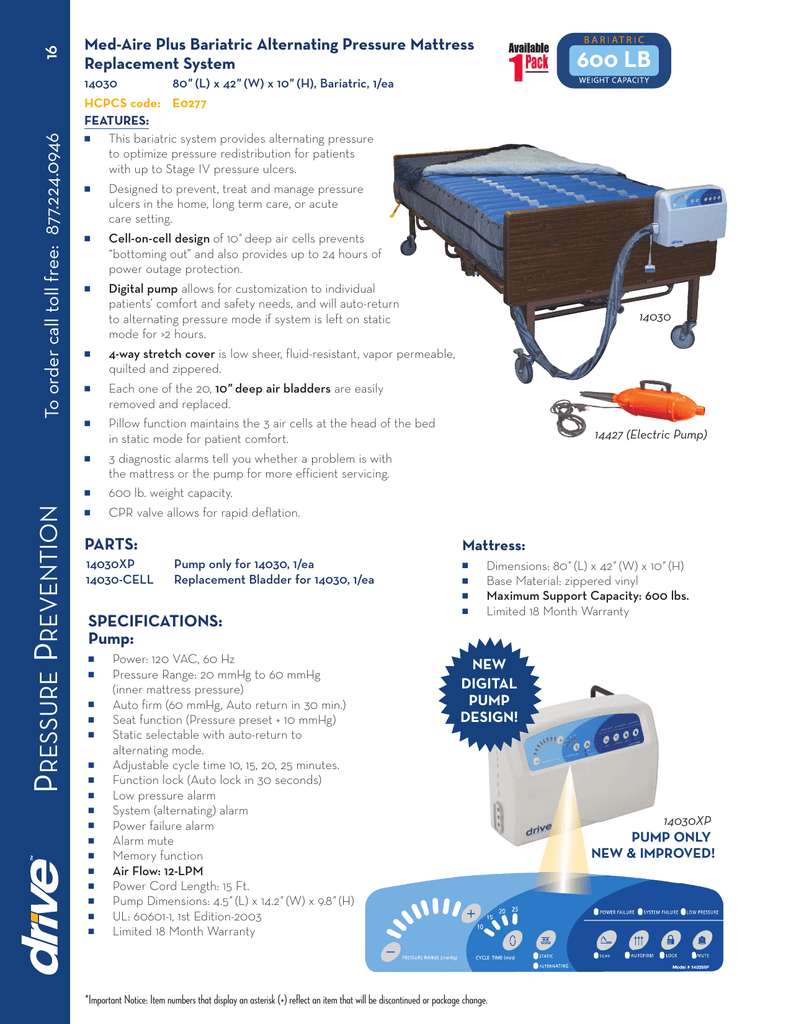 16
Med-Aire Plus Bariatric Alternating Pressure Mattress
Replacement System
To order call toll free: 877.224.0946
14030
HCPCS code: E0277
FEATURES:
■
This bariatric system provides alternating pressure
to optimize pressure redistribution for patients
with up to Stage IV pressure ulcers.
■
Designed to prevent, treat and manage pressure
ulcers in the home, long term care, or acute
care setting.
■
Cell-on-cell design of 10" deep air cells prevents
"bottoming out" and also provides up to 24 hours of
power outage protection.
■
Digital pump allows for customization to individual
patients' comfort and safety needs, and will auto-return
to alternating pressure mode if system is left on static
mode for >2 hours.
■
4-way stretch cover is low sheer, fluid-resistant, vapor permeable,
quilted and zippered.
■
Each one of the 20, 10" deep air bladders are easily
removed and replaced.
■
Pillow function maintains the 3 air cells at the head of the bed
in static mode for patient comfort.
■
3 diagnostic alarms tell you whether a problem is with
the mattress or the pump for more efficient servicing.
600 lb. weight capacity.
■
CPR valve allows for rapid deflation.
■
PRESSURE PREVENTION
600 LB
80" (L) x 42" (W) x 10" (H), Bariatric, 1/ea
PARTS:
14030XP
14030-CELL
14030
14427 (Electric Pump)
Mattress:
Pump only for 14030, 1/ea
Replacement Bladder for 14030, 1/ea
■
■
■
■
SPECIFICATIONS:
Pump:
■
■
■
■
■
■
■
■
■
■
■
■
■
■
■
■
■
Power: 120 VAC, 60 Hz
Pressure Range: 20 mmHg to 60 mmHg
(inner mattress pressure)
Auto firm (60 mmHg, Auto return in 30 min.)
Seat function (Pressure preset + 10 mmHg)
Static selectable with auto-return to
alternating mode.
Adjustable cycle time 10, 15, 20, 25 minutes.
Function lock (Auto lock in 30 seconds)
Low pressure alarm
System (alternating) alarm
Power failure alarm
Alarm mute
Memory function
Air Flow: 12-LPM
Power Cord Length: 15 Ft.
Pump Dimensions: 4.5" (L) x 14.2" (W) x 9.8" (H)
UL: 60601-1, 1st Edition-2003
Limited 18 Month Warranty
Dimensions: 80" (L) x 42" (W) x 10" (H)
Base Material: zippered vinyl
Maximum Support Capacity: 600 lbs.
Limited 18 Month Warranty
NEW
DIGITAL
PUMP
DESIGN!
*Important Notice: Item numbers that display an asterisk (*) reflect an item that will be discontinued or package change.
14030XP
PUMP ONLY
NEW & IMPROVED!

* Your assessment is very important for improving the work of artificial intelligence, which forms the content of this project