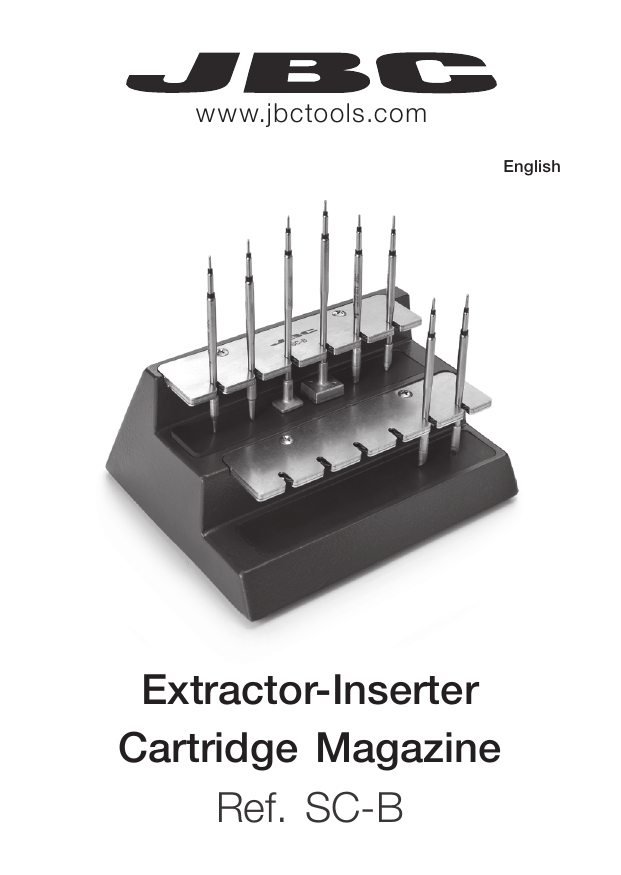 www.jbctools.com
English
Extractor-Inserter
Cartridge Magazine
Ref. SC-B
Packing List
Extractor-Inserter
Cartridge Magazine .......... 1 unit
Ref. SC-B
Manual .................................... 1 unit
Ref. 0015328
w w w.jbctools.com
Extractor-Inserter
Cartridge Magazine
Ref. SC-B
Compatible Cartridges
The JBC Cartridge magazine holds up to 12 models of C245 cartridges.
Find the ones that best suit your soldering needs in www.jbctools.com
ø1
ø 1,5
ø 3,5
A
Round
2
Chisel
Round
bent
Bevel
A
B
Special
models
w w w.jbctools.com
Changing cartridges
Save time and change cartridges without having to switch off the station.
Inserting
Removing
Push the cartridge into the
handle to the mark*.
Place the cartridge in the slot
and pull the handle to remove it.
*Important
It is essential to insert the cartridges as far as the mark for a proper
connection.
Mark
3
Specifications
- Weight: 3.2 Kg (7.0 lb)
- Dimensions: 165 x 135 x 87 mm
This product should not be thrown in the garbage.
In accordance with the European directive 2002/96/EC,
electronic equipment at the end of their life must be collected
and returned to an authorized recycling facility.
www.jbctools.com
0015328-1014
Warranty
JBC's 2 year warranty covers this
equipment against all manufacturing
defects, including the replacement
of defective parts and labour.
Warranty does not cover product
wear due to use or mis-use.
In order for the warranty to be
valid, equipment must be returned,
postage paid, to the dealer where it
was purchased.

* Your assessment is very important for improving the work of artificial intelligence, which forms the content of this project