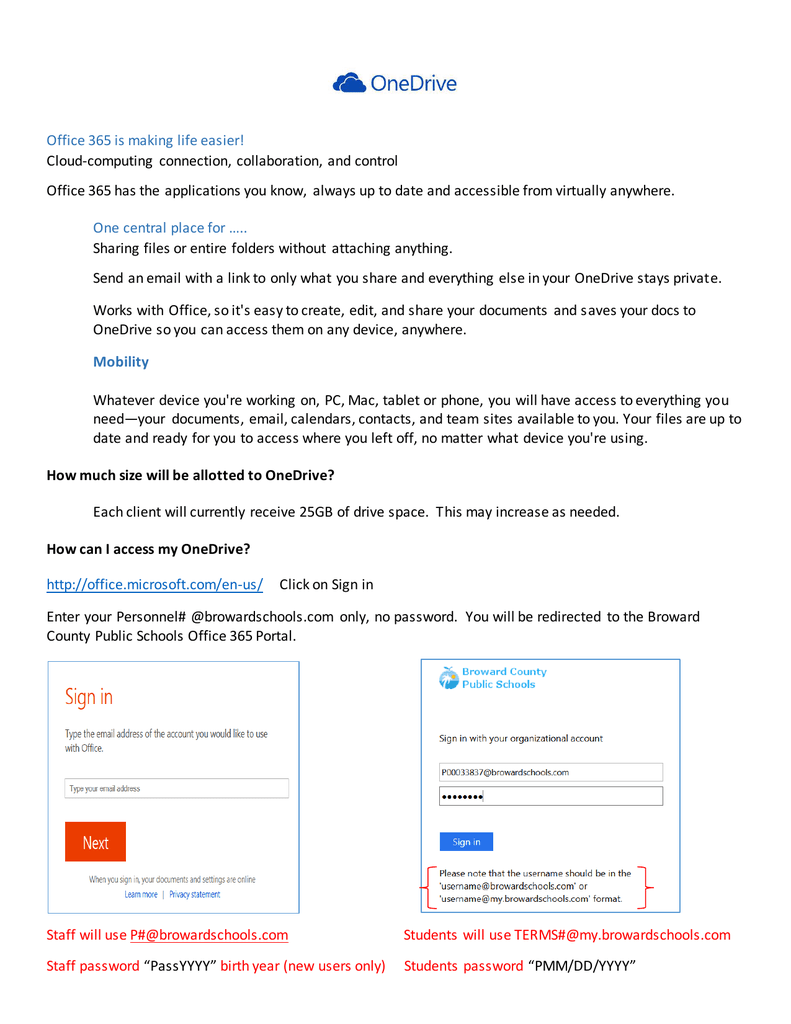 Office 365 is making life easier!
Cloud-computing connection, collaboration, and control
Office 365 has the applications you know, always up to date and accessible from virtually anywhere.
One central place for …..
Sharing files or entire folders without attaching anything.
Send an email with a link to only what you share and everything else in your OneDrive stays private.
Works with Office, so it's easy to create, edit, and share your documents and saves your docs to
OneDrive so you can access them on any device, anywhere.
Mobility
Whatever device you're working on, PC, Mac, tablet or phone, you will have access to everything you
need—your documents, email, calendars, contacts, and team sites available to you. Your files are up to
date and ready for you to access where you left off, no matter what device you're using.
How much size will be allotted to OneDrive?
Each client will currently receive 25GB of drive space. This may increase as needed.
How can I access my OneDrive?
http://office.microsoft.com/en-us/
Click on Sign in
Enter your Personnel# @browardschools.com only, no password. You will be redirected to the Broward
County Public Schools Office 365 Portal.
Staff will use P#@browardschools.com
Students will use TERMS#@my.browardschools.com
Staff password "PassYYYY" birth year (new users only)
Students password "PMM/DD/YYYY"
Depending on what item you come to first in Office 365, you will see tabs on the Office 365 bar
Click on OneDrive tab
You will see different folders/items in the left pane of the navigation Bar.
My Documents
There is a default "Documents" folder that is automatically available to you in your OneDrive.
You can create additional documents, folders, upload and download a document picture or any other type of
data and share information from this location.
When select "new", the office suite capability provides you with the options of what type of document you are
creating from Microsoft office 2013 as well as a folder within the "My Documents " location.
To organize your Documents folder, create a new folder, select new, New Folder.
In Recent Documents, you may have multiple documents that reside in different locations. When you hover
your mouse over an item, you will see where the default location where the document resides.
Sharing Documents is easy then emailing the entire document itself. There is two ways you can share a
document, within the document or in the main folder location.
Sharing from Within
With the document open, click on share. You will be prompted with a dialog box. Enter the user(s)/group(s)
in which you want to share your document with. Apply the permission, Can Edit/Can View. If the permissions
are going to be different for each individual or group, you have to send the invites separately.
Or you can highlight the document, click on the ellipsis, and select Share
Share a document with Everyone
Sometimes you may have documents that you simply want to make available to everyone in our organization.
Using the "Shared with Everyone" folder is quick and simple. Just drag a document into your "Shared with
Everyone" folder, or create new document(s) in this folder, and you're done. Note, however, by default, all
documents in this folder have view-only permission.
Invite "Everyone" using the Share dialog box. Follow the same procedure described above for sharing a
document.
The most important difference: The Share dialog box lets you select "Everyone in AD only (including
Students)."
If you would like to see who you shared a document with, hover the mouse over the file, or
Another way to see who you are sharing with and permissions, highlight the document and then click Files > Shared
With. The Shared With window lists all the people currently sharing this document as well as the permissions
set for them.
You can stop sharing a document or folder with all or selected people.
Select the document or folder you want to stop sharing, and then click Files > Shared With.
In the Shared With window, click the drop-down arrow next to the person you want to stop sharing with, and then
click Stop sharing.
To change information on a document/folder, click on the ellipsis, and then click on the ellipsis again and set of
options will appear for you to perform.
Followed Documents
When you are part of more than one site, you may have access to documents within that sites folder without
leaving the OneDrive tab.
Shared with Me
When items have been shared with you (you were sent a link to access documents in another person's
OneDrive) and you have accessed that link, it will show in the "Shared with Me" link in the Navigation Bar.
Documents shared with everyone does not appear in their "Shared with Me" view in OneDrive.
Site Folders
If you are part of more than one site, then access to those sites 'Documents" folders will be available in this
link. In order to view other site folders, you must be following the site.
Recycle Bin
When you delete an item from Documents folder, it will be placed in the Recycle Bin and count towards your
disk quota. Be sure to delete as needed. When you select "Empty Recycle Bin" and confirm, you must refresh
page to reflect the deletion.