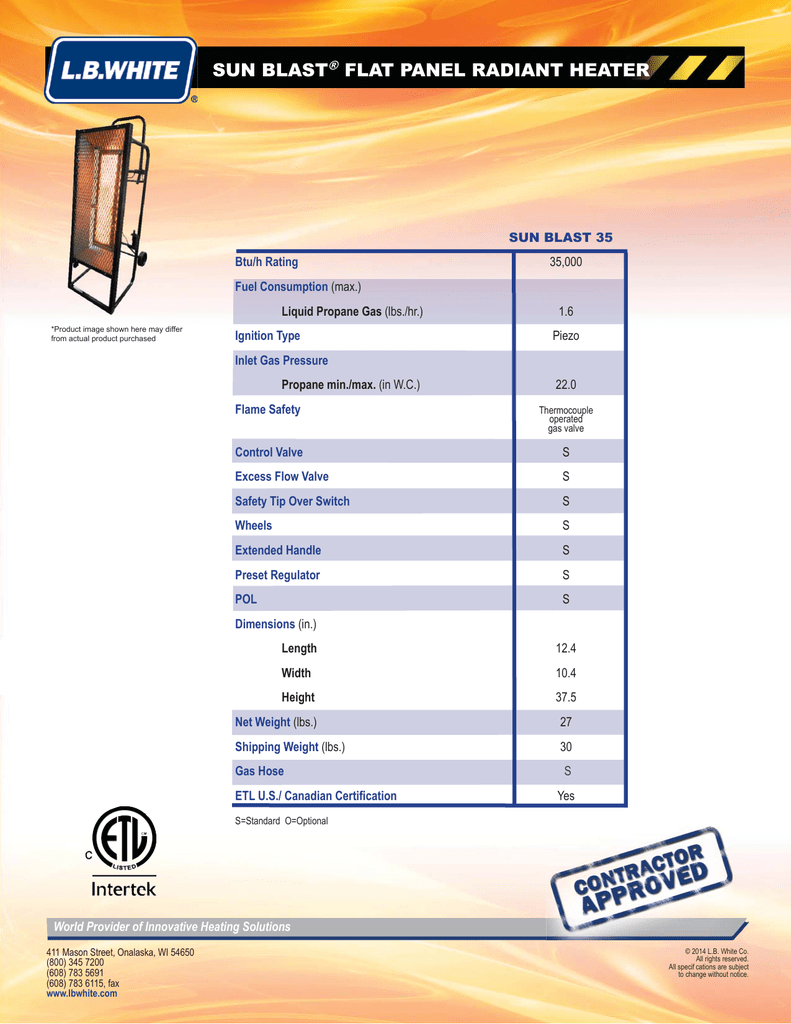 SUN BLAST® FLAT PANEL RADIANT HEATER
SUN BLAST 35
Btu/h Rating
35,000
Fuel Consumption (max.)
Liquid Propane Gas (lbs./hr.)
*Product image shown here may differ
from actual product purchased
Ignition Type
1.6
Piezo
Inlet Gas Pressure
Propane min./max. (in W.C.)
22.0
Flame Safety
Thermocouple
operated
gas valve
Control Valve
S
Excess Flow Valve
S
Safety Tip Over Switch
S
Wheels
S
Extended Handle
S
Preset Regulator
S
POL
S
Dimensions (in.)
Length
12.4
Width
10.4
Height
37.5
Net Weight (lbs.)
27
Shipping Weight (lbs.)
30
Gas Hose
ETL U.S./ Canadian Certification
S
Yes
S=Standard O=Optional
World Provider of Innovative Heating Solutions
411 Mason Street, Onalaska, WI 54650
(800) 345 7200
(608) 783 5691
(608) 783 6115, fax
www.lbwhite.com
© 2014 L.B. White Co.
All rights reserved.
All specif cations are subject
to change without notice.

* Your assessment is very important for improving the work of artificial intelligence, which forms the content of this project