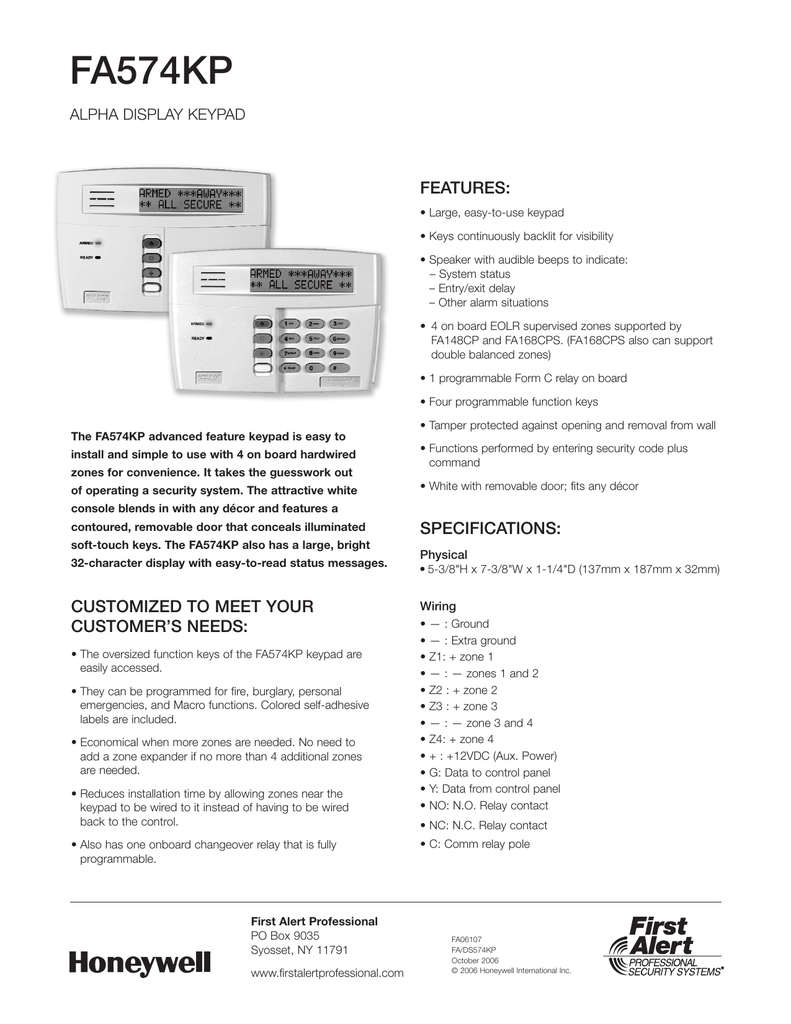 FA574KP
ALPHA DISPLAY KEYPAD
FEATURES:
• Large, easy-to-use keypad
• Keys continuously backlit for visibility
• Speaker with audible beeps to indicate:
– System status
– Entry/exit delay
– Other alarm situations
• 4 on board EOLR supervised zones supported by
FA148CP and FA168CPS. (FA168CPS also can support
double balanced zones)
• 1 programmable Form C relay on board
• Four programmable function keys
• Tamper protected against opening and removal from wall
The FA574KP advanced feature keypad is easy to
install and simple to use with 4 on board hardwired
zones for convenience. It takes the guesswork out
of operating a security system. The attractive white
• Functions performed by entering security code plus
command
• White with removable door; fits any décor
console blends in with any décor and features a
contoured, removable door that conceals illuminated
soft-touch keys. The FA574KP also has a large, bright
32-character display with easy-to-read status messages.
CUSTOMIZED TO MEET YOUR
CUSTOMER'S NEEDS:
• The oversized function keys of the FA574KP keypad are
easily accessed.
• They can be programmed for fire, burglary, personal
emergencies, and Macro functions. Colored self-adhesive
labels are included.
• Economical when more zones are needed. No need to
add a zone expander if no more than 4 additional zones
are needed.
• Reduces installation time by allowing zones near the
keypad to be wired to it instead of having to be wired
back to the control.
• Also has one onboard changeover relay that is fully
programmable.
First Alert Professional
PO Box 9035
Syosset, NY 11791
www.firstalertprofessional.com
SPECIFICATIONS:
Physical
• 5-3/8"H x 7-3/8"W x 1-1/4"D (137mm x 187mm x 32mm)
Wiring
•
•
•
•
•
•
•
•
•
•
•
•
— : Ground
— : Extra ground
Z1: + zone 1
— : — zones 1 and 2
Z2 : + zone 2
Z3 : + zone 3
— : — zone 3 and 4
Z4: + zone 4
+ : +12VDC (Aux. Power)
G: Data to control panel
Y: Data from control panel
NO: N.O. Relay contact
• NC: N.C. Relay contact
• C: Comm relay pole
FA06107
FA/DS574KP
October 2006
© 2006 Honeywell International Inc.

* Your assessment is very important for improving the work of artificial intelligence, which forms the content of this project