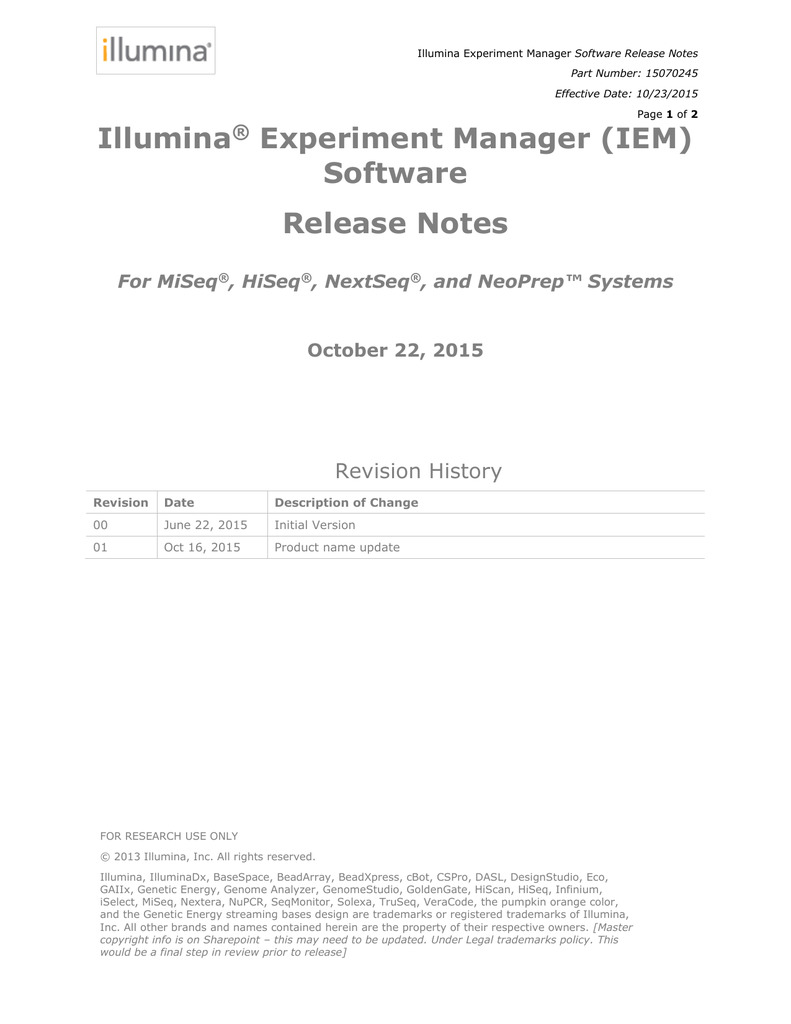 Illumina Experiment Manager Software Release Notes
Part Number: 15070245
Effective Date: 10/23/2015
Page 1 of 2
Illumina® Experiment Manager (IEM)
Software
Release Notes
For MiSeq®, HiSeq®, NextSeq®, and NeoPrep™ Systems
October 22, 2015
Revision History
Revision
Date
Description of Change
00
June 22, 2015
Initial Version
01
Oct 16, 2015
Product name update
FOR RESEARCH USE ONLY
© 2013 Illumina, Inc. All rights reserved.
Illumina, IlluminaDx, BaseSpace, BeadArray, BeadXpress, cBot, CSPro, DASL, DesignStudio, Eco,
GAIIx, Genetic Energy, Genome Analyzer, GenomeStudio, GoldenGate, HiScan, HiSeq, Infinium,
iSelect, MiSeq, Nextera, NuPCR, SeqMonitor, Solexa, TruSeq, VeraCode, the pumpkin orange color,
and the Genetic Energy streaming bases design are trademarks or registered trademarks of Illumina,
Inc. All other brands and names contained herein are the property of their respective owners. [Master
copyright info is on Sharepoint – this may need to be updated. Under Legal trademarks policy. This
would be a final step in review prior to release]
Illumina Experiment Manager Software Release Notes
Part Number: 15070245
Revision: A
Effective Date: 10/23/2015
Page 2 of 2
Introduction
These Release Notes detail the key changes to software components for the Illumina
Experiment Manager (IEM) between the specific versions listed in the table.
Software Application
Prior Version
New Version
Illumina Experiment Manager
1.9
1.11
This update is required to run samples prepared with the TruSight ® Tumor 15, or for use
on the HiSeq 3000/HiSeq 4000 when utilizing dual index, single read configurations.
If you are upgrading from a version before v1.9, review the v1.9 release notes for a list
of features and bug fixes introduced in that version.
A new TruSight®Tumor 15 quick reference card was created to include new features in
this release.
I.
Illumina Experiment Manager 1.11
NEW FEATURES:

Added TruSight® Tumor 15 as a new workflow for the MiSeq sequencer.

Enabled dual-index, single read sample sheet configurations on the HiSeq
3000/4000.

Added BWA-backtrack setting to allow selection of the previous version of the BWA
aligner (v0.6.1) in the following workflows:
o
Enrichment
o
Library QC
o
PCR Amplicon
o
Small Genome Resequencing
Note: this setting only applies to MiSeq Reporter v2.6 (and later) workflows,
which use the newer BWA aligner (BWA-MEM, v0.7.9a).
DEFECT REPAIRS:


Fixed a bug that prevented users from selecting a Genomes folder due to
back/forward slashes used in the entry.
Renamed all references of "Sample Prep" to "Library Prep".
KNOWN ISSUES:

Editing of HiSeq sample sheets, within IEM, has been disabled.
To install IEM v1.11, previous versions of IEM must first be uninstalled. Before installing,
click Start Menu, Control Panel, and then Programs and Features to uninstall any prior
version of IEM. Note: If IEM v1.6 or higher is already installed, the user receives a warning
before installation of IEM v1.11 can proceed. Earlier versions of IEM (1.5 or earlier) do not
trigger this warning.