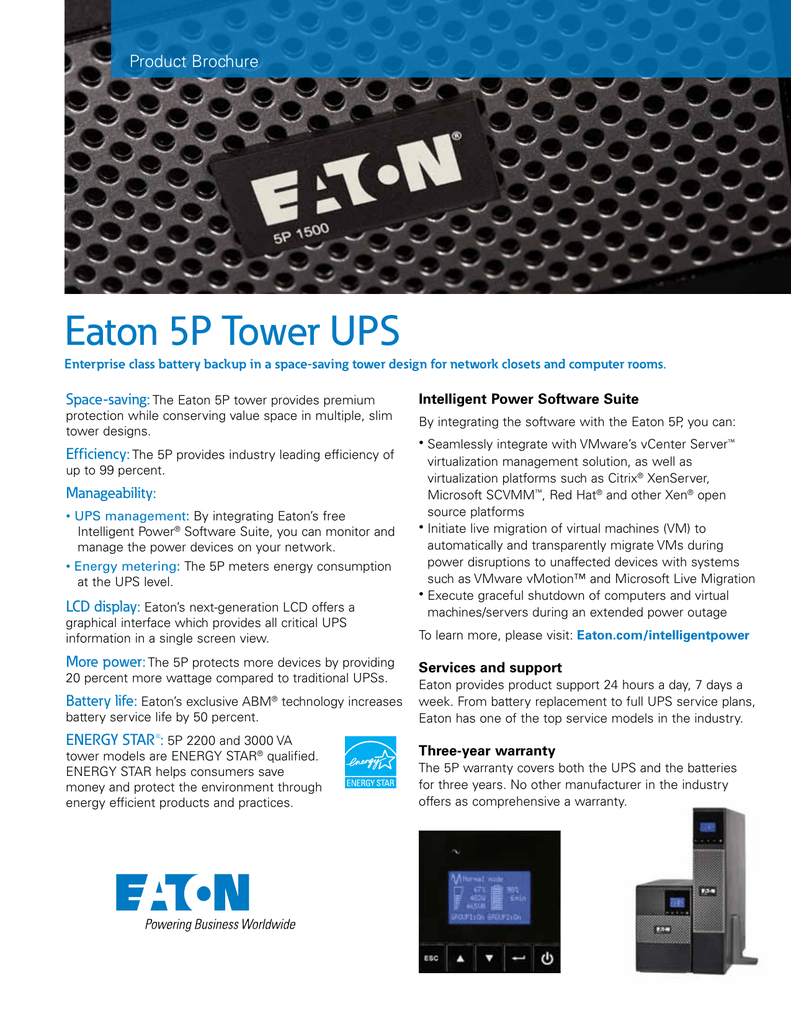 Product Brochure
Eaton 5P Tower UPS
Enterprise class battery backup in a space-saving tower design for network closets and computer rooms.
Space-saving: The Eaton 5P tower provides premium
protection while conserving value space in multiple, slim
tower designs.
Efficiency: The 5P provides industry leading efficiency of
Intelligent Power Software Suite
By integrating the software with the Eaton 5P, you can:
•
up to 99 percent.
Manageability:
• UPS management: By integrating Eaton's free
Intelligent Power® Software Suite, you can monitor and
manage the power devices on your network.
• Energy metering: The 5P meters energy consumption
at the UPS level.
LCD display: Eaton's next-generation LCD offers a
•
•
eamlessly integrate with VMware's vCenter Server™
S
virtualization management solution, as well as
virtualization platforms such as Citrix® XenServer,
Microsoft SCVMM™, Red Hat® and other Xen® open
source platforms
Initiate live migration of virtual machines (VM) to
automatically and transparently migrate VMs during
power disruptions to unaffected devices with systems
such as VMware vMotion™ and Microsoft Live Migration
Execute graceful shutdown of computers and virtual
machines/servers during an extended power outage
graphical interface which provides all critical UPS
information in a single screen view.
To learn more, please visit: Eaton.com/intelligentpower
More power: The 5P protects more devices by providing
20 percent more wattage compared to traditional UPSs.
Services and support
Battery life: Eaton's exclusive ABM® technology increases
battery service life by 50 percent.
ENERGY STAR®: 5P 2200 and 3000 VA
tower models are ENERGY STAR® qualified.
ENERGY STAR helps consumers save
money and protect the environment through
energy efficient products and practices.
Eaton provides product support 24 hours a day, 7 days a
week. From battery replacement to full UPS service plans,
Eaton has one of the top service models in the industry.
Three-year warranty
The 5P warranty covers both the UPS and the batteries
for three years. No other manufacturer in the industry
offers as comprehensive a warranty.
5P Tower Model Selection Guide*
Catalog number
Rating (VA/watts)
Input connection
Output receptacles
Dimensions (H x W x D), in
Net weight, lb
5P750
750/600
5-15P
(8) 5-15R
9.1 x 5.9 x 13.6
22.7
5P1000
1000/770
5-15P
(8) 5-15R
9.1 x 5.9 x 13.6
24.4
5P1500
1440/1100
5-15P
(8) 5-15R
9.1 x 5.9 x 17.5
35.3
5P2200
1950/1920
5-20P
(4) 5-20R, (4) 5-15R
3.4 x 17.4 x 20.6
65.0
5P3000
3000/2700
L5-30P
(6) 5-20R, (1) L5-30R
3.4 x 17.4 x 25.4
87.0
Tower 120V 50/60 Hz models
Tower 208 or 230V 50/60 Hz models
5P850G
850/600
C14
(6) C13
9.1 x 5.9 x 13.6
21.9
5P1550G
1550/1100
C14
(8) C13
9.1 x 5.9 x 17.5
35.2
*Due to continuous product improvement programs, all specifications are subject to change without notice. Please visit Eaton.com/5P to view complete and updated product specifications.
Additional options
Connectivity
Network Card-MS
Relay / Serial Interface Card
Environmental Monitoring Probe
What's in the box
Catalog number
For use with
NETWORK-MS
All models
RELAY-MS
All models
116750224-001
All models (requires Network Card-MS)
• User manual CD
• Intelligent Power
Software Suite CD
• Quick start guide
• USB cable
• RS-232 cable
G models only
• 2 IEC-to-IEC jumper
cables
2200/3000 models only
• Tower pedestals and
Phillips head screw
driver
5P2200 rear panel
5P750 rear panel
Communication
slot with optional
network card
Communication
slot with optional
network card
Remote power
off/Remote on-off
connector
(8) 5-15R
output receptacles
RS-232 port
USB port
RS-232 port
Two individually
controlled groups
of outlets
USB port
Remote power
off/Remote on-off
connector
Input line cord
with 5-15P
Input line cord
with 5-15P
Two individually
controlled groups
of outlets
(8) 5-15R
output receptacles
Call 888-330-2538 or visit
www.powerprosinc.com
ENERGY STAR and the ENERGY STAR
mark are registered U.S. marks. ENERGY
STAR is a registered mark owned by the
U.S. government.

* Your assessment is very important for improving the work of artificial intelligence, which forms the content of this project