No category
New Build 3 Bed Semi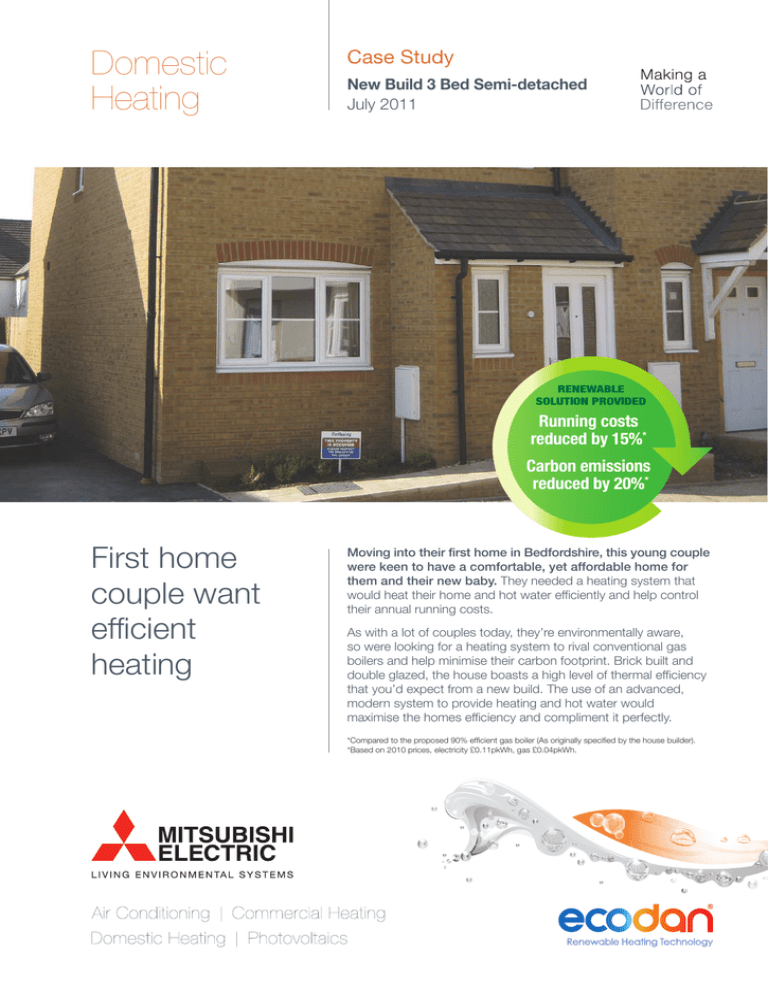 Domestic
Heating
Case Study
New Build 3 Bed Semi-detached
July 2011
Running costs
reduced by 15%*
Carbon emissions
reduced by 20%*
First home
couple want
efficient
heating
Moving into their first home in Bedfordshire, this young couple
were keen to have a comfortable, yet affordable home for
them and their new baby. They needed a heating system that
would heat their home and hot water efficiently and help control
their annual running costs.
As with a lot of couples today, they're environmentally aware,
so were looking for a heating system to rival conventional gas
boilers and help minimise their carbon footprint. Brick built and
double glazed, the house boasts a high level of thermal efficiency
that you'd expect from a new build. The use of an advanced,
modern system to provide heating and hot water would
maximise the homes efficiency and compliment it perfectly.
*Compared to the proposed 90% efficient gas boiler (As originally specified by the house builder).
*Based on 2010 prices, electricity £0.11pkWh, gas £0.04pkWh.
Domestic
Heating
Case Study
New Build 3 Bed Semi-detached
July 2011
Ecodan provides the most efficient
means of heating this home. Using free
energy from the outside air to provide
central heating and hot water, the
advanced efficiency of Ecodan provides
the perfect, modern heating system to
suit this young couples needs.
For those looking for high performance and lower running costs,
Ecodan provides a welcome and effective alternative to the more
traditional heating systems on the market.
By installing Ecodan, this new home is kept warm and comfortable
by a high performance system that offers low running costs and low
maintenance. Ecodan's high efficiency also keeps carbon emissions
to a minimum, satisfying this young couples aim to reduce their
carbon footprint.
2010 Monthly Run Costs
New Build 3 Bed Semi-Detached:
Installation Summary
3 bed semi-detached house built in 2008
Total living space 85m2
£60.00
£50.00
£40.00
£30.00
Mains gas supply available
New build, no previous heating system
Installed 5kW Ecodan
210 litre indirect unvented cylinder
Radiators with TRV fitted throughout
Installation took 2 days
£20.00
£10.00
£0
Jan
Feb
Mar
Apr
May
Jun
Jul
Aug
Sep
Oct
Nov
Dec
Running costs
Ecodan heating minimises running
costs and carbon emissions
APPROVED PRODUCT
Telephone: 01707 278666
email: [email protected]
web: www.mitsubishielectric.co.uk/domesticheating
MCS
Certificate Number: MCS HP0002
Product Reference: PUHZ-W50VHA-(BS)
PUHZ-W85VHA2-(BS), PUHZ-HW140VHA2/YHA2-(BS)
UNITED KINGDOM Mitsubishi Electric Europe Living Environmental Systems Division
Travellers Lane, Hatfield, Hertfordshire, AL10 8XB, England General Enquiries Telephone: 01707 282880
IRELAND Mitsubishi Electric Europe Westgate Business Park, Ballymount, Dublin 24, Ireland
Telephone: Dublin (01) 419 8800 Fax: Dublin (01) 419 8890 International code: (003531)
Country of origin: United Kingdom – Japan – Thailand – Malaysia. ©Mitsubishi Electric Europe 2011. Mitsubishi and Mitsubishi Electric are trademarks of Mitsubishi Electric Europe B.V. The company reserves the right to make any variation in technical specification to the equipment described, or
to withdraw or replace products without prior notification or public announcement. Mitsubishi Electric is constantly developing and improving its products. All descriptions, illustrations, drawings and specifications in this publication present only general particulars and shall not form part of any
contract. All goods are supplied subject to the Company's General Conditions of Sale, a copy of which is available on request. Third-party product and brand names may be trademarks or registered trademarks of their respective owners.

* Your assessment is very important for improving the work of artificial intelligence, which forms the content of this project