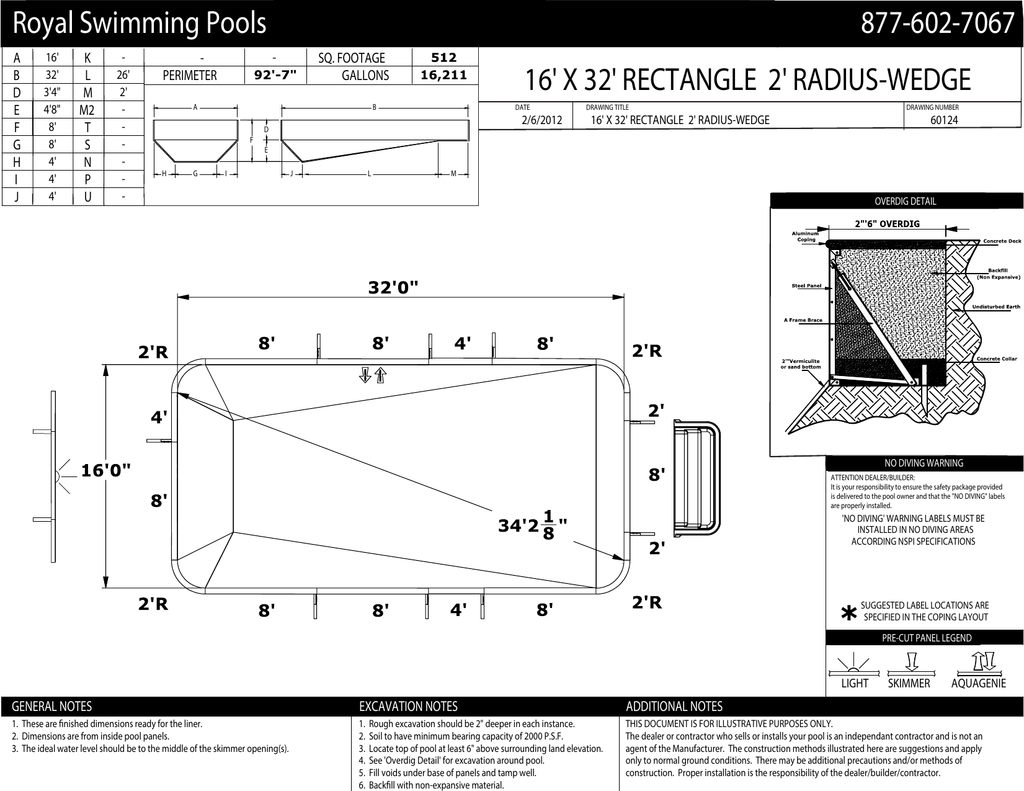 Royal Swimming Pools
A
B
D
E
F
G
H
I
J
16'
32'
3'4"
4'8"
8'
8'
4'
4'
4'
K
L
M
M2
T
S
N
P
U
26'
2'
-
PERIMETER
877-602-7067
SQ. FOOTAGE
GALLONS
-
A
16' X 32' RECTANGLE 2' RADIUS-WEDGE
B
DATE
2/6/2012
D
F
H
G
DRAWING TITLE
DRAWING NUMBER
16' X 32' RECTANGLE 2' RADIUS-WEDGE
60124
E
I
J
L
M
OVERDIG DETAIL
NO DIVING WARNING
ATTENTION DEALER/BUILDER:
It is your responsibility to ensure the safety package provided
is delivered to the pool owner and that the "NO DIVING" labels
are properly installed.
'NO DIVING' WARNING LABELS MUST BE
INSTALLED IN NO DIVING AREAS
ACCORDING NSPI SPECIFICATIONS
SUGGESTED LABEL LOCATIONS ARE
SPECIFIED IN THE COPING LAYOUT
PRE-CUT PANEL LEGEND
LIGHT
SKIMMER
AQUAGENIE
GENERAL NOTES
EXCAVATION NOTES
ADDITIONAL NOTES
1. These are finished dimensions ready for the liner.
2. Dimensions are from inside pool panels.
3. The ideal water level should be to the middle of the skimmer opening(s).
1.
2.
3.
4.
5.
6.
THIS DOCUMENT IS FOR ILLUSTRATIVE PURPOSES ONLY.
The dealer or contractor who sells or installs your pool is an independant contractor and is not an
agent of the Manufacturer. The construction methods illustrated here are suggestions and apply
only to normal ground conditions. There may be additional precautions and/or methods of
construction. Proper installation is the responsibility of the dealer/builder/contractor.
Rough excavation should be 2" deeper in each instance.
Soil to have minimum bearing capacity of 2000 P.S.F.
Locate top of pool at least 6" above surrounding land elevation.
See 'Overdig Detail' for excavation around pool.
Fill voids under base of panels and tamp well.
Backfill with non-expansive material.

* Your assessment is very important for improving the work of artificial intelligence, which forms the content of this project