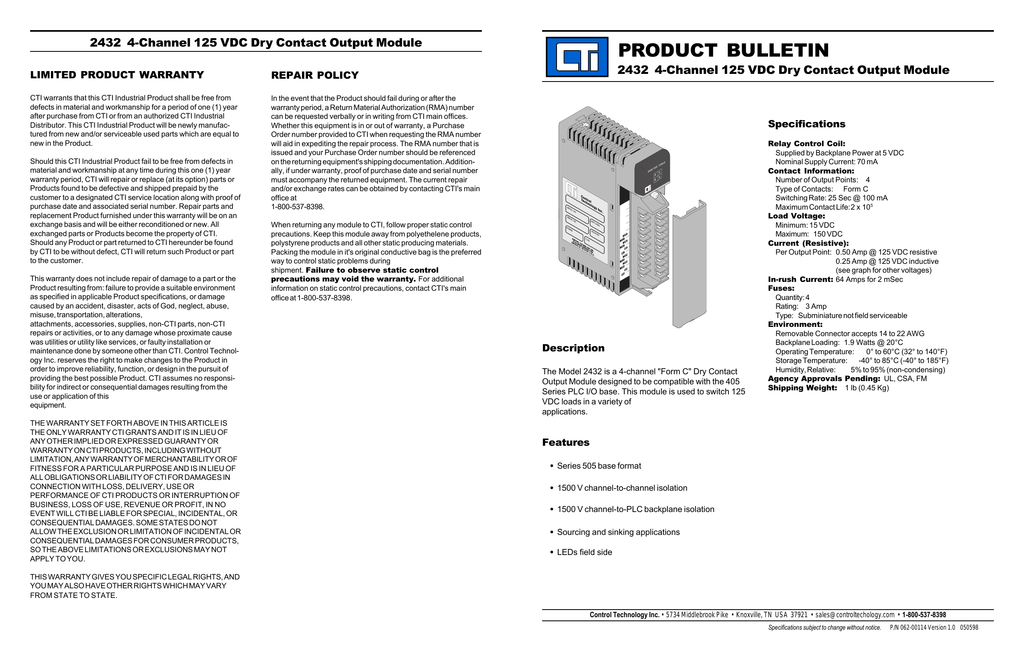 2432 4-Channel 125 VDC Dry Contact Output Module
LIMITED PRODUCT WARRANTY
REPAIR POLICY
CTI warrants that this CTI Industrial Product shall be free from
defects in material and workmanship for a period of one (1) year
after purchase from CTI or from an authorized CTI Industrial
Distributor. This CTI Industrial Product will be newly manufactured from new and/or serviceable used parts which are equal to
new in the Product.
In the event that the Product should fail during or after the
warranty period, a Return Material Authorization (RMA) number
can be requested verbally or in writing from CTI main offices.
Whether this equipment is in or out of warranty, a Purchase
Order number provided to CTI when requesting the RMA number
will aid in expediting the repair process. The RMA number that is
issued and your Purchase Order number should be referenced
on the returning equipment's shipping documentation. Additionally, if under warranty, proof of purchase date and serial number
must accompany the returned equipment. The current repair
and/or exchange rates can be obtained by contacting CTI's main
office at
1-800-537-8398.
Should this CTI Industrial Product fail to be free from defects in
material and workmanship at any time during this one (1) year
warranty period, CTI will repair or replace (at its option) parts or
Products found to be defective and shipped prepaid by the
customer to a designated CTI service location along with proof of
purchase date and associated serial number. Repair parts and
replacement Product furnished under this warranty will be on an
exchange basis and will be either reconditioned or new. All
exchanged parts or Products become the property of CTI.
Should any Product or part returned to CTI hereunder be found
by CTI to be without defect, CTI will return such Product or part
to the customer.
This warranty does not include repair of damage to a part or the
Product resulting from: failure to provide a suitable environment
as specified in applicable Product specifications, or damage
caused by an accident, disaster, acts of God, neglect, abuse,
misuse, transportation, alterations,
attachments, accessories, supplies, non-CTI parts, non-CTI
repairs or activities, or to any damage whose proximate cause
was utilities or utility like services, or faulty installation or
maintenance done by someone other than CTI. Control Technology Inc. reserves the right to make changes to the Product in
order to improve reliability, function, or design in the pursuit of
providing the best possible Product. CTI assumes no responsibility for indirect or consequential damages resulting from the
use or application of this
equipment.
THE WARRANTY SET FORTH ABOVE IN THIS ARTICLE IS
THE ONLY WARRANTY CTI GRANTS AND IT IS IN LIEU OF
ANY OTHER IMPLIED OR EXPRESSED GUARANTY OR
WARRANTY ON CTI PRODUCTS, INCLUDING WITHOUT
LIMITATION, ANY WARRANTY OF MERCHANTABILITY OR OF
FITNESS FOR A PARTICULAR PURPOSE AND IS IN LIEU OF
ALL OBLIGATIONS OR LIABILITY OF CTI FOR DAMAGES IN
CONNECTION WITH LOSS, DELIVERY, USE OR
PERFORMANCE OF CTI PRODUCTS OR INTERRUPTION OF
BUSINESS, LOSS OF USE, REVENUE OR PROFIT, IN NO
EVENT WILL CTI BE LIABLE FOR SPECIAL, INCIDENTAL, OR
CONSEQUENTIAL DAMAGES. SOME STATES DO NOT
ALLOW THE EXCLUSION OR LIMITATION OF INCIDENTAL OR
CONSEQUENTIAL DAMAGES FOR CONSUMER PRODUCTS,
SO THE ABOVE LIMITATIONS OR EXCLUSIONS MAY NOT
APPLY TO YOU.
PRODUCT BULLETIN
2432 4-Channel 125 VDC Dry Contact Output Module
Specifications
When returning any module to CTI, follow proper static control
precautions. Keep this module away from polyethelene products,
polystyrene products and all other static producing materials.
Packing the module in it's original conductive bag is the preferred
way to control static problems during
shipment. Failure to observe static control
precautions may void the warranty. For additional
information on static control precautions, contact CTI's main
office at 1-800-537-8398.
Description
The Model 2432 is a 4-channel "Form C" Dry Contact
Output Module designed to be compatible with the 405
Series PLC I/O base. This module is used to switch 125
VDC loads in a variety of
applications.
Relay Control Coil:
Supplied by Backplane Power at 5 VDC
Nominal Supply Current: 70 mA
Contact Information:
Number of Output Points: 4
Type of Contacts: Form C
Switching Rate: 25 Sec @ 100 mA
Maximum Contact Life:2 x 105
Load Voltage:
Minimum: 15 VDC
Maximum: 150 VDC
Current (Resistive):
Per Output Point: 0.50 Amp @ 125 VDC resistive
0.25 Amp @ 125 VDC inductive
(see graph for other voltages)
In-rush Current: 64 Amps for 2 mSec
Fuses:
Quantity: 4
Rating: 3 Amp
Type: Subminiature not field serviceable
Environment:
Removable Connector accepts 14 to 22 AWG
Backplane Loading: 1.9 Watts @ 20°C
Operating Temperature:
0° to 60°C (32° to 140°F)
Storage Temperature: -40° to 85°C (-40° to 185°F)
Humidity, Relative:
5% to 95% (non-condensing)
Agency Approvals Pending: UL, CSA, FM
Shipping Weight: 1 lb (0.45 Kg)
Features
• Series 505 base format
• 1500 V channel-to-channel isolation
• 1500 V channel-to-PLC backplane isolation
• Sourcing and sinking applications
• LEDs field side
THIS WARRANTY GIVES YOU SPECIFIC LEGAL RIGHTS, AND
YOU MAY ALSO HAVE OTHER RIGHTS WHICH MAY VARY
FROM STATE TO STATE.
Control Technology Inc. • 5734 Middlebrook Pike • Knoxville, TN USA 37921 • [email protected] • 1-800-537-8398
Specifications subject to change without notice.
P/N 062-00114 Version 1.0 050598
2432 4-Channel 125 VDC Dry Contact Output Module
2432 4-Channel 125 VDC Dry Contact Output Module
I/O MODULE DEFINITION FOR BASE . . . . . . .0
ADDRESS
POINTS
SLOT
IN
OUT
IN
OUT
ID
0............ 0000A ....... 0000A ........... 00 ........... 08 .............. 20 ........ (435)
1............ 0000A ....... 0000A ........... 00 ........... 00 .............. FF ........ (435)
2............ 0000A ....... 0000A ........... 00 ........... 00 .............. FF ........ (435)
:
:
:
MODULE
NAME
8 PT OUTPUT MOD
EMPTY I/O SLOT
EMPTY I/O SLOT
6............ 0000A ....... 0000A ........... 00 ........... 00 .............. FF ........ (435)
7............ 0000A ....... 0000A ........... 00 ........... 00 .............. FF ........ (435)
:
:
EMPTY I/O SLOT
EMPTY I/O SLOT
Word Map
Model 2432 Connector Diagram
Model 2432 Switching Capacity
Consult factory for special fusing in low voltage
applications that require 3 to 6 Amps.
Typical Circuit
The 2432 will log into the 405 system as an 8 point output
module. Since the module is a 4 point module, only the
first 4 Y locations (Y0-Y3) are used. Y4-Y7 are not used.