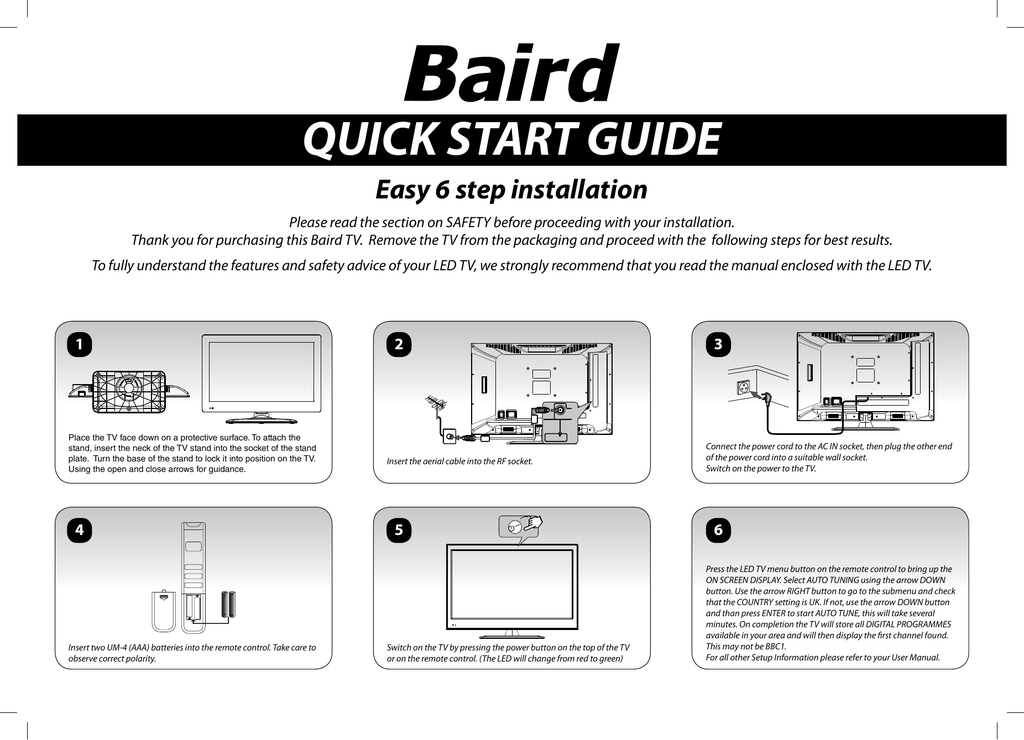 QUICK START GUIDE
Easy 6 step installation
Please read the section on SAFETY before proceeding with your installation.
Thank you for purchasing this Baird TV. Remove the TV from the packaging and proceed with the following steps for best results.
To fully understand the features and safety advice of your LED TV, we strongly recommend that you read the manual enclosed with the LED TV.
1
Place the TV face down on a protective surface. To attach the
stand, insert the neck of the TV stand into the socket of the stand
plate. Turn the base of the stand to lock it into position on the TV.
Using the open and close arrows for guidance.
4
Insert two UM-4 (AAA) batteries into the remote control. Take care to
observe correct polarity.
2
Insert the aerial cable into the RF socket.
5
Switch on the TV by pressing the power button on the top of the TV
or on the remote control. (The LED will change from red to green)
3
Connect the power cord to the AC IN socket, then plug the other end
of the power cord into a suitable wall socket.
Switch on the power to the TV.
6
Press the LED TV menu button on the remote control to bring up the
ON SCREEN DISPLAY. Select AUTO TUNING using the arrow DOWN
button. Use the arrow RIGHT button to go to the submenu and check
that the COUNTRY setting is UK. If not, use the arrow DOWN button
and than press ENTER to start AUTO TUNE, this will take several
minutes. On completion the TV will store all DIGITAL PROGRAMMES
available in your area and will then display the first channel found.
This may not be BBC1.
For all other Setup Information please refer to your User Manual.

* Your assessment is very important for improving the work of artificial intelligence, which forms the content of this project