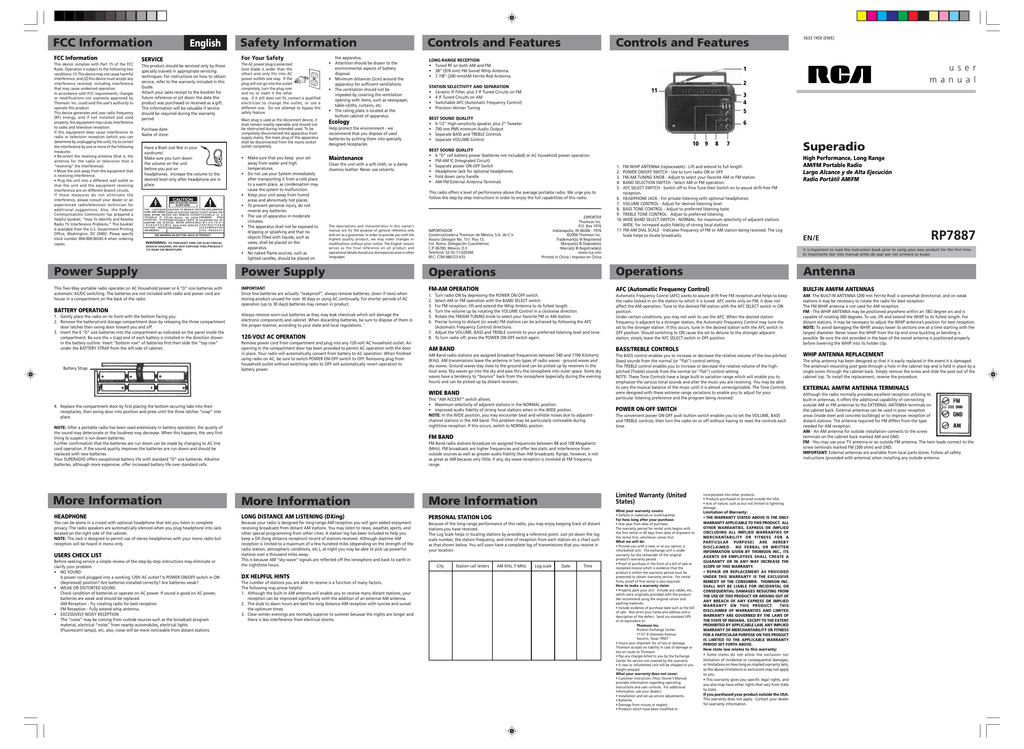 FCC Information
FCC Information
This device complies with Part 15 of the FCC
Rules. Operation is subject to the following two
conditions: (1) This device may not cause harmful
interference, and (2) this device must accept any
interference received, including interference
that may cause undesired operation.
In accordance with FCC requirements, changes
or modifications not expressly approved by
Thomson Inc. could void the user's authority to
operate this product.
This device generates and uses radio frequency
(RF) energy, and if not installed and used
properly, this equipment may cause interference
to radio and television reception.
If this equipment does cause interference to
radio or television reception (which you can
determine by unplugging the unit), try to correct
the interference by one or more of the following
measures:
• Re-orient the receiving antenna (that is, the
antenna for the radio or television that is
"receiving" the interference).
• Move the unit away from the equipment that
is receiving interference.
• Plug the unit into a different wall outlet so
that the unit and the equipment receiving
interference are on different branch circuits.
If these measures do not eliminate the
interference, please consult your dealer or an
experienced radio/television technician for
additional suggestions. Also, the Federal
Communications Commission has prepared a
helpful booklet, "How To Identify and Resolve
Radio TV Interference Problems." This booklet
is available from the U.S. Government Printing
Office, Washington, DC 20402. Please specify
stock number 004-000-00345-4 when ordering
copies.
English
For Your Safety
SERVICE
This product should be serviced only by those
specially trained in appropriate servicing
techniques. For instructions on how to obtain
service, refer to the warranty included in this
Guide.
Attach your sales receipt to the booklet for
future reference or jot down the date this
product was purchased or received as a gift.
This information will be valuable if service
should be required during the warranty
period.
Purchase date:
Name of store:
Have a Blast-Just Not in your
eardrums!
Make sure you turn down
the volume on the unit
before you put on
headphones. Increase the volume to the
desired level only after headphone are in
place.
CAUTION
RISK OF ELECTRIC SHOCK
DO NOT OPEN
THE LIGHTNING
FLASH AND ARROWHEAD WITHIN THE
TRIANGLE IS A
WA R N I N G S I G N
ALERTING YOU OF
"DANGEROUS
VOLTAGE" INSIDE
THE PRODUCT.
Safety Information
CAUTION: TO REDUCE THE
RISK OF ELECTRIC SHOCK,
DO NOT REMOVE COVER
(OR BACK). NO USERS E RV I C E A B L E PA R T S I N S I D E . R E F E R S E RV I C I N G
TO QUALIFIED SERVICE
PERSONNEL.
THE EXCLAMATION
POINT WITHIN THE
TRIANGLE IS A
WARNING
SIGN
ALERTING YOU OF
I M P O R TA N T
INSTRUCTIONS
A C C O M PA N Y I N G
T H E P R O D U C T.
SEE MARKING ON BOTTOM / BACK OF PRODUCT
WARNING: TO PREVENT FIRE OR ELECTRICAL
SHOCK HAZARD, DO NOT EXPOSE THIS PRODUCT
TO RAIN OR MOISTURE.
The AC power plug is polarized
(one blade is wider than the
other) and only fits into AC
power outlets one way. If the
plug will not go into the outlet
completely, turn the plug over
and try to insert it the other
way. If it still does not fit, contact a qualified
electrician to change the outlet, or use a
different one. Do not attempt to bypass this
safety feature.
the apparatus.
• Attention should be drawn to the
environmental aspects of battery
disposal.
• Minimum distances (2cm) around the
apparatus for sufficient ventilations.
• The ventilation should not be
impeded by covering the ventilation
opening with items, such as newspaper,
table-cloths, curtains, etc.
• The rating plate is located at the
bottom cabinet of apparatus.
Main plug is used as the disconnect device, it
shall remain readily operable and should not
be obstructed during intended used. To be
completely disconnected the apparatus from
supply mains, the main plug of the apparatus
shall be disconnected from the mains socket
outlet completely.
Ecology
• Make sure that you keep your set
away from water and high
temperatures.
• Do not use your System immediately
after transporting it from a cold place
to a warm place, as condensation may
cause the system to malfunction.
• Keep your unit away from humid
areas and abnormally hot places.
• To prevent personal injury, do not
reverse any batteries.
• The use of apparatus in moderate
climates.
• The apparatus shall not be exposed to
dripping or splashing and that no
objects filled with liquids, such as
vases, shall be placed on the
apparatus.
• No naked flame sources, such as
lighted candles, should be placed on
Maintenance
Help protect the environment - we
recommend that you dispose of used
batteries by putting them into specially
designed receptacles.
Clean the unit with a soft cloth, or a damp
chamois leather. Never use solvents.
Controls and Features
Controls and Features
LONG-RANGE RECEPTION
• Tuned RF on both AM and FM.
• 38" (976 mm) FM Swivel Whip Antenna.
• 7-7/8" (200 mm)AM Ferrite Rod Antenna.
u s e r
m a n u a l
1
2
STATION SELECTIVITY AND SEPARATION
• Ceramic IF Filter, plus 3 IF Tuned Circuits on FM.
• 4 IF Tuned Circuits on AM
• Switchable AFC (Automatic Frequency Control)
• Precision Vernier Tuning
11
BEST SOUND QUALITY
• 6-1/2" High-sensitivity speaker, plus 2" Tweeter
• 700 mw PMS minmum Audio Output
• Separate BASS and TREBLE Controls
• Separate VOLUME Control
3
4
5
6
10
BEST SOUND QUALITY
• 6 "D" cell battery power (batteries not included) or AC household power operation.
• FM-AM IC (Integrated Circuit)
• Separate power ON-OFF Switch
• Headphone Jack for optional headphones
• Fold down carry handle
• AM-FM External Antenna Terminals
This radio offers a level of performance above the average portable radio. We urge you to
follow the step-by-step instructions in order to enjoy the full capabilities of this radio.
The descriptions and characteristics in this owner's
manual are for the purpose of general reference only
and not as a guarantee. In order to provide you with the
highest quality product, we may make changes or
modifications without prior notice. The English version
serves as the final reference on all product and
operational details should any discrepancies arise in other
languages.
5633 7450 (EN/E)
EXPORTER
Thomson Inc.
P.O. Box 1976
Indianapolis, IN 46206 - 1976
©2006 Thomson Inc.
Trademark(s) ® Registered
Marque(s) ® Deposée(s)
Marca(s) ® Registrada(s)
www.rca.com
Printed in China / Impreso en China
IMPORTADOR
Comercializadora Thomson de México, S.A. de C.V.
Álvaro Obregón No. 151. Piso 13.
Col. Roma. Delegación Cuauhtémoc
C.P. 06700. México, D.F.
Telefono: 52-55-11-020360
RFC: CTM-980723-KS5
9
8
7
1.
2.
3.
4.
5.
FM WHIP ANTENNA (replaceable) - Lift and extend to full length.
POWER ON/OFF SWITCH - Use to turn radio ON or OFF.
FM-AM TUNING KNOB - Adjust to select your favorite AM or FM station.
BAND SELECTION SWITCH - Select AM or FM operation.
AFC SELECT SWITCH - Switch off to Fine Tune then Switch on to assure drift-free FM
reception.
6. HEADPHONE JACK - For private listening with optional headphones.
7. VOLUME CONTROL - Adjust for desired listening level.
8. BASS TONE CONTROL - Adjust to preferred listening taste.
9. TREBLE TONE CONTROL - Adjust to preferred listening.
10. WIDE BAND SELECT SWITCH - NORMAL: for maximum selectivity of adjacent stations
WIDE: for increased audio fidelity of strong local stations
11. FM-AM DIAL SCALE - Indicates frequency of FM or AM station being received. The Log
Scale helps to locate broadcasts.
Superadio
High Performance, Long Range
AM/FM Portable Radio
Largo Alcance y de Alta Ejecución
Radio Portátil AM/FM
EN/E
RP7887
It is important to read this instruction book prior to using your new product for the first time.
Es importante leer este manual antes de usar por vez primera su euipo.
Power Supply
Power Supply
Operations
Operations
Antenna
This Two-Way portable radio operates on AC Household power or 6 "D" size batteries with
automatic AC/DC switching. The batteries are not included with radio and power cord are
house in a compartment on the back of the radio.
IMPORTANT
Since few batteries are actually "leakproof", always remove batteries, (even if new) when
storing product unused for over 30 days or using AC continually. For shorter periods of AC
operation (up to 30 days) batteries may remain in product.
FM-AM OPERATION
AFC (Automatic Frequency Control)
BUILT-IN AM/FM ANTENNAS
1.
2.
3.
4.
5.
6.
Turn radio ON by depressing the POWER ON-OFF switch.
Select AM or FM operation with the BAND SELECT switch.
For FM reception, lift and extend the Whip Antenna to its fullest length.
Turn the volume up by rotating the VOLUME Control in a clockwise direction.
Rotate the FM/AM TUNING knob to select your favorite FM or AM station.
Precise tuning to distant (or weak) FM stations can be achieved by following the AFC
(Automatic Frequency Control) directions.
7. Adjust the VOLUME, BASS and TREBLE controls to your preferred listening level and tone.
8. To turn radio off, press the POWER ON-OFF switch again.
Automatic Frequency Conrol (AFC) works to assure drift-free FM reception and helps to keep
the radio locked-in on the station to which it is tuned. AFC works only on FM, it does not
affect the AM operation. Tune to the desired FM station with the AFC SELECT switch in ON
position.
Under certain conditions, you may not wish to use the AFC. When the desired station
frequency is adjacent to a stronger station, the Automatic Frequency Control may tune the
set to the stronger station. If this occurs, tune in the desired station with the AFC switch in
OFF position. Should switching to ON cause the set to detune to the stronger adjacent
station, simply leave the AFC SELECT switch in OFF position.
AM -The BUILT-IN ANTENNA (200 mm Ferrite Rod) is somewhat directional, and on weak
stations it may be necessary to rotate the radio for best reception.
The FM WHIP antenna is not used for AM reception.
FM - The WHIP ANTENNA may be positioned anywhere within an 18O degree arc and is
capable of rotating 360 degrees. To use, lift and extend the WHIP to its fullest length. For
distant stations, it may be necessary to adjust the WHIP antenna's position for best reception.
NOTE: To avoid damaging the WHIP, always lower its sections one at a time starting with the
largest diameter. Never lower the WHIP from the tip end since buckling or bending is
possible. Be sure the slot provided in the base of the swivel antenna is positioned properly
before lowering the WHIP into its holder clip.
AM BAND
BASS/TREBLE CONTROLS
AM Band radio stations are assigned broadcast frequencies between 540 and 1700 Kilohertz
(KHz). AM transmissions leave the antenna in two types of radio waves - ground waves and
sky waves. Ground waves stay close to the ground and can be picked up by receivers in the
local area, Sky waves go into the sky and pass thru the ionosphere into outer space. Some sky
waves have a tendency to "bounce" back from the ionosphere (especially during the evening
hours) and can be picked up by distant receivers.
The BASS control enables you to increase or decrease the relative volume of the low-pitched
(bass) sounds from the normal (or "flat") control setting.
The TREBLE control enables you to increase or decrease the relative volume of the highpitched (Treble) sounds from the normal (or "flat") control setting.
NOTE: These Tone Controls have a large built-in variation range which will enable you to
emphasize the various tonal sounds and alter the music you are receiving. You may be able
to vary the musical balance of the music until it is almost unrecognizable. The Tone Controls
were designed with these extreme range variations to enable you to adjust for your
particular listening preference and the program being received.
BATTERY OPERATION
1. Gently place the radio on its front with the bottom facing you.
2. Remove the battery/cord storage compartment door by releasing the three compartment
door latches then swing door toward you and off
3. Insert the 6 "D" size batteries into the compartment as indicated on the panel inside the
compartment. Be sure the + (cap) end of each battery is installed in the direction shown
in the battery outline. Insert "bottom row" of batteries first then slide the "top row"
under the BATTERY STRAP from the left side of cabinet.
Battery Strap
Always remove worn-out batteries as they may leak chemicals which will damage the
electronic components and cabinet. When discarding batteries, be sure to dispose of them in
the proper manner, according to your state and local regulations. '
120-VOLT AC OPERATION
Remove power cord from compartment and plug into any 120-volt AC household outlet. An
opening in the compartment door has been provided to permit AC operation with the door
in place. Your radio will automatically convert from battery to AC operation. When finished
using radio on AC, be sure to switch POWER ON-OFF switch to OFF. Removing plug from
household outlet without switching radio to OFF will automatically revert operation to
battery power.
WIDE BAND
This "AM ACCENT" switch allows:
• Maximum selectivity of adjacent stations in the NORMAL position.
• Improved audio fidelity of strong local stations when in the WIDE positon.
NOTE: In the WIDE position, you may encounter beat and whistle noises due to adjacentchannel stations in the AM band. This problem may be particularly noticeable during
nighttime reception. If this occurs, switch to NORMAL positon.
GEFAHR EINES
ELEKTRISCHEN SCHLAGS
4. Replace the compartment door by first placing the bottom securing tabs into their
receptacles, then swing door into position and press until the three latches "snap" into
place.
NOTE: After a portable radio has been used extensively in battery operation, the quality of
the sound may deteriorate or the loudness may decrease. When this happens, the very first
thing to suspect is run-down batteries.
Further confirmation that the batteries are run down can be made by changing to AC line
cord operation. If the sound quality improves the batteries are run down and should be
replaced with new batteries.
Your SUPERADIO offers exceptional battery life with standard "D" size batteries. Alkaline
batteries, although more expensive, offer increased battery life over standard cells.
FM Band radio stations broadcast on assigned frequencies between 88 and 108 Megahertz
(MHz). FM broadcasts are higher frequencies and offer less static and interference from
outside sources as well as greater audio fidelity than AM broadcasts. Range, however, is not
as great as AM because very little, if any, sky-wave reception is involved at FM frequency
range.
Limited Warranty (United
States)
More Information
More Information
HEADPHONE
LONG DISTANCE AM LISTENING (DXing)
PERSONAL STATION LOG
You can be alone in a crowd with optional headphone that lets you listen in complete
privacy. The radio speakers are automatically silenced when you plug headphone into Jack
located on the right side of the cabinet.
NOTE: The Jack is designed to permit use of stereo headphones with your mono radio but
reception will be heard in mono only.
Because your radio is designed for long-range AM reception you will gain added enjoyment
receiving broadcasts from distant AM stations. You may listen to news, weather, sports, and
other special programming from other cities. A station log has been included to help you
keep a DX (long distance reception) record of stations received. Although daytime AM
reception is limited to a maximum of a few hundred miles (depending on the strength of the
radio station, atmospheric conditions, etc.), at night you may be able to pick up powerful
stations over a thousand miles away.
This is because AM "sky-wave" signals are reflected off the ionosphere and back to earth in
the nighttime hours.
Because of the long-range performance of this radio, you may enjoy keeping track of distant
stations you have received.
The Log Scale helps in locating stations by providing a reference point. Just jot down the log
scale number, the station frequency, and time of reception from each station on a chart such
as that shown below. You will soon have a complete log of transmissions that you receive in
your location.
Before seeking service a simple review of the step-by-step instructions may eliminate or
clarify your problem.
• NO SOUND
Is power cord plugged into a working 120V AC outlet? Is POWER ON/OFF switch in ON
(depressed) position? Are batteries installed correctly? Are batteries weak?
• WEAK OR DISTORTED SOUND
Check condition of batteries or operate on AC power. If sound is good on AC power,
batteries are weak and should be replaced.
AM Reception - Try rotating radio for best reception
FM Reception - Fully extend whip antenna.
• EXCESSIVELY NOISY RECEPTION
The "noise" may be coming from outside sources such as the broadcast program
material, electrical "noise" from nearby automobiles, electrical lights
(Fluorescent lamps), etc, also, noise will be more noticeable from distant stations.
The convenient power ON-OFF push button switch enables you to set the VOLUME, BASS
and TREBLE controls, then turn the radio on or off without having to reset the controls each
time.
FM BAND
More Information
USERS CHECK LIST
POWER ON-OFF SWITCH
DX HELPFUL HINTS
The number of stations you are able to receive is a function of many factors.
The following may prove helpful:
1. Although the built-in AM antenna will enable you to receive many distant stations, your
reception can be improved significantly with the addition of an external AM antenna.
2. The dusk to dawn hours are best for long distance AM reception with sunrise and sunset
the optimum times.
3. Clear winter evenings are normally superior to summer because the nights are longer and
there is less interference from electrical storms.
City
Station call letters
AM KHz, F-MHz
Log scale
Date
Time
What your warranty covers:
• Defects in materials or workmanship.
For how long after your purchase:
• One year from date of purchase.
The warranty period for rental units begins with
the first rental or 45 days from date of shipment to
the rental firm, whichever comes first.
What we will do:
• Provide you with a new, or at our option, a
refurbished unit. The exchange unit is under
warranty for the remainder of the original
product's warranty period.
• Proof of purchase in the form of a bill of sale or
receipted invoice which is evidence that the
product is within the warranty period must be
presented to obtain warranty service. For rental
firms, proof of first rental is also required.
How to make a warranty claim:
• Properly pack your unit. Include any cables, etc.,
which were originally provided with the product.
We recommend using the original carton and
packing materials.
• Include evidence of purchase date such as the bill
of sale. Also print your name and address and a
description of the defect. Send via standard UPS
or its equivalent to:
Thomson Inc.
Product Exchange Center
11721 B Alameda Avenue
Socorro, Texas 79927
• Insure your shipment for of loss or damage.
Thomson accepts no liability in case of damage or
loss en route to Thomson.
• Pay any charges billed to you by the Exchange
Center for service not covered by the warranty.
• A new or refurbished unit will be shipped to you
freight prepaid.
What your warranty does not cover:
• Customer instruction. (Your Owner's Manual
provides information regarding operating
Instructions and user controls. For additional
information, ask your dealer.)
• Installation and set-up service adjustments.
• Batteries.
• Damage from misuse or neglect.
• Products which have been modified or
incorporated into other products.
• Products purchased or serviced outside the USA.
• Acts of nature, such as but not limited to lightning
damage.
Limitation of Warranty:
• THE WARRANTY STATED ABOVE IS THE ONLY
WARRANTY APPLICABLE TO THIS PRODUCT. ALL
OTHER WARRANTIES, EXPRESS OR IMPLIED
(INCLUDING ALL IMPLIED WARRANTIES OF
MERCHANTABILITY OR FITNESS FOR A
PARTICULAR PURPOSE) ARE HEREBY
DISCLAIMED. NO VERBAL OR WRITTEN
INFORMATION GIVEN BY THOMSON INC., ITS
AGENTS OR EMPLOYEES SHALL CREATE A
GUARANTY OR IN ANY WAY INCREASE THE
SCOPE OF THIS WARRANTY.
• REPAIR OR REPLACEMENT AS PROVIDED
UNDER THIS WARRANTY IS THE EXCLUSIVE
REMEDY OF THE CONSUMER. THOMSON INC.
SHALL NOT BE LIABLE FOR INCIDENTAL OR
CONSEQUENTIAL DAMAGES RESULTING FROM
THE USE OF THIS PRODUCT OR ARISING OUT OF
ANY BREACH OF ANY EXPRESS OR IMPLIED
WARRANTY ON THIS PRODUCT.
THIS
DISCLAIMER OF WARRANTIES AND LIMITED
WARRANTY ARE GOVERNED BY THE LAWS OF
THE STATE OF INDIANA. EXCEPT TO THE EXTENT
PROHIBITED BY APPLICABLE LAW, ANY IMPLIED
WARRANTY OF MERCHANTABILITY OR FITNESS
FOR A PARTICULAR PURPOSE ON THIS PRODUCT
IS LIMITED TO THE APPLICABLE WARRANTY
PERIOD SET FORTH ABOVE.
How state law relates to this warranty:
• Some states do not allow the exclusion nor
limitation of incidental or consequential damages,
or limitations on how long an implied warranty lasts,
so the above limitations or exclusions may not apply
to you.
• This warranty gives you specific legal rights, and
you also may have other rights that vary from state
to state.
If you purchased your product outside the USA:
This warranty does not apply. Contact your dealer
for warranty information.
WHIP ANTENNA REPLACEMENT
The whip antenna has been designed so that it is easily replaced in the event it is damaged.
The antenna's mounting post goes through a hole in the cabinet top and is held in place by a
single screw through the cabinet back. Simply remove the screw and slide the post out of the
cabinet top. To install the replacement, reverse the procedure.
EXTERNAL AM/FM ANTENNA TERMINALS
Although the radio normally provides excellent reception utilizing its
built-in antennas, it offers the additional capability of connecting
outside AM or FM antennas to the EXTERNAL ANTENNA terminals on
the cabinet back. External antennas can be used in poor reception
areas (inside steel and concrete buildings) or to improve reception of
distant stations. The antenna required for FM differs from the type
needed for AM reception.
AM - An AM antenna for outside installation connects to the screw
terminals on the cabinet back marked AM and GND.
FM - You may use your TV antenna or an outside FM antenna. The twin leads connect to the
screw terminals marked FM (300 ohm) and GND.
IMPORTANT: External antennas are available from local parts stores. Follow all safety
instructions (provided with antenna) when installing any outside antenna.
Información FCC
Este aparato cumple con la Parte 15 de las
Normas FCC. El funcionamiento de la unidad
está sujeto a las dos condiciones siguientes: (1)
Este aparato no puede provocar interferencias
perjudiciales y (2) este aparato debe aceptar
toda interferencia que reciba incluso aquellas
que provoquen un funcionamiento incorrecto.
De conformidad con los requisitos FCC, los
cambios o modificaciones no aprobados
expresamente por Thomson Inc. podrían
anular la garantía de funcionamiento de este
producto.
Este aparato genera y utiliza energía de
radiofrecuencia (RF) y si no se instala y utiliza
de forma correcta, este equipo puede
provocar interferencias en la recepción de
radio y televisión.
Si este equipo provoca interferencias a la
recepción de radio y televisión (lo que puede
ser comprobado desenchufando la unidad)
trate de corregir la interferencia tomando una
o más de las medidas siguientes:
• Reoriente la antena receptora (o sea, la
antena para la radio o televisión que se
encuentre recibiendo la interferencia).
• Aleje la unidad del equipo que esté
recibiendo la interferencia.
• Enchufe la unidad en un tomacorriente de
pared distinto, de modo que la unidad y el
equipo que recibe la interferencia estén en
distintos circuitos.
Si estas medidas no eliminan la interferencia,
por favor consulte con su distribuidor o con un
técnico de radio / televisión experimentado
para que le haga otras sugerencias. Además,
la "Federal Communications Commision" ha
preparado un útil folleto, "How to Identify
and Resolve Radio/TV Interference Problems"
(Cómo Identificar y resolver los problemas de
interferencias de Radio y TV). Este folleto se
puede conseguir en la "U.S. Government
Printing Office", Washington DC, 20402. Por
favor, especifique el número 004-000-0034
cuando se lo solicite.
Español
SERVICIO DE REPARACIONES
Información sobre seguridad
Controles y características
Para su seguridad
RECEPCÍON DE LARGO ALCANCE
• RF sintonizado para ambas bandas AM y FM.
• 38" (976 mm) "FM Swivel Whip Antenna" (Antena FM de Varilla Extensible Giratoria).
• 7-7/8" (200 mm) "AM Ferrite Rod Antenna" (Antena AM de Núcleao de Ferrita).
SELECTIVIDAD Y SEPARACÍON ESTACIONES
• Filtro "IF" (Frecuencia Intermedia) de Cerámica, más 3 Circuitos "IF" Sintonizados a banda
FM.
• 4 Circuitos "IF" sintonizados a la banda AM.
• Cambiable "AFC" (Control de Frecuencia Automático).
• "Precision Vernier Tuning" (Nonio Sintonizador de Precisión).
LA MEJOR CALIDAD SONORA
• Altoparlantes Alto-Sensitivo de 6-1/2", más "Tweeter" de 2".
• Minimo de 700 mw. "RMS" (Raiz cuandrada de la media cuadrática) de la
Audiofrecuencia de salida.
• Controles separados para "Bass" (Bajo) y "Treble" (Sobreagudo).
• Control "VOLUME" (Sonoridad) separado.
OTRAS SUPER CARACTERÍSTICAS
• Funciona por medio de 6 pilas tamaño "D" (no incluidas) o con la corriente casera AC/
Alterna.
• FM-AM "IC" (Circuito Integral).
• Interruptor separado para la corriente "ON-OFF" (Encender Apagar).
• "HEADPHONE JACK" Enchufe para los auriculares opcionales.
• Asa plegadize para llevar.
• Terminales para la Antenas Externas AM-FM.
Este producto deberá ser reparado solamente
por aquellas personas entrenadas
especialmente en la técnica de su
funcionamiento. Para instrucciones en como
obtener servicio, refiérase a la Garantía en
esta Guía.
Adjunte el recibo de venta a este manual
para una referencia futura, o anote la fecha
en que este producto fue comprado o
recibido coma regalo. Esta información es
importante si alguna reparación fuera
necesaria durante el plazo de la garantia.
El adaptador de corriente CA
está polarizado (una de sus
patas es más grande que la
otra) y sólo encajará en salidas
de potencia CA de una
manera. Si tiene usted
dificultad en introducir el adaptador en la
caja del tomacorriente en su totalidad, intente
cambiar la posición del adaptador. Si aún así
no consigue encajarlo, contacte a un
electricista calificado para que sustituya la caja
del tomacorriente, o utilice una diferente. No
intente pasar desapercibido estas normas de
seguridad.
Fecha de Compra:
Nombre de la Tienda:
La clavija principal es usada como el
dispositivo de desconexión. Permanecerá
rápidamente operable y no deberá ser
obstruida subida durante el uso que se
pretende. Para desconectar completamente el
aparato de la fuente de poder, la clavija
principal del aparato deberá ser desconectada
completamente de la toma de corriente en la
pared.
Disfrute un estallido musical Pero no en sus tímpanos
Antes de ponerse los
auriculares, verifique que ha
bajado el volumen en la
unidad. Aumente el volumen al nivel deseado
únicamente después de haberse colocado los
auriculares.
PRECAUCION
RIESGO DE ELECTROCUCION
NO ABRIR
EL SIGNO DEL
RAYO Y LA FLECHA
DENTRO
DEL
TRIANGULO ES UN
SIGNO
DE
ADVERTENCIA
ALERTANDOLO
DEL "PELIGROSO
VOLTAJE" DENTRO
DEL PRODUCTO.
PRECAUCION: NO REMUEVA
LA CUBIERTA (O REVERSO)
PARA REDUCIR EL RIESGO
DE ELECTROCUCION. NO
HAY PARTES INTERNAS,
REUSABLES
POR
EL
USUARIO. PARA SERVICIO
REFERIRSE A TECNICOS
ESPECIALIZADOS.
EL
SIGNO
DE
EXCLAMACION
DENTRO
DEL
TRIANGOULO
DE
PRECAUCION
ES
UNA SEÑAL DE
ADVERTENCIA
E
INSTRUCCIONES
IMPORTANTES QUE
VIENEN CON EL
P R O D U C T O .
VER SEÑALIZACION EN EL FONDO/ REVES DEL PRODUCTO
ADVERTENCIA:
PARA PREVENIR FUEGO O
SHOCK ELÉCTRICO, NO EXPONGA EL PRODUCTO
A LLUVIA O HUMEDAD.
• Asegúrese de que mantiene el equipo
lejos del agua y de las altas
temperaturas.
• No utilice el sistema inmediatamente
después de haberlo transportado de
un lugar frío a uno cálido, ya que la
condensación puede hacer que el
sistema no funcione correctamente.
• Mantenga la unidad fuera de áreas
húmedas y de lugares anormalmente
calientes.
• Para prevenir lesiones personales, no
invierta las baterías.
• El uso del aparato en climas
moderados.
• El aparato no deberá ser expuesto a
•
•
•
•
•
goteo o salpicaduras y objetos que
contengan líquidos, tales como floreros,
no deberán ser colocados sobre el
aparato.
No se deberán colocar fuentes de flama
sin protección, tales como velas, sobre el
aparato.
Se deberá prestar atención a los aspectos
ambientales de la eliminación de las
baterías.
Distancias mínimas (2cm) alrededor del
aparato para suficiente ventilación.
La ventilación no se deberá impedir
cubriendo la apertura de ventilación con
artículos tales como periódicos, paños,
cortinas, etcétera.
La placa de datos de servicio está situada
en la montura posterior del aparato.
Medio ambiente
Ayude a cuidar el medio ambiente. Le
recomendamos que deseche las baterías
gastadas en los contenedores especialmente
diseñados para ello.
Mantenimiento
Limpie la unidad con un paño suave, o con
una gamuza húmeda. No utilice nunca
disolventes.
Las descripciones y las características presentadas en
este documento son dadas a modo de indicación
general y no de garantía. Con el fin de proporcionarle
la más alta calidad de producto posible, nos
reservamos el derecho a hacer mejoras o
modificaciones sin previo aviso. La versión en inglés
servirá de referencia para todos los detalles del
producto y del funcionamiento si surgieran
discrepancias en otras lenguas.
Esta radio le ofrece un nivel de actuación muy superior a la radio portátil corriente. Le
rogamos que siga las instrucciones paso a paso para que Ud. pueda gozar su radio en su
capacidad plena.
EXPORTER
Thomson Inc.
P.O. Box 1976
Indianapolis, IN 46206 - 1976
©2006 Thomson Inc.
Trademark(s) ® Registered
Marque(s) ® Deposée(s)
Marca(s) ® Registrada(s)
www.rca.com
Printed in China / Impreso en China
IMPORTADOR
Comercializadora Thomson de México, S.A. de C.V.
Álvaro Obregón No. 151. Piso 13.
Col. Roma. Delegación Cuauhtémoc
C.P. 06700. México, D.F.
Telefono: 52-55-11-020360
RFC: CTM-980723-KS5
Controles y características
1
2
11
3
4
5
6
10
9
8
7
1. ANTENA FM "WHIP" DE VARlLLA ETENSIBLE (reemplazable) - Levántela y exténdala a lo
máximo.
2. INTERRUPTOR "POWER" ON/OFF" PARA ENCENDER/APAGAR - Uselo para encender "ON"
o apagar "OFF" la radio.
3. INTERRUPTOR SELECTOR DE BANDAS - Para seleccionar la banda AM ò FM.
4. BOTÓN "FM-AM TUNING" SINTONIZADOR - Ajústelo para seleccionar su estación favorita
en la banda AM ò FM.
5. INTERRUPTOR SELECTOR "AFC" (CONTROL DE FRECUENCIA AUTOMATICO) - En la
posición 'off" (apagado) para una sintonización precisa, después en la posicíon "on"
(encendido) para evitar quo las recepciones FM no se deriven.
6. "HEADPHONE JACK" - Para escuchar en privado con los auriculares opcionales.
7. CONTROL PARA LA SONORIDAD - Adjústelo al nivel auditivo deseado.
8. CONTROL DEL TONO "BASS" (BAJO) - Adjústelo a su gusto auditivo preferido.
9. CONTROL DEL TONO "TREBLE" (AGUDO) - Adjústelo a su gusto auditivo preferido.
10. INTERRUPTOR PARA SELECCION DE BANDA AMPLIA (WIDE BAND) - NORMAL: para
máxima capacidad de selección de estaciones adyacentes. WIDE: para incremento en la
fidelidad de audio de estaciones locales potentes.
11. LA ESCALA FM-AM DEL DIAL - Indica el número de la frecuencia de la estación FM ò AM
que se esté recibiendo. La lista de estaciones "LOG SCALE" la ayudará a localizar los
programas.
Abasteciminto de Corriente
Esta radio portátil con Potencia de Doble-Via funciona con la corriente casera AC/Alterna, o
con 6 pilas tamaño "D", con un interruptor AC/DC (Corriente Alterna/Directa) automático.
Las pilas (no incluidas con la radio), y el cordón de la corriente se guardan en un
compartimiento situado en la parte posterior de la radio.
FUNCIONAMIENTO DON LAS PILAS
1. Suavemente ponga la radio "boca abajo" con la base de frente a Ud.
2. Quite la puertecilla del compartimiento que guarda las pilas/el cordón soltando los 3
picaportes de la puertecilla, después haga girar la puertecilla hacia Ud. y fuera.
3. Inserte las 6 pilas tamaño "D" dentro del compartimiento de la forma indicada en el
diagrama dentro compartimiento. Asegúrese de que los extremos o signos (+) de cada
pila sean instalados en la dirección indicada en el esquema. Inserte primeramente las pilas
"del fondo", después deslice las "de arriba" debajo del "Battery Strap" (Cintilla de las
Pilas) por el lado izquierdo del mueble.
Cintilla de las
Pilas
4. Vuelva a colocar la puertecilla del compartimiento prirneramente colocando las trabillas
de seguridad dentro de los receptáculos correspondiente, después haga girar la
puertecilla en posición y presione hasta que las 3 picaportes "chasqueen" en su sitio.
AVISO: Después de que una radio portátil haya estado funcionando extensivemente usando
las pilas, la cualidad del sonido pueda que se deteriore o la sonoridad tiende a disminuir.
Cuando ésto suceda, lo primero quo debe sospechar es que las pilas se están agotando.
Para confirmar que las pilas se estén agotando cambie of funcionamiento con el cordón de la
corriente AC/Alterna. Si la cualidad del sonido mejorase, las pilas se encuentran gastadas y
deben ser reemplazadas con unas nuevas.
Su SUPERADIO le ofrece una gran longevidad con las pilas corrientes tamaño "D". Las pilas
alcalinas, aunque más caras, también le ofrece más duración que las pilas corrientes.
Abasteciminto de Corriente
Operaciones
Operaciones
Antenas
Más Información
IMPORTANTE
FUNCIONAMIENTO DE LAS BANDAS FM-AM
Ios programas en la banda AM. Sin embargo, su alcance no es tanto como el de la banda AM
porque casi ninguna de las ondas espaciales tiene que ver con la banda de frecuencias FM.
ANTENAS AM/FM INCORPORADAS
AURICULARES
AM - La Antena Incorporada (200 mm Núcleo de Ferrita) es algo direccional, y con las
estaciones débiles pueda que sea necesario hacer girar la radio para una recepción óprima.
La antena de varilla extensible "WHIP ANTENNA" no se usa para las estaciones en la banda
AM.
FM - La antena "WHIP" puede ser puesta en cualquier posición dentrol de un arco de 180
grados y es capaz de girar 360 grados. Para usarla, levante la antena "WHIP" y extiendala a
lo máximo. Para estaciones distantes, pueda que sea necesario ajustar la posición de la
antena "WHIP" par una recepción óptima.
AVISO: Para evitar dañar la antena "WHIP" siempre baje la antena sección por
sección comenzando con la sección más gruesa en diámetro. No impele la antena de la punta
hacia abajo pues es posible que ésta se tuerza y se doble.
Ud. puede sentirse completamente solo en una multitud con los auriculares, opcionales que
le deja a Ud. escuchar completmente en privado. El altoparlante de la radio es
automáticamente silenciado cuando Ud. enchufa el enchufe de los aurculares entro del
"JACK" (tomacorriente) situado en el costado derecho del gabinete.
AVISO: El "JACK" ha sido diseñado para permitir el uso de los auriulares estereo
fónicos con su radio monoaural, pero la recepción serd oida solamente en mono.
REEMPLAZO DE LA ANTENA "WHIP"
• NO HAY SONIDO
¿Está cordón de la corriente enchufado dentro de un tomacorriente activo de 120V
corriente AC/Alterna?
¿Está el interruptor "POWER ON/OFF" en la posición "ON" (hundido)?
¿Están las pilas instaladas correctament?
¿Están las pilas gastadas?
• SONIDO DÉBIL O DISTORSIONADO
Compruebe las condiciones de las pilas o hágala funcionar con la corriente AC. Si el
sonido se oye bien con la corriente AC/Alterna, las pilas están gastadas y deben ser
cambiadas.
Recepción AM -Trate haciendo girar la radio para una recepción óptima.
Recepción FM - Extienda la antena "whip" a lo máximo.
• RECEPCIÓN EXCESIVAMENTE RUIDOSA
El "ruido" pueda que proceda de una funete externa tal como el material del programa
transmitido, "ruido" eléctricos de automóviles cercanos, luces eléctricas (tubos
fluorescentes), etc., también el ruido se notará más si es una estación distante.
Ya que muy pocas pilas son hechas a "prueba de derrame", siempre quite las pilas (aunque
sean nuevas) cuando no usa el producto por más de 30 días o cuando usa continuamente la
energia CA. Cuando use la corriente AC/Alterna por poco tiempo (un máximo de 30 dias) las
pilas pueden quedarse en el aparato.
Siempre quite las pilas gastadas porque éstas pueden derramar elementos químicos dañinos
a los componenetes electrónicos y al mueble. Cuando deseche las baterías, asegúrese de
deshacerse de ellas en una manera apropiada, de acuerdo con las regulaciones locales o del
estado.
FUNCIONAMIENTO CON LA CORRIENTE DE 120 VOLTIOS AC/
ALTERNA
Quite el cordón de la corriente de su compartimiento y enchúfelo dentrol de cualquier
tomacorriente casero de 120 voltios corriente AC/Alterna. Una abertura en la puertecilla del
compartimiento le permitirá. Su radio automáticamente convertirá su función de pilas a
corriente AC/Alterna asegúrese de cambiar el interruptor marcado "POWER ON-OFF" a la
posición "OFF" (Apagado). Una vez que Ud. desenchufe el enchufe del tomacorriente casero
sin cambiar el interruptor a la posición "OFF" automáticamente el funcionamiento volverá al
uso de las pilas.
1. Encienda la radio presionado el interruptor marcado "POWER ON-OFF".
2. Seleccione la banda AM 6 FM con el interruptor marcado "BAND SELECT".
3. Para una recepción en la banda FM, levante y extienda a lo máximo la antena de varilla
extensible "WHIP ANTENNA".
4. Levante el volumen dando vuelta al control marcado "VOLUME" de izquierda a derecha.
5. Dé vuelta al botón sintonaizador marcad "FM/AM TUNING" para seleccionar su estación
favorita FM ó AM.
6. Para obtener una sintonización precisa de estaciones FM distantes (o débiles) siga las
instrucciones del "AFC" (Control de Frecuencia Automático)
7. Adjuste los controles de la sonoridad y del tono "VOLUME, TREBLE, BASS" a su nivel
auditivo preferido.
8. Para apagar el radio, presione el interruptor POWER ON-OFF otra vez.
BANDA AM (AMPLITUD MODULAR)
A las estaciones en la banda AM se les asigna las frecuencias de transmisión entre 540 y 1700
kilohertz (KHz). Las transmisiones AM parten de la antena en dos tipos de ondas radialesondas terrestres y ondas espaciales. Las ondas terrestres se mantienen muy cerca a la
superficie y pueden ser racogidas por receptores en su zona local. Las ondas espaciales van
hacia el espacio y altraviesan la ionosfera hacia fuera del espacio. Algunas de esas ondas
espaciales tienen la tendencia de "rebotar" de la ionosferea (especialmente durante la
noche) y pueden ser recogidas por receptores distantes.
La antena "WHIP" ha sido diseñada para ser fácilmente reemplazada en caso de que sea
accidentalmente dañada. El poste donde la antena va montada va a través de un orificio en
la parte superior del gabinete y, esté sujeto por un tornillo que altraviesa la parte superior
del gabinete. Simplemente quite el tornillo y deslice el poste fuera de la unidad. Para instalar
el repuesto, invierta el procedimiento.
TERMINALES PARA ANTENAS AM/FM EXTERNAS
Este interruptor de "ACENTO AM" permite:
• Máxima selectividad de estaciones adyacentes en la posición NORMAL.
• Fidelidad de audio mejorada de estaciones locales potentes cuando está en la posición
WIDE.
NOTA: en la posición WIDE, usted puede encontrar ruidos de golpes y pitidos debido a
estaciones de canal adyacentes en la banda AM. Este problema puede ser particularmente
notorio durante la recepción nocturna. Si esto ocurre, cambie a la posición NORMAL.
El control marcado "BASS" le permite a Ud. aumentar o disminuir el volumen relativo de los
sonidos graves (bajos) independientemente del volumen normal al cual se encuentra
ajustado.
El control marcado "TREBLE" le permite a Ud. aumentar o disminuir el volumen relativo de
los sonidos agudos independientemente del volumen norma al cual se encuentra ajustado.
AVISO: Estos controles de tonalidades tienen un gran alcance de variación incorporada el
cual le permitrá acentuar varios de los tonos del sonido y alterar la música que esté
escuchando. Ud. quizás pueda variar el balance musical de la pieza hasta que sea casi
desconocida. Los controles de los tonos fueron diseñados con esos extremeos de vaiaciones
para permitirle a ud. ajustar su preferencia auditiva en particular a los programas que recibe,
BANDA FM (FRECUENCIA MODULADA)
INTERRUPTOR PARA ENCENDER-APAGAR "ON-OFF"
Las estaciones radiales de la banda FM tienen asignadas frecuencias entre 88 y 108
Megahertz (MHz). Los programas FM son de más altas frecuencias y ofrecen menos descarga
atmosférica e interferencias provenientes de afuera tanto como mayor fidelidad auditiva que
El conveniente interruptor tipo botón pulseador para Encender-Apagar "ON-OFF" le permite
a Ud. ajustar los controles "VOLUME, BASS, TREBLE", después puede encender o apagar la
radio sin tener que volver a ajustar los controles cada vez.
Aungue el Superadio normalmente la proporciona una excelente
recepción utilizando sus antenas incorporadas, ésta también le ofrece
la capacidad adicinal de conectar antenas AM ó FM externas a los
terminales externaos marcados "EXTERNAL ANTENNA", situados en la
parte posterior del mueble. Las antenas externas pueden ser usadas
en zonas donde la recepción de estaciones distantes. La antena
adecuada para las estaciones FM es diferente de la que se necesita
para la recepción de extaciones AM.
AM - Una antena AM para una instalación externa se conecta con los terminales para los
tornillos en la tarte tarsera del gabinete denominada AM/GND.
FM - Ud. también puede usar su antena de televisión o una antena FM de fuera.
Los dos alambres se conectan a los tornillos terminales marcados "FM" (300 ohm) y "GND".
IMPORTANTE: Las antenas externas están obtenible en una tienda local de repuestos. Siga
todas las instrucciones de seguridad (provista con la antena) cuando esté instalando una
antena fuera de la casa.
Garantía U.S.
Más Información
Más Información
AUDICIÓN AM (AMPLITUD MODULADA) DE LARGA DISTANCIA
LISTA PERSONAL DE LAS ESTACIONES
Como su SUPERADIO de la ha sido diseñada para alcanzar recepciones en la banda AM de
largo alcance Ud. gozará más recibiendo programas de estaciones AM distantes. Ud. puede
escuchar las noticias, partes metereológicos, deportes y otros programas especiales de otras
ciudades. Un diario para registrar las estaciones ha sido incluido para asistirle a Ud. a guardar
un record tipo DX (recepciones de larga
distancia) de las estaciones recibidas.
Aunque la recepción diurna de la banda AM está limitada a un máximo de unas cientas
millas (dependiendo en la potencia de la estación de radio, las condiciones atmosféricas,
etc.), por la noche Ud. podrá recibir estaciones muy fuertes de más de miles de millas de
distancia. Esto es porque las señales de las "ondas espaciales" AM rebotan de la ionesfera de
vuelta a la tierra por la noche.
Dado el gran alcance receptivo de sta radio. a Ud. quizás le gustaria guardar un racord de
las estaciones distantes que Ud haya recibido.
La lista de estaciones "LOG SCALE" le ayudará a localizar los progamas dispués de que Ud.
haya usado su radio por un tiempo. Simplemente anote al posición en el "log scale" o el
número de la frecuencia y la hora en la cual se recibe, en la tabla a continuación. En poco
tiempo Ud. tendrá un registro complete de las trasmisiones que Ud. puede recibir en su
localidad.
El número de estaciones que Ud. pueda recibir es una función de rnuchos factores, los
siguientes pueden serle muy utiles:
1. Aunque le antena AM incorporada le permitirá a Ud. recibir muchas estaciones distantes,
su recepción puede mejorarse significativemente con la adición de una antena AM
externa.
2. Las horas del altardecer a la madrugada son las mejores para las estaciones AM de larga
distancia, con el amanecer y la puesta del sol como la hora óptima.
3. Las hoches claras del invierno son normalmente superiores a las del verano porque las
noches son más largas y hay menos interferencias de tormentas eléctricas.
El Control de Frecuencia Automático "AFC" funciona para evitar quo las estaciones FM se
extravien y ayuda a inmovillzar la radio a la estación a la cual se encuentra sintonizada. El
"AFC" solamente funciona en la banda FM, y no afecta el funcionamiento en la banda AM.
Sintonice su estacion deseada en la banda FM con el interruptor marcado "AFC SELECT" en
la posicion "OFF" (Apagado), después cambie a la posición "ON" (Encendido) para activar la
acción del "AFC".
Cuando se encuentre sintonizado a una estación FM normalmente fuerte, deje el interruptor
"AFC SELECT" en la posición "ON".
Bajo ciertas condiciones, Ud. quizás no desee usar el "AFC". Cuando la estación deseada esté
muy cerca de otra más fuerte, el Control de Frecuencia Automático pueda que sintonice la
radio a la estación más potente. Si ésto ocurriese, sintonice la estación deseada con el
interruptor "AFC" en la posición "OFF".
Si al cambiar el interruptor a la posición "ON" causase un cambio en la sintonización la
estación contigua más fuerte, simplemente deje el interruptor "AFC SELECT" en la posición
"OFF".
CONTROLES PARA EL TONO "BASS/TREBLE"
WIDE BAND (BANDA AMPLIA)
SUGERENCIAS ÚTILES PARA "DX"
"AFC" (Control de Frecuencia Automático)
Ciudad
Letras de
identificación de la
Esatción
AM KHz, F-MHz
Lo que cubre la garantía:
• Defectos en los materiales y mano de obra.
Log scale
Fecha
Hora
Cuánto tiempo después de la compra:
• Un año desde la fecha de compra.
El periodo de garantía de unidades arrendadas
comienza con la primera renta o 45 días después
de la fecha de envío a la compañía de arriendo;
lo que ocurra antes.
Qué haremos:
• Le proporcionaremos una unidad nueva o, si
lo prefiere, una unidad reparada. La unidad
reparada estará en garantía durante el tiempo
restante del periodo original de garantía del
producto.
• Para obtener el servicio de garantía es
necesario presentar una prueba de compra en
forma de recibo de venta o factura recibida, que
pruebe que el producto se encuentra en el
periodo de garantía. Para empresas
arrendatarias, también es necesario presentar
la prueba del primer arriendo
Cómo efectuar una reclamación de
garantía:
• Empaque su unidad correctamente. Incluya
todos los cables, etc., que se incluyeron
originalmente con el producto. Recomendamos
utilizar el cartón y los materiales de empaque
originales.
• Incluya la fecha de la prueba de compra, como
el justificante de venta. Escriba también su
nombre y dirección y una descripción del
defecto. Realice el envío por UPS estándar o
equivalente a:
Thomson Inc.
Product Exchange Center
11721 B Alameda Avenue
Socorro, Texas 79927
• Asegure el envío por pérdida o daño. Thomson
no acepta ninguna responsabilidad en caso de
daños o pérdidas de los productos durante el
trayecto y hasta que lleguen a Thomson.
• Pague los costos que le facture el Centro de
reemplazos por cualquier servicio que no esté
cubierto por la garantía.
• Se le enviará una unidad nueva o reparada a portes
pagados.
Lo que no cubra su garantía:
• Instrucciones para el cliente. (En el Manual para
el propietario encontrará información referente a
las instrucciones de funcionamiento y a los controles
de usuario. Si desea información adicional,
pregúntele a su distribuidor).
• Ajustes de instalación y configuración.
• Baterías.
• Daños causados por uso incorrecto o negligencia.
• Productos que hayan sido modificados o
incorporados en otros productos.
• Productos adquiridos o reparados fuera de Estados
Unidos.
• Actos de la naturaleza, como, por ejemplo, daños
causados por rayos.
Limitación de la garantía:
• LA GARANTÍA QUE SE INDICA ARRIBA ES
LA ÚNICA GARANTÍA APLICABLE A ESTE
PRODUCTO. CUALQUIER OTRA GARANTÍA,
EXPRESA O IMPLÍCITA (INCLUIDAS TODAS
LAS GARANTÍAS IMPLÍCITAS DE
COMERCIALIZACIÓN O ADECUACIÓN PARA
UN FIN CONCRETO) QUEDAN RECHAZADAS
POR MEDIO DE ESTE DOCUMENTO.
NINGUNA INFORMACIÓN VERBAL O
ESCRITA PROPORCIONADA POR THOMSON
INC., SUS AGENTES O EMPLEADOS CREARÁ
UNA GARANTÍA O INCREMENTARÁ DE
NINGÚN MODO EL ALCANCE DE ESTA
GARANTÍA.
• LA REPARACIÓN O LA SUSTITUCIÓN TAL
COMO SE INDICA EN ESTA GARANTÍA SERÁ
EL ÚNICO RECURSO DEL CLIENTE. THOMSON
INC. NO SERÁ RESPONSABLE DE DAÑOS
INCIDENTALES O INDIRECTOS DEL USO DE
ESTE PRODUCTO O QUE RESULTEN DE
CUALQUIER INFRACCIÓN DE CUALQUIER
GARANTÍA EXPRESA O IMPLÍCITA SOBRE
ESTE PRODUCTO. ESTE DESCARGO DE
RESPONSABILIDAD
SOBRE
LAS
GARANTÍAS Y LA GARANTÍA LIMITADA
SE RIGEN POR LAS LEYES DEL ESTADOS
DE INDIANA. EXCEPTO HASTA EL LÍMITE
PROHIBIDO POR LA LEY VIGENTE,
CUALQUIER GARANTÍA IMPLÍCITA DE
COMERCIALIZACIÓN O ADECUACIÓN
PARA UN FIN CONCRETO SOBRE ESTE
PRODUCTO ESTÁ LIMITADA AL PERIODO
APLICABLE DE GARANTÍA INDICADO
ARRIBA.
Cómo se relaciona la ley estatal con este
garantía:
• Algunos estados no permiten la exclusión
ni limitación de daños incidentales o
indirectos, ni limitaciones sobre la duración
de una garantía y las limitaciones anteriores
podrían no aplicarse a su caso.
• Esta garantía le proporciona derechos legales específicos y podría tener también
otros derechos que variarán de un estado a
otro.
Si adquirió su producto fuera de
Estados Unidos:
• Esta garantía no es aplicable. Póngase en
contacto con su distribuidor para
información sobre la garantía.
LISTA DE INSPECCIÓN
Antes de requerir servicio de reparación, una simple revisión de las instrucciones
pausadamente quizás elimine o clarifique su problema.