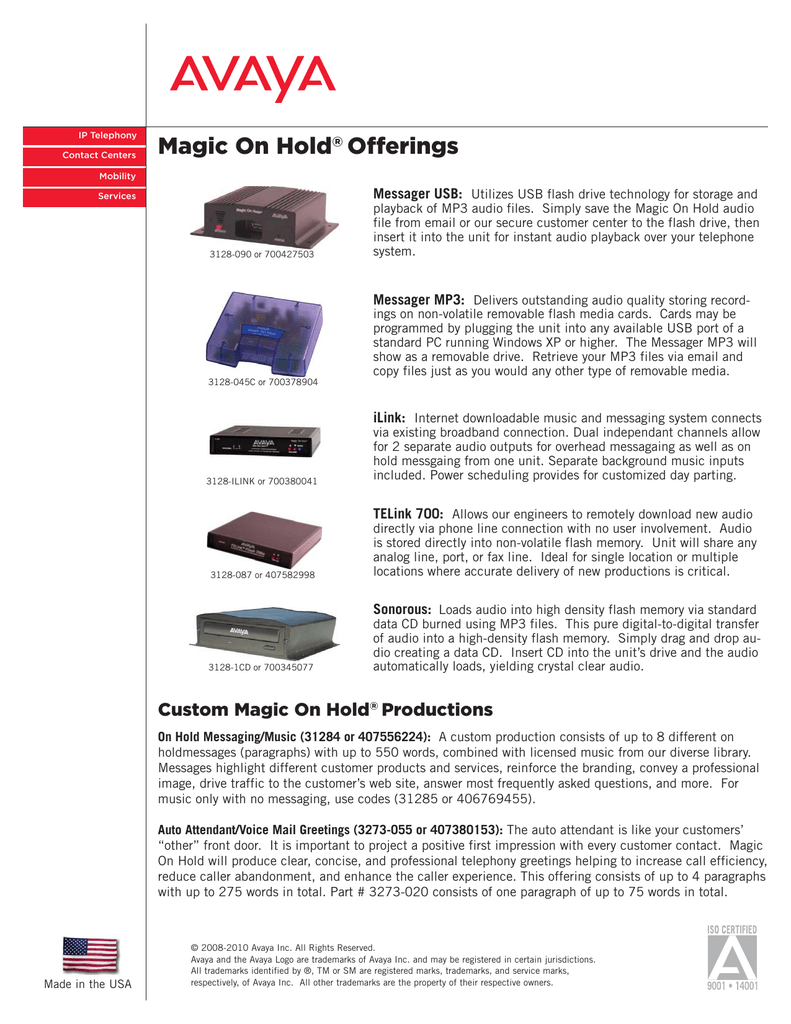 IP Telephony
Contact Centers
Magic On Hold® Offerings
Mobility
Messager USB: Utilizes USB flash drive technology for storage and
Services
3128-090 or 700427503
playback of MP3 audio files. Simply save the Magic On Hold audio
file from email or our secure customer center to the flash drive, then
insert it into the unit for instant audio playback over your telephone
system.
Messager MP3: Delivers outstanding audio quality storing record-
3128-045C or 700378904
ings on non-volatile removable flash media cards. Cards may be
programmed by plugging the unit into any available USB port of a
standard PC running Windows XP or higher. The Messager MP3 will
show as a removable drive. Retrieve your MP3 files via email and
copy files just as you would any other type of removable media.
iLink: Internet downloadable music and messaging system connects
3128-ILINK or 700380041
via existing broadband connection. Dual independant channels allow
for 2 separate audio outputs for overhead messagaing as well as on
hold messgaing from one unit. Separate background music inputs
included. Power scheduling provides for customized day parting.
TELink 700: Allows our engineers to remotely download new audio
3128-087 or 407582998
directly via phone line connection with no user involvement. Audio
is stored directly into non-volatile flash memory. Unit will share any
analog line, port, or fax line. Ideal for single location or multiple
locations where accurate delivery of new productions is critical.
3128-1CD or 700345077
Sonorous: Loads audio into high density flash memory via standard
data CD burned using MP3 files. This pure digital-to-digital transfer
of audio into a high-density flash memory. Simply drag and drop audio creating a data CD. Insert CD into the unit's drive and the audio
automatically loads, yielding crystal clear audio.
Custom Magic On Hold® Productions
On Hold Messaging/Music (31284 or 407556224): A custom production consists of up to 8 different on
holdmessages (paragraphs) with up to 550 words, combined with licensed music from our diverse library.
Messages highlight different customer products and services, reinforce the branding, convey a professional
image, drive traffic to the customer's web site, answer most frequently asked questions, and more. For
music only with no messaging, use codes (31285 or 406769455).
Auto Attendant/Voice Mail Greetings (3273-055 or 407380153): The auto attendant is like your customers'
"other" front door. It is important to project a positive first impression with every customer contact. Magic
On Hold will produce clear, concise, and professional telephony greetings helping to increase call efficiency,
reduce caller abandonment, and enhance the caller experience. This offering consists of up to 4 paragraphs
with up to 275 words in total. Part # 3273-020 consists of one paragraph of up to 75 words in total.
Made in the USA
© 2008-2010 Avaya Inc. All Rights Reserved.
Avaya and the Avaya Logo are trademarks of Avaya Inc. and may be registered in certain jurisdictions.
All trademarks identified by ®, TM or SM are registered marks, trademarks, and service marks,
respectively, of Avaya Inc. All other trademarks are the property of their respective owners.

* Your assessment is very important for improving the work of artificial intelligence, which forms the content of this project