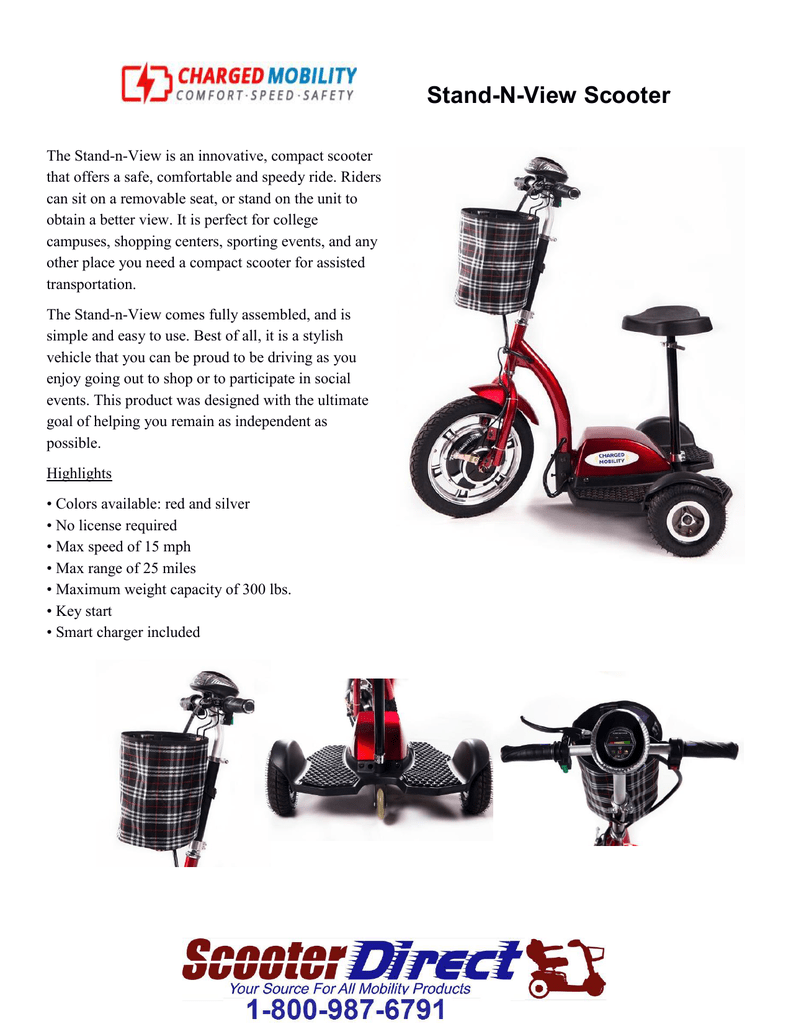 Stand-N-View Scooter
The Stand-n-View is an innovative, compact scooter
that offers a safe, comfortable and speedy ride. Riders
can sit on a removable seat, or stand on the unit to
obtain a better view. It is perfect for college
campuses, shopping centers, sporting events, and any
other place you need a compact scooter for assisted
transportation.
The Stand-n-View comes fully assembled, and is
simple and easy to use. Best of all, it is a stylish
vehicle that you can be proud to be driving as you
enjoy going out to shop or to participate in social
events. This product was designed with the ultimate
goal of helping you remain as independent as
possible.
Highlights
• Colors available: red and silver
• No license required
• Max speed of 15 mph
• Max range of 25 miles
• Maximum weight capacity of 300 lbs.
• Key start
• Smart charger included
Stand-N-View Scooter
Specifications:
Model
Speed
Distance
Ground Clearance
Weight Capacity
Turning Radius
Watts
Batteries
Braking System
Maximum Incline
Dimensions
Motor Type
Net Weight
Seat Dimensions
Seat Back Height
Seat to Deck
Tire Size
Throttle Type
Stand-N-View
Up to 15 mph*
Up to 25 miles**
3.5"
300
35"
400 Watts
3, 12V 10AH, Sealed Lead Acid
Electric assist brake system with parking brake
25 degrees
39" x 27" x 47"
Transaxle differential brushless motor
80 lbs
12" X 8"
N/A
19"
Front (1) 16" x 2.125", Rear (2) 9" x 2.75"
Variable speed control- Twist Throttle
*Speed varies by rider's weight, cargo weight, terrain, headwind, etc.
**Distance varies by same factors and average speed, acceleration and frequency of breaking.

* Your assessment is very important for improving the work of artificial intelligence, which forms the content of this project