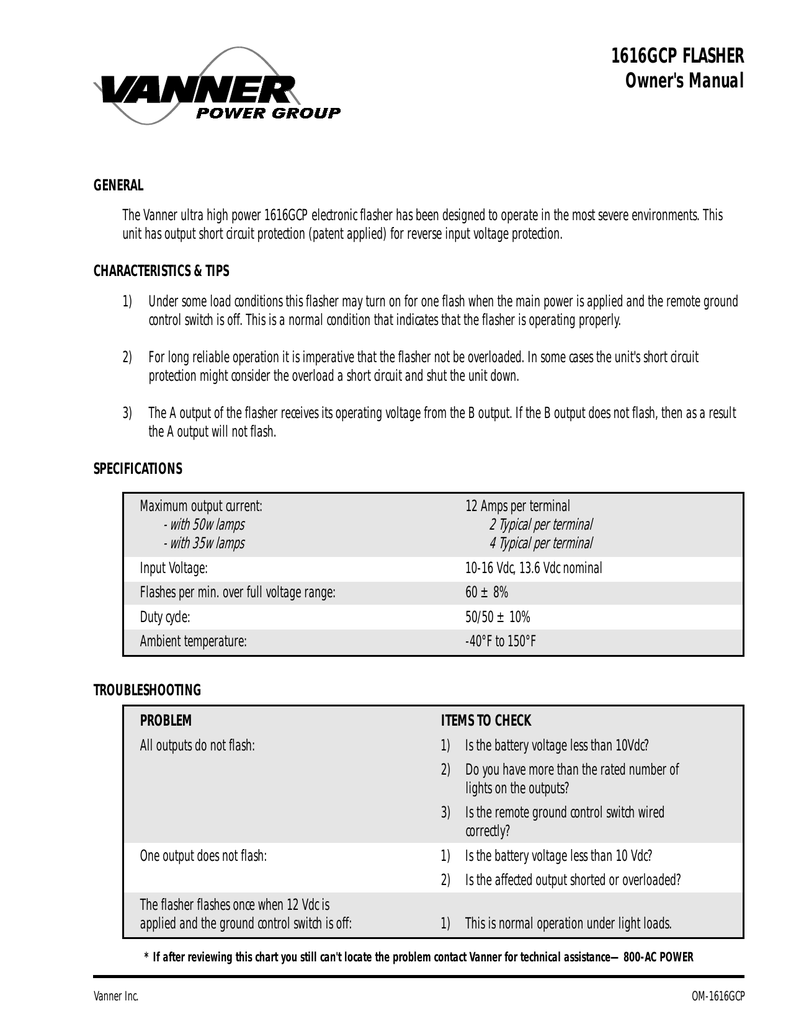 1616GCP FLASHER
Owner's Manual
GENERAL
The Vanner ultra high power 1616GCP electronic flasher has been designed to operate in the most severe environments. This
unit has output short circuit protection (patent applied) for reverse input voltage protection.
CHARACTERISTICS & TIPS
1)
Under some load conditions this flasher may turn on for one flash when the main power is applied and the remote ground
control switch is off. This is a normal condition that indicates that the flasher is operating properly.
2)
For long reliable operation it is imperative that the flasher not be overloaded. In some cases the unit's short circuit
protection might consider the overload a short circuit and shut the unit down.
3)
The A output of the flasher receives its operating voltage from the B output. If the B output does not flash, then as a result
the A output will not flash.
SPECIFICATIONS
Maximum output current:
- with 50w lamps
- with 35w lamps
12 Amps per terminal
2 Typical per terminal
4 Typical per terminal
Input Voltage:
10-16 Vdc, 13.6 Vdc nominal
Flashes per min. over full voltage range:
60 ±8%
Duty cycle:
50/50 ±10%
Ambient temperature:
-40°F to 150°F
TROUBLESHOOTING
PROBLEM
ITEMS TO CHECK
All outputs do not flash:
1) Is the battery voltage less than 10Vdc?
2) Do you have more than the rated number of
lights on the outputs?
3) Is the remote ground control switch wired
correctly?
One output does not flash:
1) Is the battery voltage less than 10 Vdc?
2) Is the affected output shorted or overloaded?
The flasher flashes once when 12 Vdc is
applied and the ground control switch is off:
1) This is normal operation under light loads.
* If after reviewing this chart you still can't locate the problem contact Vanner for technical assistance—800-AC POWER
Vanner Inc.
OM-1616GCP
FLASHERS
1616GCP Owner's Manual
800-AC-POWER
Corporate Office: 4282 Reynolds Drive • Hilliard, Ohio 43026 • Tel (614) 771-2718 • Fax (614) 771-4904 • www.vanner.com
OM-1616GCP 02/98 © Copyright 1998, Vanner, Inc. • Specifications subject to change without notice.

* Your assessment is very important for improving the work of artificial intelligence, which forms the content of this project