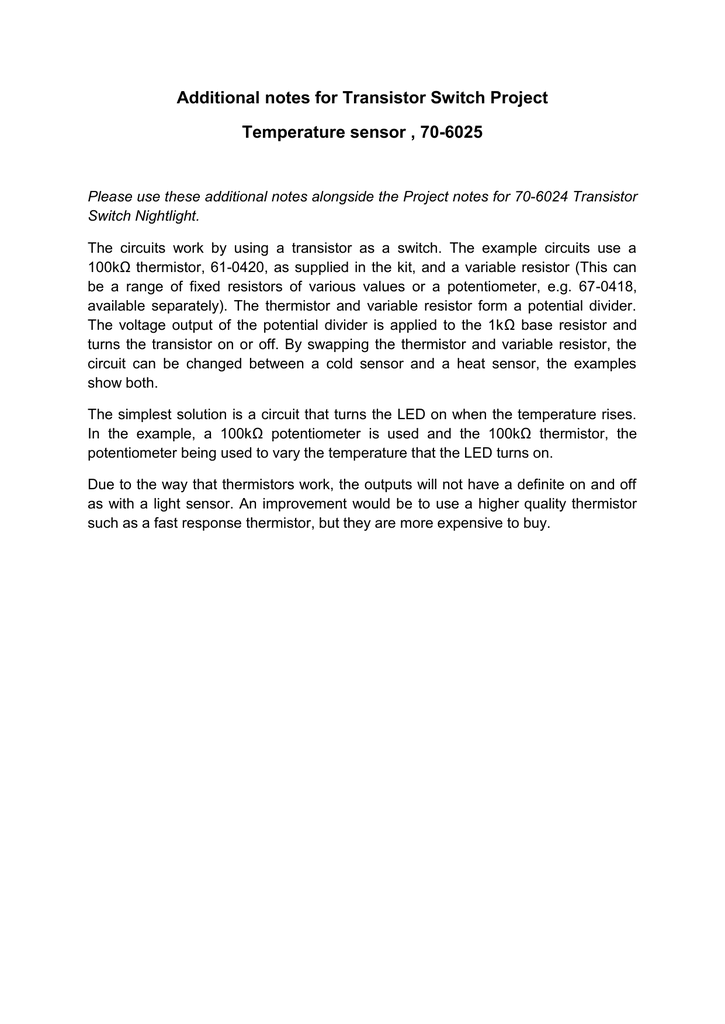 Additional notes for Transistor Switch Project
Temperature sensor , 70-6025
Please use these additional notes alongside the Project notes for 70-6024 Transistor
Switch Nightlight.
The circuits work by using a transistor as a switch. The example circuits use a
100kΩ thermistor, 61-0420, as supplied in the kit, and a variable resistor (This can
be a range of fixed resistors of various values or a potentiometer, e.g. 67-0418,
available separately). The thermistor and variable resistor form a potential divider.
The voltage output of the potential divider is applied to the 1kΩ base resistor and
turns the transistor on or off. By swapping the thermistor and variable resistor, the
circuit can be changed between a cold sensor and a heat sensor, the examples
show both.
The simplest solution is a circuit that turns the LED on when the temperature rises.
In the example, a 100kΩ potentiometer is used and the 100kΩ thermistor, the
potentiometer being used to vary the temperature that the LED turns on.
Due to the way that thermistors work, the outputs will not have a definite on and off
as with a light sensor. An improvement would be to use a higher quality thermistor
such as a fast response thermistor, but they are more expensive to buy.

* Your assessment is very important for improving the work of artificial intelligence, which forms the content of this project