No category
! Freeze Prevention Service Bulletin EP-03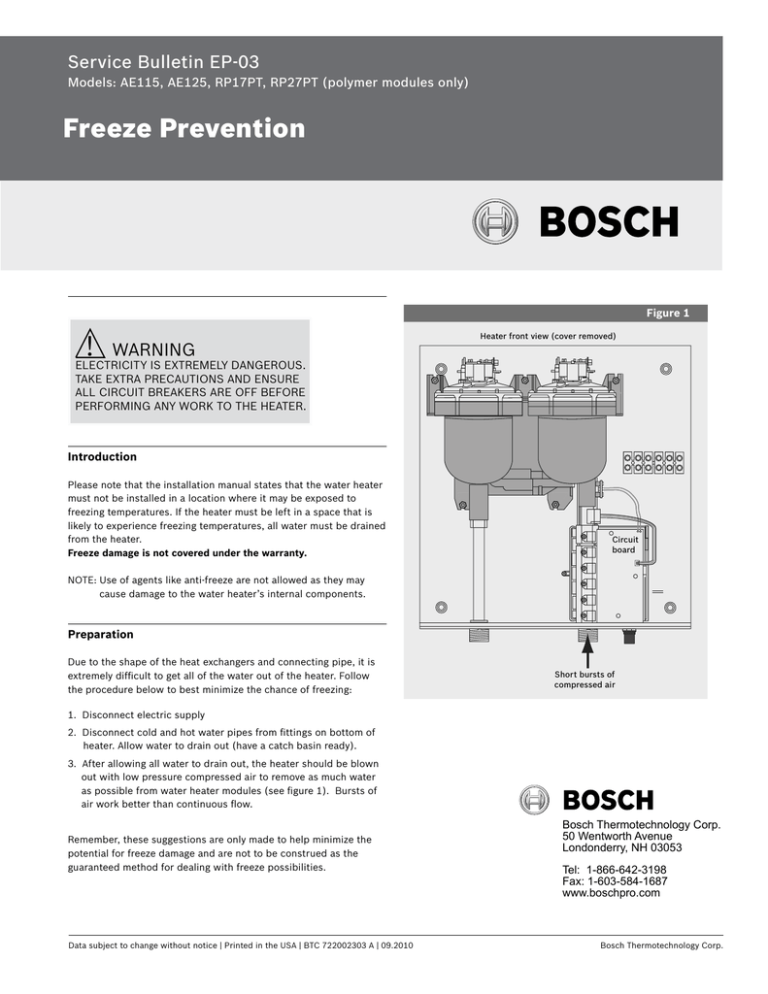 Service Bulletin EP-03
Models: AE115, AE125, RP17PT, RP27PT (polymer modules only)
Freeze Prevention
Figure 1
! WARNING
Electricity is EXTREMELY Dangerous.
Heater front view (cover removed)
TAKE EXTRA PRECAUTIONS and ensure
all circuit breakers are off before
PERFORMING ANY WORK TO THE HEATER.
Introduction
Please note that the installation manual states that the water heater
must not be installed in a location where it may be exposed to
freezing temperatures. If the heater must be left in a space that is
likely to experience freezing temperatures, all water must be drained
from the heater.
Freeze damage is not covered under the warranty.
Circuit
board
NOTE: Use of agents like anti-freeze are not allowed as they may
cause damage to the water heater's internal components.
Preparation
Due to the shape of the heat exchangers and connecting pipe, it is
extremely difficult to get all of the water out of the heater. Follow
the procedure below to best minimize the chance of freezing:
Short bursts of
compressed air
1. Disconnect electric supply
2. Disconnect cold and hot water pipes from fittings on bottom of
heater. Allow water to drain out (have a catch basin ready).
3. After allowing all water to drain out, the heater should be blown
out with low pressure compressed air to remove as much water
as possible from water heater modules (see figure 1). Bursts of
air work better than continuous flow.
Remember, these suggestions are only made to help minimize the
potential for freeze damage and are not to be construed as the
guaranteed method for dealing with freeze possibilities.
Data subject to change without notice | Printed in the USA | BTC 722002303 A | 09.2010
Bosch Thermotechnology Corp.
50 Wentworth Avenue
Londonderry, NH 03053
Tel: 1-866-642-3198
Fax: 1-603-584-1687
www.boschpro.com
Bosch Thermotechnology Corp.

* Your assessment is very important for improving the work of artificial intelligence, which forms the content of this project