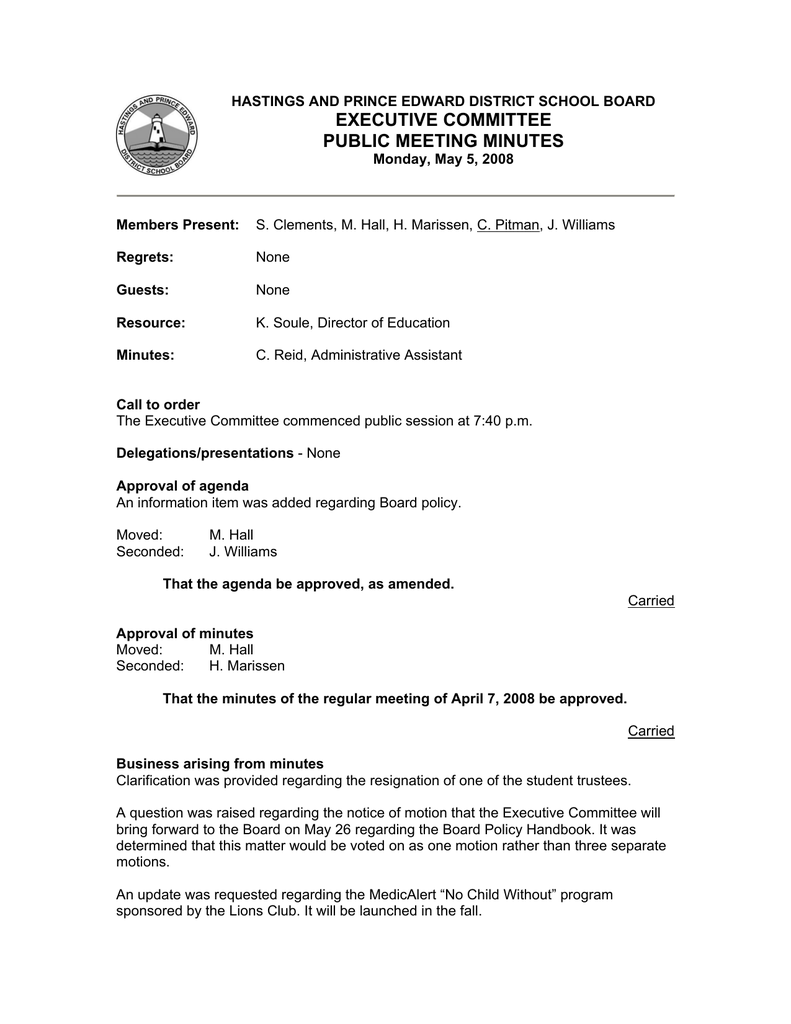 HASTINGS AND PRINCE EDWARD DISTRICT SCHOOL BOARD
EXECUTIVE COMMITTEE
PUBLIC MEETING MINUTES
Monday, May 5, 2008
Members Present:
S. Clements, M. Hall, H. Marissen, C. Pitman, J. Williams
Regrets:
None
Guests:
None
Resource:
K. Soule, Director of Education
Minutes:
C. Reid, Administrative Assistant
Call to order
The Executive Committee commenced public session at 7:40 p.m.
Delegations/presentations - None
Approval of agenda
An information item was added regarding Board policy.
Moved:
Seconded:
M. Hall
J. Williams
That the agenda be approved, as amended.
Carried
Approval of minutes
Moved:
M. Hall
Seconded:
H. Marissen
That the minutes of the regular meeting of April 7, 2008 be approved.
Carried
Business arising from minutes
Clarification was provided regarding the resignation of one of the student trustees.
A question was raised regarding the notice of motion that the Executive Committee will
bring forward to the Board on May 26 regarding the Board Policy Handbook. It was
determined that this matter would be voted on as one motion rather than three separate
motions.
An update was requested regarding the MedicAlert "No Child Without" program
sponsored by the Lions Club. It will be launched in the fall.
HASTINGS AND PRINCE EDWARD DISTRICT SCHOOL BOARD
EXECUTIVE COMMITTEE
PUBLIC MEETING MINUTES – MAY 5, 2008
Page 2
Recommendations - None
Information
Education Centre renovations/server room update
Director Soule reviewed a report that will be brought to the Operations and Finance
Committee regarding the supply and installation of data centre equipment. The new data
centre will be relocated from the basement to the main floor. Staff conducted an RFP
process, however, prior to that three suppliers were required to make presentations to
staff. Only one valid proposal was received. One chose not to submit a proposal and the
other submitted the proposal after the deadline. Racon is offering a turn-key solution at a
cost of $298,850. It was noted that this project was budgeted for as part of the 20072008 budgeting process through funding from the Ministry. A full presentation will be
conducted at the Operations and Finance Committee.
A tour of the Education Centre will be conducted for trustees prior to the end of the
school year.
Trustees inquired about off site back up for disaster recovery. Information and
Technology Services staff is investigating a reciprocal agreement with the Algonquin
Lakeshore Catholic District School Board.
Board policy handbook
A question was raised regarding the by-laws being incorporated back into policies and
clarification was provided regarding the rationale and board governance as it relates to a
legislated body of trustees. Director Soule will work with the communications officer to
develop a media release to be distributed following the May 26 Board meeting.
Draft agenda review
Operations and Finance Committee agenda
Reviewed. It was noted that any financial support requested as a result of the
presentation needs to be referred to the budget committee for decision.
Program and Human Resources Committee agenda
Reviewed. Preliminary information was provided regarding the Business Intelligence
Tool program.
Board agenda
Reviewed. It was noted that a Trenton High School Student will be making a
presentation to the Board regarding his preparation for the Olympics.
System calendar of events
A copy of the system calendar of events for May was provided for trustee information. A
complete listing of events will be included in the Board agenda package.
Correspondence - None
HASTINGS AND PRINCE EDWARD DISTRICT SCHOOL BOARD
EXECUTIVE COMMITTEE
PUBLIC MEETING MINUTES – MAY 5, 2008
Page 3
Vice-chair Hall provided information regarding an OPSBA report relating to the research
of Dr. Charles Pascal in the area of full time early learning.
The Executive Committee adjourned at 8:35 p.m.

* Your assessment is very important for improving the work of artificial intelligence, which forms the content of this project