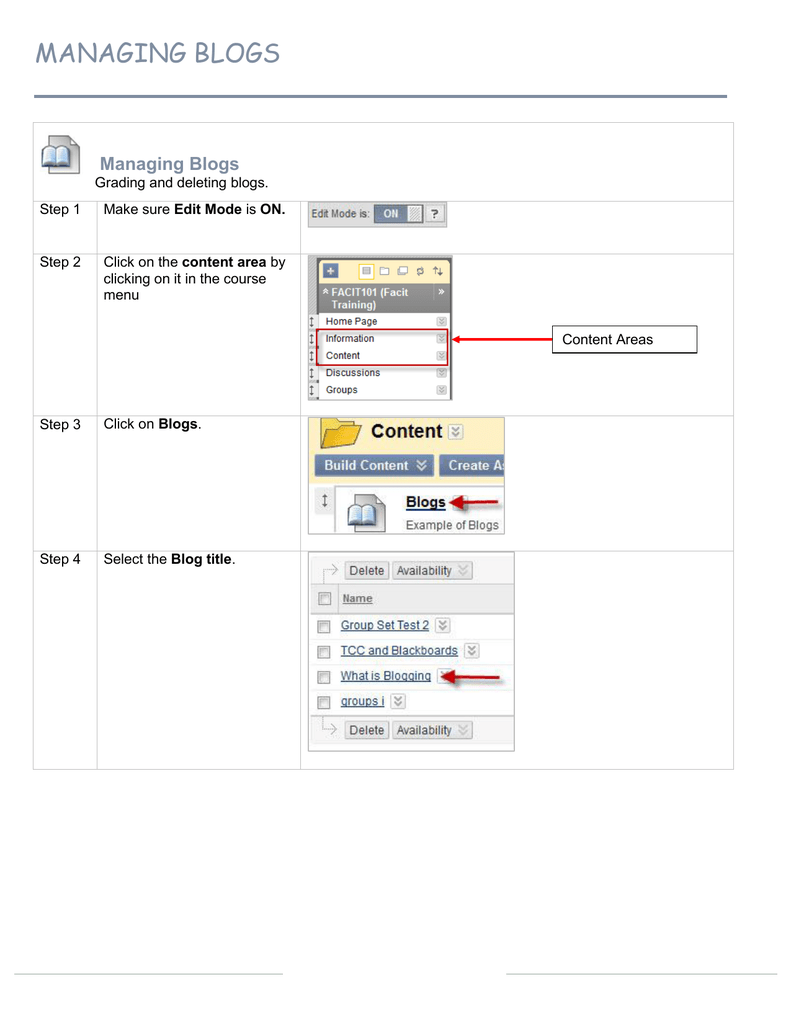 MANAGING BLOGS
Managing Blogs
Grading and deleting blogs.
Step 1
Make sure Edit Mode is ON.
Step 2
Click on the content area by
clicking on it in the course
menu
Content Areas
Step 3
Click on Blogs.
Step 4
Select the Blog title.
Step 5
Select a student's name in
the More Blogs section.
Students with contributions
ready for grading appear with
the exclamation mark, the
needs grading icon.
Step 6
Click Edit Grade. (right-hand
column of page)
Step 7

Type a numeric grade in
the Current Grade Value
text box.

Feedback: Add feedback
for the student.

Grading Notes: Appear
to the Instructor and
Grader only.

Optionally, use the Spell
Check function in the
bottom of each text box.
Click Text Editor to
access all the Text Editor
functions for formatting
text and adding URLs,
attachments, images,
Mashups, and multimedia.
Click Save Grade.
Deleting
A graded Blog topic cannot be changed to ungraded.
Step 1
 Click the checkbox next
to the blog title.
Step 2

Click Delete.

Before deleting, a graded
blog will prompt for
confirmation.

Confirm by clicking OK or
Cancel.

If grade columns exist in
the Grade Center the
columns can be retained.
On the Delete
Confirmation page, do not
select the check boxes for
any columns that need to
be preserved.
Notes:
o
Reminder: Deleting is permanent and the action cannot be
undone.

* Your assessment is very important for improving the work of artificial intelligence, which forms the content of this project